You can buy Made in the USA at Target! Of course, it's harder to find made in the USA in Target stores than it is to get through a holiday daze on Christmas, but keep reading! We'll help you get through that haze with no stress!
Does Target carry made in the USA clothing?
Sadly, we couldn't find any American-made apparel in Target. Even infant and toddler clothing is imported. If you want made in the USA clothing, we've got you "covered!" (See what we did there?) We have numerous articles on apparel, shoes, pajamas, and more!
Are Magnolia Hearth & Hand products made in the USA?
The most disappointing moment at Target came for me when I realized the Hearth & Hand products from Magnolia do not come from USA manufacturers. Chip and Joanna Gaines feel almost like family to us and I do like their home decor, so I'm sad to learn this. Their product line surely has the feel of simple, down-home items made in the USA so I found myself inspecting tag after tag, holding out hope, but I did not find a single item in this collection made here.
What does Target sell that is Made in the USA?
You can still find plenty of items at Target that are made on American soil. Who doesn't love a good Target run? USA Love List will help you find the best of American Made at Target.
Made in the USA at Target
For Home and Car
Igloo coolers are made in the USA as well, and Target has this Latitude 52, which is a nice size cooler. The Igloo website shows many more Igloo coolers and products made in their Katy, Texas plant.
Canning jars are for more than canning. They're great for organizing spices, office supplies, crafts, screws & nails, and so much more. It's great to know Ball jars are still proudly made in the USA, and you can find them on the shelves at Target! While once made in Indiana, they're now made in Ohio.
Pyrex makes a number of their storage containers in the USA, but some of the storage containers are outsourced to other countries, like their Mealbox containers with snap-on lids. Before you buy, look on the back label to find where your selection is made.
My favorite cast iron brand, Lodge, is available at Target. I grew up with my aunts and mom making southern-style biscuits in Lodge skillets made in Tennessee, and you can't beat the sear you get on meats when cooking in cast iron—they're a must-have for any kitchen! Beware, though, Lodge outsources its enamel coated cast iron, so go for the uncoated. All you have to do to care for one of these is to add a little oil to season the pan.
My spouse just purchased and installed for me made in America WeatherTech mats for my car. I love these! Previously I had a set of off-brand rubber mats and they didn't stay in place, plus they were much smaller. These WeatherTech mats don't move and they're much bigger. They are made in Illinois, and I can't recommend them enough to protect your car's floors.
The Opalhouse brand sold at Target offers several rugs that are made stateside. I like the Elderberry Snake Skin Print Woven Rug and the Elaenia Vintage Persian Woven Rug. Note: Not all Opalhouse rugs are American made. Be sure to read the label in the store or read the specifications if you're looking online.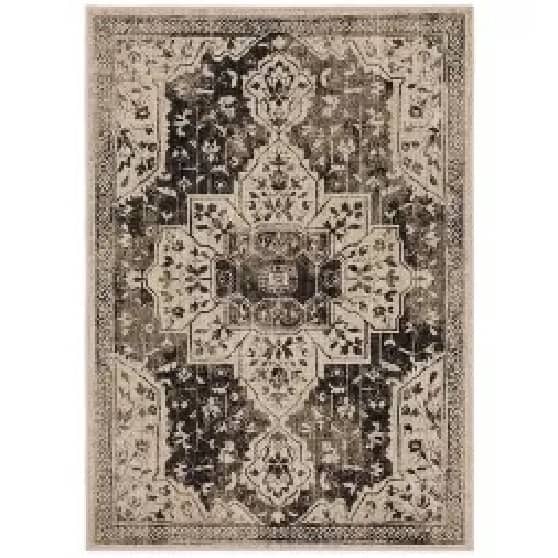 For the Kids (Young and Old)
Over in the baby and toddler section, I've discovered an adorable toddler freestanding gate made in the USA by Northstates. Their baby gate line is called Toddleroo and is manufactured in Wisconsin. This superyard measures over 18 square feet and helps keep busy little toddlers corralled in their own little fort.
Related: American Made Baby Products: The Ultimate Source List
Looking on the Target website, we found this Shut the Box board game made by WE Games. WE Games has been making beautiful wooden board games since 1977, and this one is great for the whole family.
I purchased these Mr. Sketch markers for my kids a number of years ago, but I had no idea they were made in the USA. I purchased them for their amazing scent; gone is that terrible industrial smell, replaced by fruity fragrances! I'm also pleased to say they have held up longer than any other set of markers I have purchased.
For Personal Care
This Hey Humans deodorant is made in the USA, and wow, it smells great! It's aluminum-free, paraben-free, and is made with essential oils. It's sold exclusively at Target and is co-founded by actress and screenwriter Jada Pinkett-Smith. This brand's body lotions and toothpastes are equally as divine, natural, and eco-friendly.
Related: Clean, Natural Beauty Products We Love: Trash Your "Dirty" Beauty Supplies!
Wahl clippers are also made in America, and Target carries a number of different selections. Look on the bottom for the USA flag, and I've also confirmed with the Illinois company that their clippers are American made.
I'm proud to say L'Oreal is an American beauty brand with many products made in the USA at their Arkansas manufacturing facility, such as their foundation and primer. I'm sad to see L'oreal's beauty blender, the brow stylist definer, and smooth glide eyeliner are NOT American made. But my favorite mascara, Voluminous, is! The moral of the story? Read the label!
I just assumed Burt's Bees is an American-made product, and it is…sort of. Much of the skincare line is made in the USA but with some global ingredients. I found an eye mask made in France…, so it's not entirely made in America.
Thayers is another skincare brand that's been around since 1847 and is best known for its witch hazel-based facial toner. I read on Thayer's website that L'Oreal acquired them in recent years, so that's interesting. I also read their organic witch hazel continues to be raised on a family farm in Connecticut. Some ingredients are imported.
Pacifica manufactures everything in the USA, including its fragrances. I have to say, I'm pretty picky about the fragrances I wear, and some of these from Pacifica are wonderful! Pacifica is also known for its skincare and makeup products. All their products are gluten-free, 100% vegan, and cruelty-free. Their packaging does disclose that some of their ingredients are globally sourced.
Do you know of made in the USA products at Target that we didn't mention? Let us know in the comments!