We have compiled this list of masks for kids made in the USA so that you can easily find what you need for every child in your family. This list contains washable, comfortable face masks for kids toddler and up. We've also found one source for American made disposable surgical-style masks for kids.
Should children wear a face mask?
The Center for Disease Control (CDC) recommends that face masks be worn by anyone in public where social distancing can not be practiced. However, kids under the age of 2, those who have breathing issues, and those who can not remove a mask themselves if they have trouble breathing, should not be wearing a face mask.
Points to consider when purchasing masks for kids
Buying reusable face masks for kids can seem daunting. Or maybe there is a reason that small disposable masks are the right choice for your child. There are so many different styles and sizes to choose from, how can you tell which one is right? Remember, wearing a mask can be uncomfortable for adults, so imagine how a young child will feel!
There are several points to consider when deciding what type of face mask to purchase for your child. Does he have a skin sensitivity to certain types of fabrics or elastics? Is she overly conscious about things touching behind her ears? These questions will help you decide what type of material to look for in a face mask, and whether to purchase a face mask that attaches behind the ears or ties.
Be sure to check the size measurements in the product description!
Reusable face masks come in all different shapes, and sizes vary by company. Some companies offer just one "child size" mask while others offer multiple sizes. Measure your child's face and be sure to check the size measurements of a company's mask before making a purchase. Face masks are considered personal care items and are nonrefundable.
Made in USA Masks for Kids
Brian the Pekingese: 100% Organic Cotton Masks for Kids
We love Brian the Pekingese for their organic cotton made in USA children's pajamas. Now they have added 100% cotton made in USA face masks to their product line. Brian the Pekingese face masks are available in two sizes, Kid and Adult. The Kids size is recommended for ages 3-8.
What do we love about the Brian the Pekingese made in USA masks for kids? We love that they are made from 100% organic baby rib cotton material (except for black masks) that is super soft. These masks are made with 2ply of the cotton material and are machine washable. The ear loops are made from cotton binding, so there is no scratchy elastic, which is perfect for sensitive kids. Brian the Pekingese face masks are in stock in their California warehouse, so your order will ship in 24 hours.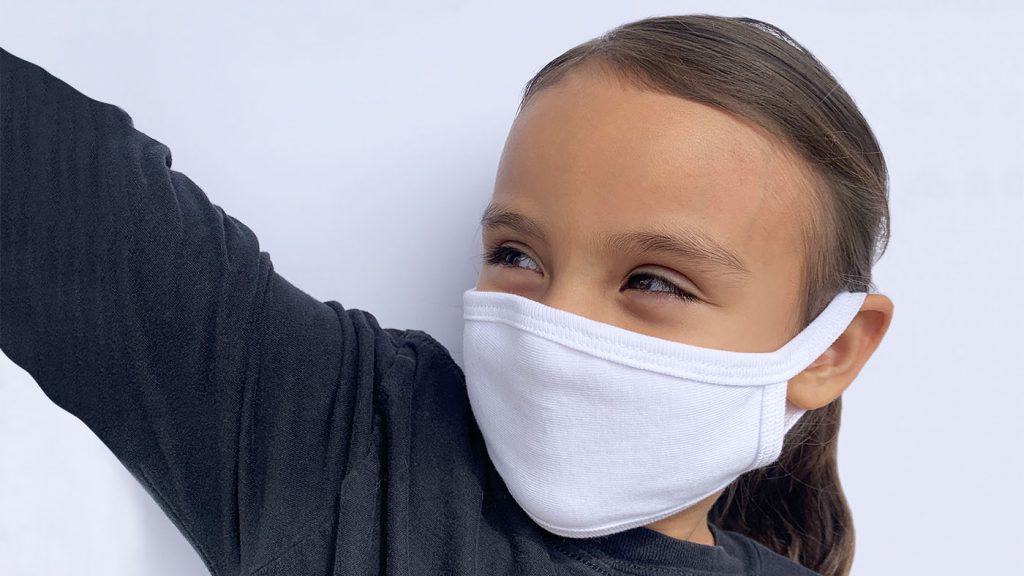 City Threads: XS Toddler Size Masks for Children
City Threads, a manufacturer of American made children's clothing, has added washable masks for the whole family to their product list. City Threads masks for kids are made with two layers of soft and comfortable cotton knit.
What do we love about City Threads made in USA reusable masks? We love that they are available in 6 sizes and 16 colors. The range in mask sizes helps ensure that there is proper mask fit for all ages and face sizes. The City Threads XS mask size fits toddlers, ages 3T-6, the S fits ages 7-12, and the M is great for 13 and up. On the City Threads website, there is an easy to follow chart that helps you decide the size based on weight, height, and mask measurements. With 16 colors to choose from, there is sure to be a color (or 2, or 3..) that your child will wear.
Made in USA Masks for Kids: The Source List
Have we missed your favorite made in USA masks for kids maker? Let us know in the comments below! This list is updated frequently, so check back often.
Have you visited our Made in USA Shopping District? It is the place to start your shopping when you want to find the best of American-made.
SUPPORT AMERICAN MADE. THESE POSTS HAVE TIPS THAT WILL HELP YOU DO JUST THAT.

What Does the Made in the USA Label Mean? Your Questions Answered.
Trying to Buy American? 3 Rules to Follow EVERY time you go Shopping
Ask your favorite stores to help you Buy American
Let's buy American made gifts. We've got all the good ideas.
How to Avoid Tariffs: Buy American! Start Here


Pin this list to save it for later!

Pin this list to save it for later!