The COVID-19 pandemic has changed the way our country runs. For years, manufacturing has been largely ignored in favor of offshoring and outsourcing. Suddenly, the United States urgently needs supplies, leading citizens and government organizations to look around for the nation's remaining factories to see how they can help.
USA companies large and small are rapidly responding, pivoting their production lines and adjusting their businesses to throw their support behind the medical community and other efforts to fight the spread of the virus.
Here is a growing list of American companies that have rapidly shifted their operations to help. Share their stories. Find them on social media to give them a cheer. Remember the value of American manufacturers when they return to business as usual.
This list is being updated frequently. Contact us to share more information.
3M has increased its US-based production of N95 respirators by 30% and is maximizing production of a wide range of other products used in the COVID-19 response globally including hand sanitizers, disinfectants, and filtration solutions. 3M operates 80 manufacturing facilities in 29 states.
Astrosportswear Activewear posted an Instagram photo showing fabric masks they have sewn. These masks will be donated to hospitals.
Authenticity50 is donating 4000 yards of its premium bedding fabric which will yield over 50 thousand face masks through a collaboration with multiple textile manufacturing partners.
Bayside Apparel & Headware transformed their California T-shirt company to make face masks.
Bollman Hat Company, America's oldest hat maker and an employee-owned company has designed a wool felt mask which they are having tested. Bollman believes their mask will have superior health and a longer life. (The photo above was taken at the Bollman Hat factory in Pennsylvania.)
Brimar Packaging USA and distributor Wildcat Wholesale LLC supply hospitals and medical research centers. They are ramping up on raw materials and inventories for increasing demand related to COVID-19 testing kits.
Brooklyn Bedding, a Phoenix-based mattress company, has offered the use of their factory to produce masks to help stop the spread of COVID-19.
Burgeon Group, which makes interactive learning spaces and toys exclusively for public libraries, has started making "London Boxes" which are an intubation box that shields the medical team. In four days, they used a rapid prototype to supple the first hospital, and have orders from more systems. Each hospital can change the design to meet their medical equipment and needs.
Christian Siriano, a fashion designer, has begun to produce face masks to be donated to hospitals.
City Threads usually makes children's apparel in Los Angeles but they have set a goal of making five million cotton masks to protect their city.
Crazy Aaron's Puttyworld has teamed up with Five Saints Distilling to make hand sanitizer to be donated to health professionals. Pennsylvania based Crazy Aaron's is also hosting Instagram Live "virtual play dates" for kids to stay connected.
Decent Exposures normally makes underwear in Seattle, WA. They are now producing reusable cotton face masks for retirement communities.
Detroit Sewn converted their apparel and home goods production to fulfill a contract for 50,000 masks for a Michigan health system.
Fairway & Greene shifted from making golf sportswear to making face masks for first responders using an innovative two-layer design involving both a knit and a woven layer.
Fanatics, the company that makes sports uniforms in Easton, Pennsylvania, was asked by a local hospital if their factory could urgently produce 10,000 masks. The company jumped into action using fabric that had been purchased for Major League Baseball teams. Future plans include masks and hospital gowns for the New York, New Jersey, and Pennsylvania region.
Fisher Dynamics is an automotive supplier using its fabrication expertise to 3D print ventilator parts to expand the capacity of Michigan hospitals.
Flowfold has suspended its normal production to make PPE for healthcare workers. The Maine travel gear company will make face shields in their factories.
Ford has signed on to produce respirators, clear face shields, and disposable masks. The car manufacturer has begun to work with GE and 3M to produce these life-saving devices.
Frankenmuth Woolen Mills donated material to home sewers for over 35,000 masks and then purchased back two masks per household to distribute in their home city or township of Frankenmuth, Michigan.
General Motors (GM) is considering the use of their Kokomo, Indiana auto factory to be used for the ramped-up production of ventilators in collaboration with Seattle-based ventilator maker Ventec.
GETTEES is a Detroit-based apparel brand that stopped all clothing production to begin sewing disposable face masks from their interlock cotton material. They have donated all masks to a local hospital, medical facility, or healthcare professional in need.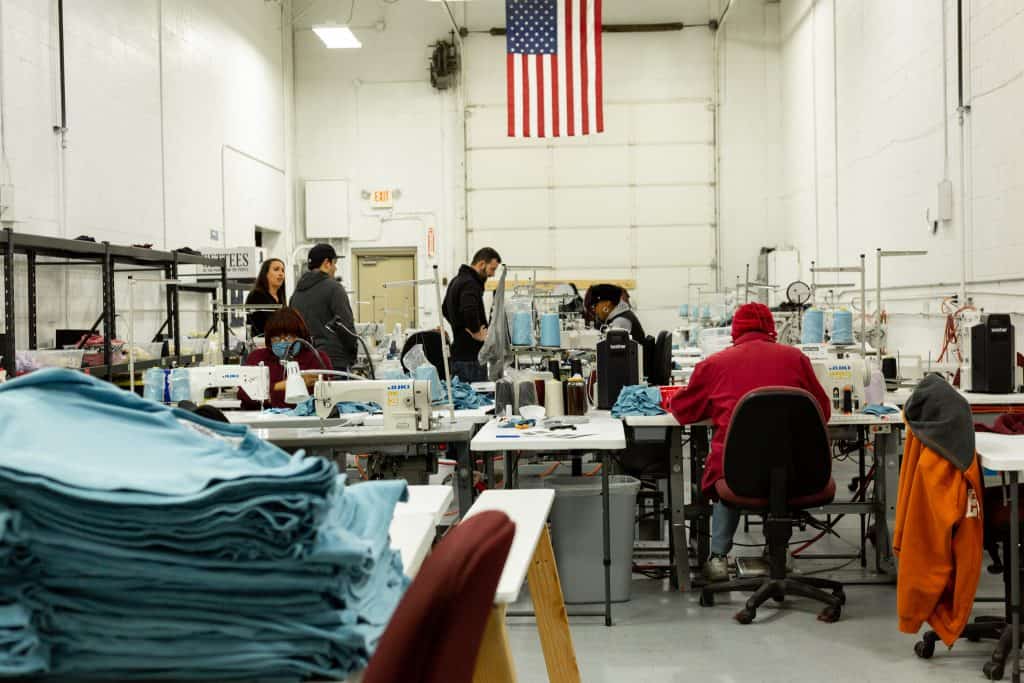 Gypsy Vodka switched over to making hand sanitizer, donating gallons to their local EMS and nursing homes while making sure local hospitals were well supplied. The Michigan company is also offering periodic sales to the public.
Hanes Brands based in North Carolina has announced that they will be producing cotton surgical masks for healthcare workers. The clothing company plans to output around 1.5 million masks per week.
HGA is an architecture, design, and engineering firm that used its modular construction product STAAT-Mod to develop medical care units that can be deployed as stand-alone hospitals or for use inside convention centers, arenas, and temporary structures. They used a rapid virtual reality design process with input from nurses working with COVID protocols, hospital specialists in infection control, and engineers for rapid construction and delivery.
Honeywell's Rhode Island manufacturing facilities are hiring in order to ramp up their production of N95 face masks for doctors and nurses.
J.K. Adams retooled their routers to transition from making wood cutting boards to making plastic face shields for medical workers. The Vermont company has capacity to make up to 50,000 face shields per week.
Jostar, a Los Angeles clothing company, is now producing face masks for hospitals, clinics, and nursing homes.
Kitsbow, a North Carolina bike apparel company, has completely transitioned to manufacturing face masks and shields. The company makes around 10,000 shields a day.
Los Angeles Apparel, lead by the former American Apparel founder, has been making and selling fashion face masks. The company has also donated more than 10,000 masks to hospitals in California, Nevada, New Mexico, New York and Washington. They are also working on designs for hospital gowns.
Mary Kay announced the cosmetics company will dedicate part of its global supply chain and manufacturing capabilities to producing much-needed hand sanitizer. The first products will be for donation to those on the front lines addressing the pandemic.
Merck, the New Jersey-based drug manufacturing giant that employs more than 10,000 at its research and production facilities in Pennsylvania, has promised to deliver half a million hospital-grade face masks.
New Balance is using its Lawrence, Massachusetts and Norridgewock, Maine shoe factories to create unique-looking masks made out of shoe components and materials already in their domestic supply chain. Their goal is to produce up to 100,000 masks weekly. The masks are designed with a focus on filtration capabilities using five layers of polyurethane foam, non-woven melt blown fabric, and nylon and polyester layers that are bonded through a heat melt process.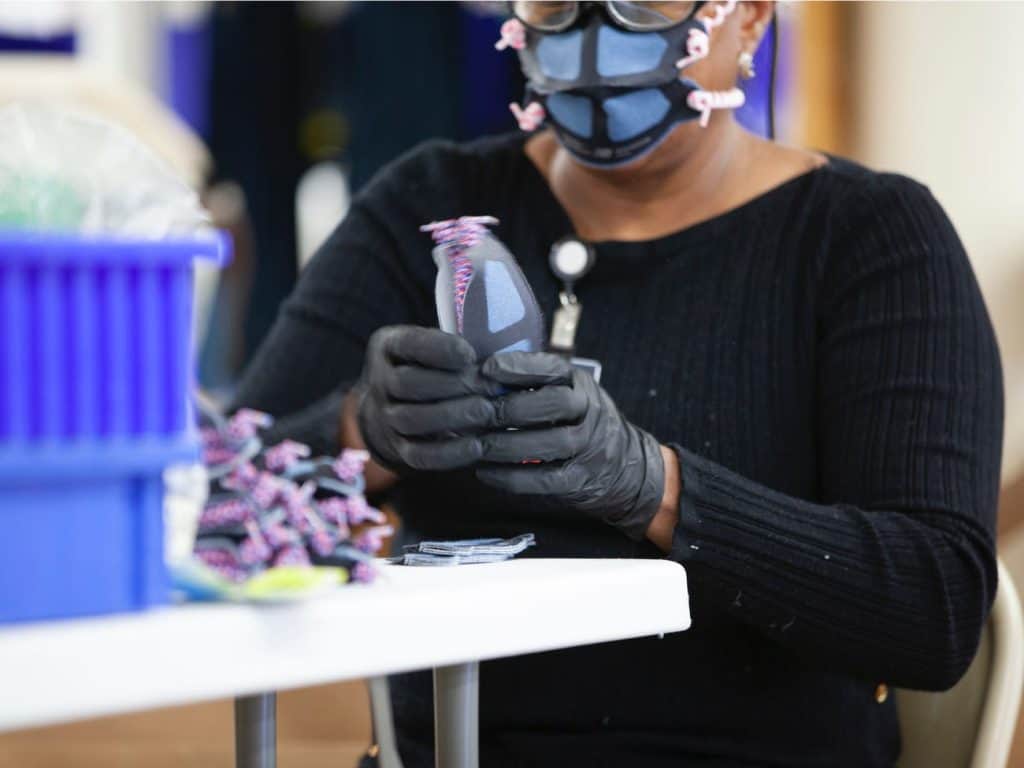 Okabashi Brands will donate a pair of shoes to front line medical workers for every pair of shoes they sell. They manufacture shoes out of their family-owned, Buford, Georgia factory.
Old New Orleans Rum Company is a small locally owned distillery that has made a quick pivot to making hand sanitizer for the US market while continuing to make our rums and other alcohol products.
Olympus Group, a company known for making mascots for sports teams and popular brands, is now producing around 3,000 face shields a day at its facility in Milwaukee. Herzing University is buying 10,000 shields to donate to local hospitals — where many of their alumni now work.
Onzie is upcycling the fabrics used in their yoga clothing to make cloth masks in Los Angeles. They have donated over 3000 masks and they are also selling their "mindful masks" to the public with all net proceeds on purchases donated to healthcare workers across America through a donation to the Center for Disaster Philanthropy. Onzie Masks are on USA Love List's list of Made in USA face masks.
Petoskey Plastics in Northern Michigan answered the call from their local hospital to help with their PPE shortage. In less than five days, they went from concept to production on rolls of plastic disposable isolation gowns for medical staff to wear. They are now producing 10,000 gowns per day.
Proctor & Gamble's Pennsylvania paper product factory has been allowed to remain open during the state's shutdown. The company, which produces toilet paper, paper towels, and diapers, has been deemed a "life-sustaining" business.
Sea-Long Medical Systems is a small company in Waxahachie, Texas that makes an FDA-approved helmet-style ventilation device that can be used as an alternative to ventilators, potentially reducing complications and freeing up ventilators for other patients. The company has called in members of the community to ramp up production and shipping to max capacity. The company is offering the designs for free to any manufacturing company with the capability to produce the devices.
Shaggy's Copper Country Skis in Northern Michigan is stopping the production of custom skis to make face shields for local hospitals.
Slay Displays usually produces jaw-dropping, photo-ready event displays in King of Prussia, Pennsylvania outside of Philadelphia. Now they are using their facility to produce clear face shields for hospital workers.
Softstar Shoes is using part of their Oregon shoemaking factory to make masks for local hospitals. Many of their employees are working from home to make masks as well.
Thomaston Mills is a quick turnaround supplier standing by with stock of sheets and towels for hospitals and health centers. Their Georgia and South Carolina plants also have millions of yards of fabric ready for custom orders that can be delivered in as little as one week.
Two James Spirits in Detroit is making hand sanitizer. They are giving away small bottles for free and selling larger bottles while running a leave one-take one toilet paper exchange.
Vermont Glove is switching gears on its 100-year-old company to make face masks for hospitals at cost. Their goal is to support the needs of health care workers and keep staff employed, as well as provide supplemental income to a network of 15 additional home sewers.
Woodchuck, a Minnesota-based woodworking company, began making face shields for healthcare workers.
YSS Athletics is manufacturing face masks for healthcare professionals.
---
---