I used to think Valentine's Day was such a pointless holiday. In recent years though, I've come to use it as an excuse to make sure those whom I care about know it.
You don't have to buy them diamonds, or even roses; I think a nice card is a simple way to do it. If you're looking for cool American made Galentine's Day gifts for your gal pals, I have some lovely suggestions for every budget.
Did you know Goetze's Caramel Creams come strawberry and chocolate? Make your own "chocolate covered strawberries". Simply cut the caramel creams in half and layer them on a toothpick – voila! Give them as gifts for enjoy them with your girls on the 14th. Visit our American made candy source guide and our Made in USA Valentine candy at Target list for more sugary treat gift ideas.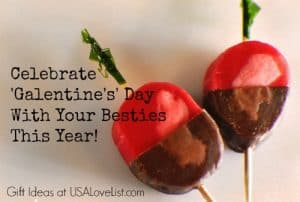 American made chocolate and candles: it doesn't get better than that. We are talking about the very best soy candles made in USA. Indulge, without the calories, with Vance Family Soy Candles Artisan Chocolate Candles. Don't miss our source list for made in the USA candles for more great candle gift options!
Be festive with Sally Hansen Miracle Gel in Mad Woman 500. The polish has the quality of gel polish because it lasts longer than regular polish, and has the advantage of being easily removable with regular nail polish remover. You can't go wrong with it! Don't miss our source guide for American made nail polish and our list of made in USA non toxic nail polish brands for more options.
Beautify with Cate McNabb Marsala and Mascara makeup, a certified cruelty-free, paraben-free, and socially conscious luxury cosmetics line. I particularly love Cate McNabb's lip gloss. It goes on so smoothly and lasts a long time. Now you have a great reason to get all dolled up! For more American made beauty brands, check out our source list.
Illuminate your best features with Mineral Fusion Illuminating Beauty Balm SPF 9. It's a quick and easy alternative to foundation. I love Mineral Fusion's products, and the Beauty Balm is no exception. It goes on smoothly, absorbs well, and provides the perfect amount of coverage for a simple look.
Don't miss our American made Valentine's Day gift ideas for men!