Whether you're just getting started in golf, you're an amateur golfer who consistently scores in the 90s or lower, or you're a golf professional, choose golf clubs that are made in the USA.
Believe it or not, the largest companies that make golf clubs don't manufacture them in the USA. The four major American golf brands- TaylorMade, PING, Callaway, PXG, and Acushnet (who owns Titleist)- make their golf club components somewhere other than in America. One exception is the Scotty Cameron putters that Acushnet/Titleist owns. These putters are made in the USA.
Of the four companies that manufacture golf equipment on American soil, only one makes several types: woods, hybrids, drivers, and putters. The other three focus on quality putters. Keep reading to learn more.
What to Consider When Buying Golf Clubs
If you want to improve your game, consider well-designed and well-made golf clubs that help you hit more consistently. Here are a few things to think about when choosing:
Skill Level: Before purchasing golf clubs, you need to evaluate your skill level. A beginner or a casual player may not require high-end clubs, while an experienced player would benefit from using them. Choose clubs that match your skill level and experience.
Clubhead Material: Golf clubs are made from different materials, including steel, titanium, carbon fiber, and graphite. Each material has its advantages and disadvantages. Steel is the most common material used in clubheads because it is durable and affordable. Titanium and graphite are more expensive, but they are lighter and allow for greater clubhead speed and distance. Carbon fiber is a lightweight and durable material and tends to be more expensive. They offer increased clubhead speed, reduced weight, and improved feel and feedback. One American company uses persimmon and hickory wood blocks to make its clubs so you can play golf in the more traditional way.
Shaft Material: The shaft material is another essential factor to consider. The three main materials used in shafts are steel, graphite, and multi-material. Steel is heavy and sturdy, while graphite is lighter and provides more flexibility, making it suitable for golfers who need more speed and distance. Multi-material shafts combine the benefits of both steel and graphite shafts.
Clubhead Design: Clubhead design plays a crucial role in the performance of the club. Some clubhead designs offer more forgiveness, making it easier for beginners to hit the ball. Other designs offer more precision and control for experienced golfers.
Custom Fitting: Custom fitting is essential when buying high-quality golf clubs. Golfers have different swing characteristics, which means that a club that works for one player may not work for another. Custom fitting helps you find clubs that match your swing characteristics, such as swing speed and launch angle, ensuring that you get the most out of your clubs.
By evaluating these factors, you can find the perfect set of golf clubs that meet your needs AND help you improve your golf game.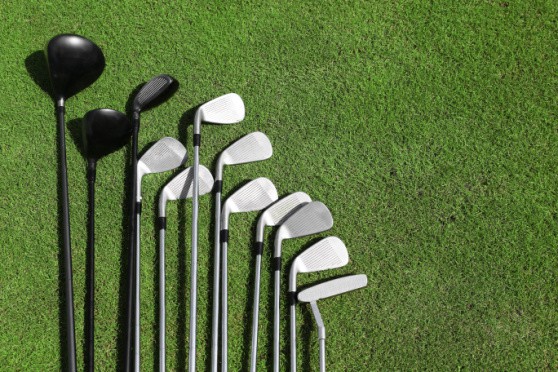 Related: Are Any Golf Shoes Made in USA?
Why Buy American Made Golf Clubs?
If you want the best clubs on the market, consider golf clubs made in the USA. While these clubs tend to be more expensive, you can protect your investment. Here's how:
These few American golf companies refuse to defer their market share to other countries. They use master crafters who pay attention to every single detail in the making of clubs. They understand the shape and the physics that go into making each club, and they use the best materials they can find.
American-made golf clubs come with some kind of warranty. If you have a problem with any of your clubs, you'll find helpful solutions from real people who truly want to make things right.
Take a peak inside the Titleist factory in Carlsbad, California in the video below.
What's the Difference Between Made in the USA and Assembled or Built in the USA?
Simply stated, "Made in the USA" means most of the materials and making of the golf clubs come within the United States. On the other hand, "assembled" or "built" signifies the clubs are made offshore, then placed on a cargo ship to travel thousands of miles just to arrive in America. Once they reach their company's production facility, they're then assembled, built, or put together by the workers.
Want to know more about the meaning of Made in the USA? Read this article: What Does the Made in the USA Label Mean? Your Questions Answered.
Other related USA Love List articles:

Pin this list to save it for later!