Your dog's own fur coat is not always enough to protect it from the elements. Dogs of all breeds, shapes, and sizes may need extra coverage in harsh weather, from low temperatures, rain, snow, and wind. Don't forgo daily walks with your fur baby because of cold or wet weather. A made in USA designer dog coat or designer dog sweater from MountainMuttDogCoats Boulder® will keep your dog warm and dry.
Fit, Function, and Fashion: MountainMuttDogCoats
Fit
Finding a dog coat that fits can be a real challenge. It's how MountainMuttDogCoats Boulder® came to be. A dog coat cannot do its job properly if it doesn't fit well. The folks at MountainMuttDogCoats will help you to measure your dog correctly in order to find the best fitting coat for your dog's shape and size. They are one of the few American companies that make custom-made dog coats. Stock coats are also available in eight different sizes and alternations are done for free.
Each garment is cut generously. The panels are wide, the backs are long. There are options for chest and girth fit. Your dog will have room to move and still be covered. Need a really long coat? Take a look at the draped-coat. It's longer in the back and covers thighs almost to the knee. Since every coat and sweater is made by hand they will make what your dog needs. Want a special coat? No problem! They will work with your fabrics too.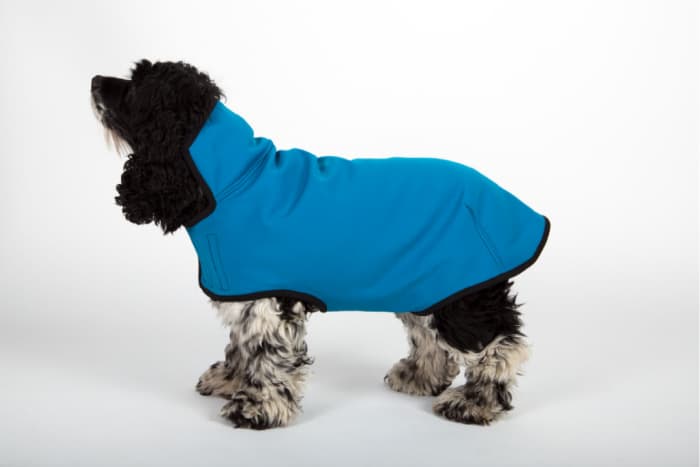 Function
MountainMuttDogCoats Boulder® have been made in Colorado for over 10 years. Each coat and sweater is made by hand with the goal of protecting your dog from all types of weather. All coats are made from high-quality technical fabrics. These lightweight fabrics are engineered to provide warmth, repel water and wind, and release unwanted moisture.
Each of these carefully designed, made in the USA winter dog coats does a different job. For example, the top-rated PowerShield Winter Coat pictured in the cover photo is highly water and wind-resistant. It also helps maintain stable core temperature in variable weather conditions.
Winter dog coats are important for sick and elderly dogs too. In fact, the first MountainMuttDogCoats Boulder® coat was designed and made for Mac, who had bone cancer. He needed help keeping warm and dry in a very cold Colorado winter. His human and company owner, Fran Blum, made a custom coat for him and the brand MountainMuttDogCoats Boulder® was born.
In honor of Mac each year 5% of MountainMuttDogCoats Boulder® sales are donated to the Flint Animal Cancer Center for research.
Fashion
Want something stylish for town and country? The Boulder Sweater has beautiful detail and comes in lots of gorgeous colors. You can find it in the Hamptons!
MountainMuttDogCoats makes the most beautiful designer dog coats and sweaters. Check out their stunning leather winter coats. They're made from beautiful, soft leather and lined warm, lovely fleeces. They can be found on dogs from Aspen to Madison Avenue. The MountainMuttDogCoats Leather Coat is a must-have for any fashionable dog.
All of the MountainMuttDogCoats garments come in fabulous colors with coordinating linings.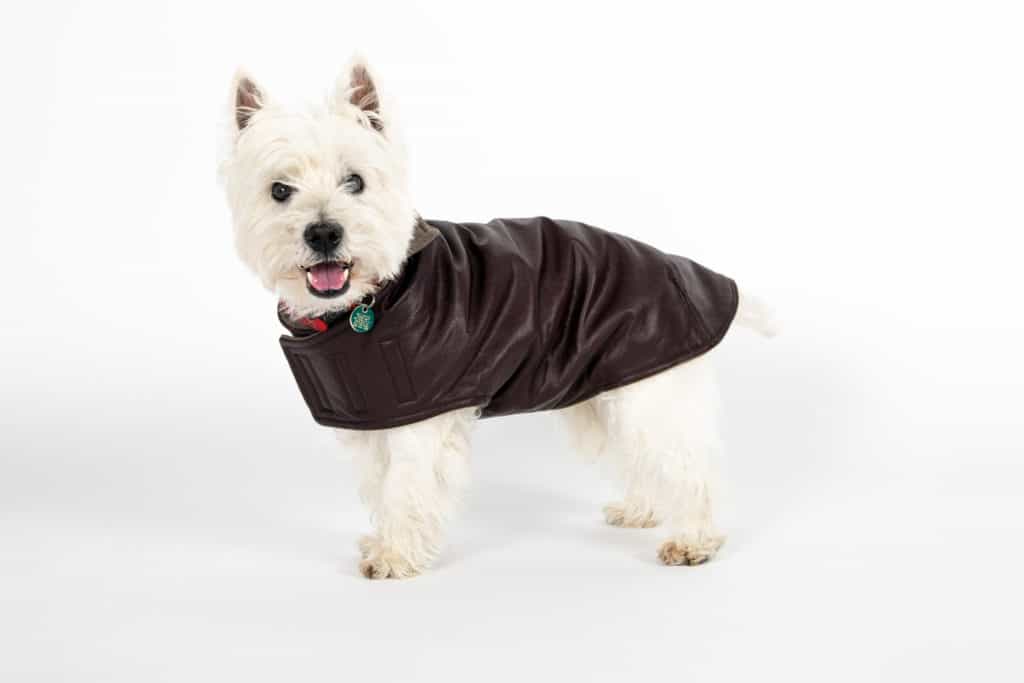 Disclosure: This is a sponsored post which USA Love List is proud to share with you because, sponsored or not, we only share stuff we love.
On the hunt for more made in USA pet supplies? Don't miss these lists!