Do you love slipping into a comfortable T shirt? If so, you will be as excited about this ultimate list of made in USA T shirts as I am. From plain, durable work T shirts to graphic t-shirts, grab your everyday wear from companies that design and makes their tees in the USA.
American Made T Shirts
This source list of American made tees includes something for everyone- men, women, and kids. Please keep in mind that not all of the products made by these companies are made in America so read all of the product descriptions carefully.
We have more American Made T-shirt lists! Don't miss our lists for Kids Graphic T Shirts and Solid T Shirts Made in USA, and American Made Flag T-Shirts and Patriotic Clothing.
Made in USA T Shirts: The Ultimate Source List
All American Clothing Co is an Ohio-based, online retailer that offers t-shirts for men and women. The American company, founded in 2002, has a variety graphic, plain, long sleeve, pocket, and v-neck t-shirt styles to fit any need.
All USA Clothing is a manufacturer and retailer of clothing that's only made in the U.S. They offer various types of tees for men, women, and children that are great for any occasion. Along with their own brand, they sell t-shirts from several other top U.S. manufacturers.
American Giant is a Middlesex, North Carolina manufacturer of a large range of apparel for men and women including a line of classic t-shirts. The premium crew and v-neck tees are available in several colors. Mix and match these durable, 100 percent cotton shirts with any number of pants for work, casual outings, and around the house.
AMVI luxury fashion graphic tees for women are made in Los Angeles.
Aviator Nation graphic tees for men, women, and kids are all made in the USA. Adult tees are unisex in sizing. They are vintage inspired and have a vintage feel.
BGREEN is an Eco-friendly clothing company that manufactures in the USA. Their tees are made with organic cotton and are available in sizes and styles for men and for women.
Blade + Blue fashion pocket tees for men are made in California. These cotton/poly blend tees have a patterned fabric pocket.
Body Bark luxury crew neck tees for women are made in the USA from a fabric blend that is soft, comfy (helps regulate body temperature), and long lasting. Available in long sleeve and short sleeve.
Buck Mason is an online menswear brand with brick-and-mortar retail locations for customers to experience their clothing lines in-person. They have several styles of made in USA basic tees including V-Neck, curved hem, and long-sleeve t-shirts.
City Threads is a manufacturer and retailer of children's clothing. They have a huge selection of t-shirts for kids in sizes toddler to 16 in jersey and organic cotton fabrics. Take 15% off your City Threads order now with discount with code USALOVE. No expiration, one-time use per customer.
Cyclelogical sells several cycle organic clothing products that are made USA, including T-shirts for men, women, and children.
COIN 1804 offers fashion T shirts and basic crew tees for men. There are many styles and colors to chose from.
DAYDREAMER luxury fashion graphic tees for women are made in Los Angeles. If you are looking for a band t-shirt made in the USA, they offer band tees from every decade.
Earth Creations is another organic retailer that provides a collection of T-shirts that are manufactured in the U.S.A. The quality, basic tees for men, women, and children contain a 55/45 percent blend of imported hemp and organic cotton jersey. Note: not all Earth Creations T-shirts are American made.
Farm Fresh Clothing Co organic cotton T-shirts for men, women, and kids are made in California. Most of their selection includes plain t-shirts of various colors, but custom embroidery and printing is offered.
Freenote Cloth sells t-shirts for men that are custom label and garment dyed. This 9oz and 13 oz t-shirts come with pockets and are 100% cotton.
GETTEES ethically manufactures causal t-shirts in sizes for men and women in Metro Detroit.
Goodwear is a Massachusetts manufacturer that has been offering basic, made in the USA tees for men and women since 1983. Along with helping sustain American jobs, the company is a member of the Fair Labor Association. Goodwear also only uses U.S.-grown cotton in all of their products.
Groceries Apparel House Tee t-shirts for women are made with 100% GMO free cotton. They are sewn in Los Angeles, California.
Hank Player USA manufactures edgy, cool, retro tees for kids and babies are all made in the USA.
Spiritex uses fiber from the Texas Organic Growers Co-Op to spin American-grown cotton into all USA made t-shirts and other clothing for the whole family. They carry a large collection of cute graphic tees for men, women and kids.
Loggerhead Apparel offers adult graphic T-shirts and T-shirts for youth and babies, all American made. They are made with US grown Pima cotton.
Love of Country Clothing made in USA t-shirts for men and women are available in long sleeve and short sleeve. Love of Country is a military family owned company and their premium patriotic graphic tees are American made from start to finish. Women's T-shirts are fitted. Men's styles have a unisex fit. or men and women which are manufactured in New York and California, and printed, packaged, and distributed in New York. The Love of Country brand has more care into a shirt than the anatomy of its parts; applying contemporary design, zeal of the American tradesperson, and premium materials. Use code USALOVE for 20% off. one-time use with no expiration date.
Mollusk offers a variety of graphic T-shirts for men and women and kids, all made in California. These surf inspired T-shirts are pre shrunk and 100% cotton. Note: Not everything on the Mollusk website is made in the USA. Make sure the product you're looking at says "Made in California" or "Made in the USA."
Mouthman unisex kids and adult long sleeve hoodie T's are fun and eco-friendly. They are made eco-fabric that's created from recycled bottles.
Orangeheat apparel is handmade in Venice, California with made in USA organic cottons and water-based-inks. They make kids' T-shirts, adult T-shirts, and baby onesies, available in sizes 0-8. These tees are incredibly soft and well made. These are the types of tees kids will love and remember for years in the future.
Oscar Mike has a large selection of made in USA graphic T-shirts in styles for men and women. These T-shirts are a cotton/poly blend. 100% of the profits from Oscar Mike apparel sales go to fund the Oscar Mike Foundation, a non profit that injured veterans looking for an opportunity to stay active.
Raleigh Denim Workshop luxury pocket T-shirts for men are made with 100% organic cotton.
Red White Blue Apparel patriotic graphic Ts and plain T-shirts are available in sizes for both men and women.
ShirtsThatGo are graphic Ts printed in the USA on American Apparel T shirts that feature planes, trains, construction vehicles, space ships- it has a motor and moves, it's on one of these T-shirts!
Thompson Tee sweatproof undershirts for men and women are guaranteed to stop underarm sweat. All T-shirts are made in the USA at every phase- from materials to manufacturing.
Todd Shelton luxury crew neck T-shirts are manufactured in New Jersey. They are made with Gassed Cotton, which has a refined look, smooth feeling, and lasts longer than traditional cotton tees. They are available in many colors and with or without pockets.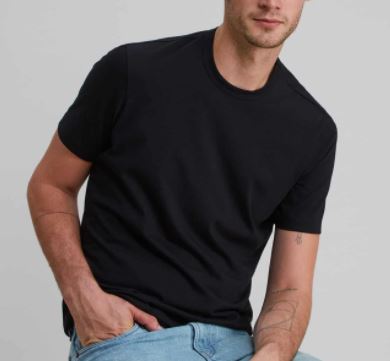 Underworks compression T shirts for men and for women are made in the USA.
US Blanks has a large variety of T shirts for men, women, unisex, and kids all American made. They have many styles to choose from- plain tees, fitted tees, raglan tees and more. There are options in organic cotton, cotton, and poly blend fabrics. All items are made in Los Angeles.
American made clothing brand featured in the cover and pinable images: Love of Country.
Have you visited our Made in USA Shopping District? It is the place to start your shopping when you want to find the best of American-made.
Love this list? We know you will love these lists too!

Pin this list to save it for later!