Baseball gloves made in the USA are the best baseball gloves you can buy. Whether your first glove or a custom glove, you'll find everything you're looking for and more with American-made baseball gloves.
USA-Made Baseball Gloves
In my mind, I still feel it covering my hand. The soft, strong leather with its H-web design was the perfect fit for my right hand, given that I'm a leftie. I fielded many hits with that glove made by Wilson. My dad taught me the basics of softball, and it looks as good today as it did 40 years ago.
My spouse recently found his outfielder's glove from his childhood. It is one of those special Rawlings gloves, and it still has a lot of life left in it.
Some might call them vintage gloves, but we call them some of the best baseball gloves once upon a time made in the USA. Today, you'll not find Wilson or Rawlings gloves made on domestic soil, but you will find two strong companies that have stayed committed to making them here. But first, let's catch some history on gloves made for America's favorite pastime.
History of the Baseball Glove
The baseball glove shares a long history with the sport, dating back to the mid-1800s when players would take your basic leather work glove and cut about half of the finger covering off so the glove wouldn't impede the handling of the ball. Later, A.G. Spaulding invented a glove that bears some resemblance to today's gloves. In the early 1900s, Rawlings made the first baseball glove with a web between the thumb and index finger, and design additions continued from there.
Read about touring the Louisville Slugger Museum (among other tours) in this article: Made in USA Factory Tours We Love
During the 1930s Great Depression, this time in baseball became known as the "golden age of baseball," and grew to become America's favorite pastime. People would gather around radios wherever they could find one to listen to their favorite teams play baseball. While baseball gloves weren't all that affordable to the general public during this difficult financial season, fans certainly cheered on young players like Lou Gehrig and Babe Ruth as they hit and caught pitches for their teams.
During World War II, American glove maker Nokona shipped its baseball gloves to the South Pacific, where USA service men and women were stationed, so they could enjoy a game or two when not defending our country.
Baseball glove manufacturers began outsourcing their glove-making operations in the 1960s, slowly moving their production to places where they could find cheap labor and materials. This migration continues even today, where some of those major brands such as Wilson, Spalding, and Rawlings make game gloves overseas, even if they're designed in the USA.
Today's Baseball Gloves
Baseball gloves have evolved in size and shape to where they're today made according to size, a player's age and position, and even technology. Digital engineering shows where the glove should bend, where thicker leather should be placed, whether the glove has an open or closed web design, and more.
Choosing the Right Glove
With the goal of making the reaction time as quick as possible, from the catch to the release, choosing the best baseball glove depends on certain defining factors as much as it does the individual's preference. These factors for different gloves include:
Position: Infield gloves are different from outfield gloves, and first base gloves are different from pitchers' and catchers' gloves. Choose a glove that's made specifically for your position.
Size: The size of the glove not only depends on the position you play but also on your age. Youth sizes range from 8 to 12 inches, while adult sizes range from 10 ¾ to 13 inches.
Web: Gloves can have either an open or closed web design, and the design can even vary within each of those categories. Open web gloves tend to trap the ball a little better and are lighter than closed web gloves. Infielders tend to prefer closed web gloves that help them get rid of the ball very quickly. A catcher's mitt has a closed web for that up-close catching of a ball being thrown 100 m.p.h.
Why Buy A Baseball Glove That's Made in the USA?
The right glove leads to better performance and few errors in a baseball game. That's why you want the best baseball glove you can find: one that enhances your performance. A USA-made baseball glove and great performance fit together like…well…a hand in a glove.
Here are a few features American-made baseball glove makers offer:
Best leather: While you'll find different leather used to make different gloves, the main types of leather used include full grain, kip, steerhide, and cowhide. Nokona also uses bison leather, along with a couple of exotic leathers.
Best craftsmanship: American craftspeople provide both science and art to the making of baseball gloves. They're the best at cutting, sewing, and embroidering each glove to its exact specifications. It doesn't matter if you're ordering for young players or professional players, you'll get top-notch craftsmanship.
Gift Idea: American Made Personal Care Products for Men
Strong web design: USA crafters know how to build a strong open or closed web within your glove. Whether single post or dual post, with or without a base, and regardless of the number of holes, these webs last a long time, helping your glove stay strong and durable.
Not only can you be sure that USA-made baseball gloves feature the best craftsmanship and materials, but you can also feel confident in the integrity of the brand. USA makers invest in American manufacturing by offering employment in their towns, and they give their workers livable wages.
One final thing: You'll never lose your USA-made baseball glove on a cargo ship.
Simply put, a USA-made baseball glove offers the highest quality glove for the best price.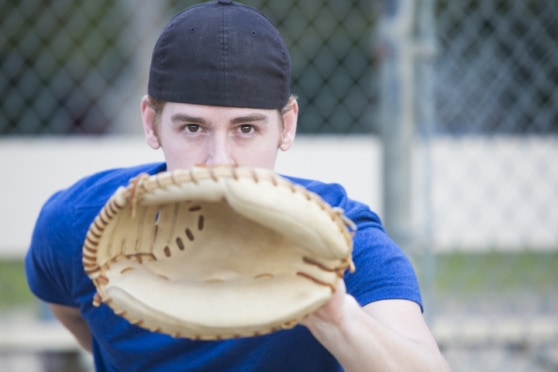 Who makes baseball gloves in the USA?
While even just a couple of years ago you could find four or five companies still making baseball gloves in the United States, today you can find only two of America's last baseball glove factories: Glovesmith and Nokona. Both companies source their materials from within and outside the USA, and you'll get years of use in a glove you purchase from either of these final survivors of American-made baseball glove companies.
About Glovesmith
It's harder to find a lot of information on Glovesmith than on its much larger counterpart, Nokona, mainly because it's a small company. Located in Missouri, Glovesmith has been making or assembling baseball gloves for more than 20 years and offers top-quality in-stock or custom gloves at the best possible price. Glovesmith makes its high-quality baseball and softball gloves, not in a factory, but instead, in a small shop. Each glove is created one at a time, with attention given to every detail. You can also choose a factory break-in for a small fee, and you can have your glove personalized, as well. Glovesmith also makes softball gloves for the softball player, too, and the website tells you how to measure for the right-fitting glove. Prices range from around $30 to over $200, depending on the level of detail needed to make the glove. We highlight several Glovesmith selections, but be sure to check out all its gloves on the Glovesmith website or the USA Sports Direct website. USA Sports Direct is a Glovesmith Inc. official retailer.
About Nokona
The town of Nocona, Texas, northwest of the Dallas-Fort Worth area, is where you'll find the Nokona baseball glove factory, the last of the largest baseball glove factories in America. Although Nokona has a storied past and has been making gloves since 1934's Great Depression era, it remains a powerhouse maker of both stock and custom baseball gloves, offering some of the highest-quality gloves on the market today. This company, under the leadership of Rob Storey, intentionally chose to stay in America while other sporting goods giants took their work offshore. Because of their dedication, Nokona has many big-time admirers, including legendary baseball player Nolan Ryan, who used the Jerry Moore Model G30.
Today, Nokona is housed in a new factory after a 2006 fire destroyed its previous location. If you're in the area, schedule a factory tour. Nokona's "Made N USA" marking highlights a proud logo on its products made from the best performance leathers on the market. Joining America's traditional steerhide and kip leathers are American bison, Japanese Calfskn™, Australian Kangaroo leather, and the exotic American Caiman leather.
At first glance, the Nokona website can appear overwhelming as it immediately shows all its gloves' web options, but clicking specifically on the "ballgloves" tab enables you to navigate your selection rather easily. Choose a baseball glove or softball glove based on position or the company's series. You can even design your own custom glove or choose a glove based on your favorite player. You also have the option of choosing a left or right throwing hand. For an added fee, you can have the glove personalized with your name.
Prices vary from around $160 for the "My First Nokona" glove, to well over $1,500. Nokona's ever-popular EDGE X is currently sold out; we will update this article when the glove becomes available.
Related: Where Are Adidas Shoes Made?
Have you visited our Made in USA Shopping District? It is the place to start your shopping when you want to find the best of American-made.
Check out a few of our other great articles!

Pin this list to save it for later!