These gym bag essentials are dependable, American made, high quality products that will only add to your health and wellness routine. Having your sports bag packed with the essentials makes getting your workout in easier. Being prepared is half the battle. Keep it systematic and be ready with your gear on hand. A woman on the go isn't just worried about the right pre-workout snack but she has to be ready to roll onto the next task of the day.
Made in USA Gym Bag Essentials
Sports Cream
Topricin Sports Cream is unique because it has no scent. You can tend to achy muscles without smelling up a room like a tub of vapor rub. The natural blend draws out toxins and fluid to improve blood flow. It's great as pre-treatment in addition to recovery of an injured area. It stimulates and accelerates the bodies own healing defense. It's my go to for reducing swelling!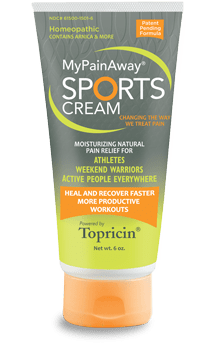 Workout Wear
USA Love List has curated plenty of fashionable fitness wear to choose from. Sometimes you need an outfit to pull double duty.
Workout Fuel
Get a protein bar that is not full of junk. Get something that is part of the goal, looking good and feeling better. RXBAR's protein bar comes from egg whites, giving you a better dose of energy. For more healthy pre and post workout snacks, don't miss our Whole30 Challenge Tips and Food to Eat on the Go article.
Facial Wipes
Using a wipe between a good cleanse will help keep your skin glowing, clear and happy. These Murad wipes are perfect for controlling bacteria.
Deodorant
You are going to need this. Quick, easy, natural and American made spray on deodorant. Crystal Essence Spray Deodorant. If spray deodorant's not your thing, Crystal also offers a roll-on style deodorant. Both options are perfect for keeping all stink away, the natural way. Don't miss our list of the best made in USA natural deodorant brands!
Sunscreen
Coola Mineral Face Tint is perfect for a run on the track, errands after, or anytime. It's a one step prep face care which includes sun protection and moisturizer with a tint of color to even skin tone quickly. Since this made it to my hands I haven't touched my foundation, I love this stuff. Don't miss our source list for sunscreen made in the USA.
Hydration + Nutrition
8Greens: My body craves green leafy vegetables after working out. I'd never seen a tablet form of green powder, so I was elated to find this. Packed with eight greens including, spinach, wheatgrass, kale, blue green algae, spirulina, chlorella, barley grass, and aloe vera, 8Greens packs a healthy punch. It's not "green" tasting, but refreshing, only a tad sweet, and nutty from the barley grass. Simply drop one tablet in eight ounces of water, dissolve, and get on with your5 busy day.
LOVE THIS LIST?
Honestly, we know you will love these lists too!
Yoga Gear, All Made in the USA. Namaste.
Yoga Tips for Beginners
Made in USA Sneakers and Athletic Footwear: The Ultimate Source List
What's In Your Gym Bag? Made in USA Gym Bag Essentials
Made in USA Activewear: The Ultimate Source List
American Made Leggings: The Ultimate Source List
Fashion Fitness Wear: American Made Fitness Brands We Love
Hydration, Vitamins, Wellness- Made in USA Sources To Look & Feel the Best
Made in USA Options for a Detox Cleanse You can Trust
Disclosure: This is a sponsored post which USA Love List is proud to share with you because, sponsored or not, we only share stuff we love.