Georgia is known for many great things such as music, films, food, beautiful landscapes and southern charm. There are so many awesome things made in Georgia. Did we miss your favorite? Let us know in the comments.
Stuff We Love, Made in Georgia
1888 Mills Towels
1888 Mills has been manufacturing textile products in Griffin, GA since, well, 1888. Today, 1888 Mills manufactures towels in their Georgia facility. The American Craft collection of 1888 Mills towels is made in Georgia from cotton grown in in the USA. 1888 Mills also manufactures organic towels at the Georgia facility. Every household needs towels and 1888 Mills provides soft, absorbent, high quality American made towels that you can feel proud about purchasing.

Coca-Cola
One of the most successful beverages and brands was created in Atlanta, Georgia around 1886. Atlanta pharmacist John Pemberton created caramel-colored liquid and mixed it with carbonated water. He took the mixture to a pharmacy for customers to try. The tasty beverage was sold for only five cents! The name Coca-Cola was coined by Pemberton's bookkeeper, Frank Robinson. Coca-Cola became a global brand during World War II. Packaging plants were built in European countries to provide the soldiers with a token that reminded them of home. Today, Coca-Cola sells 1.7 billion beverages a day!
KIA Sorento & KIA Optima
KIA is not an American owned company, obviously, but in the name of celebrating manufacturing jobs, it is worth noting that the KIA Motor Manufacturing Group's first manufacturing site in the USA is located in West Point, Georgia. This 2,200 acre facility has the capability to build over 350,000 KIA Sorentos and KIA Optimas a year from domestically sourced and imported parts.
Peaches
When Georgia's on your mind, the first thing you may think of is a peach. Georgia is known for their sweet peaches. Lane Southern Orchards specializes in peach products. The company's popular products are pickled peaches, cobbler mix, peach salsa, peach mix, peach barbeque sauce, Georgia cider. The Fort Valley company also provides visitors with farm tours, and is a great place for parties or weddings.
Vidalia Onions
The Georgia state vegetable is the Vidalia onion. Vidalia onions are popular for their sweet taste. The vegetable is available from late April until mid-November. The term name 'Vidalia onions' was coined by tourists who visited the Vidalia Farmer's market in search of the onions. The Vidalia Onion Brothers' popular products are Vidalia onion relish, Vidalia sunset peach salsa, southern marinade, and onions of course.
Hostess Ding Dongs & Twinkies
They're baaaaack! In 2012 Hostess filed bankruptcy and closed all it's factories. In 2013, under new ownership, only four Hostess factories re-opened. One of those baking facilities is located in Columbus, Georgia. Hostess's Georgia facility bakes up Ding Dongs and is the backup baker of Twinkies when they are in high demand.
Okabashi Sandals
For over 30 years, Okabashi has been manufacturing sandals in Buford, Georgia. Okabashi sandals, flip flops, and shoes are made from Eco-friendly materials and are available in styles for men and women.
Don't miss American Made Sandals and Flip Flops: Our Ultimate Source List
YKK Zippers
Have you ever checked you zipper and noticed the letters YKK? YKK manufactures fastening products all over the world, and YKK zippers are manufactured in Marietta, Georgia. The company is dedicated to providing consumers with high quality products, and great customer service.
Savannah Bee Company
Watch out Burt's Bees! The Savannah Bee Company is a popular Georgia company that makes everything from honey to lip balm. The company was started in 2002, by beekeeper Ted Dunnard. The Savannah Bee Company sells more than 10 kinds of honey, body care products, and lip care.
Lay's Potato Chips
Herman Lay started his career selling potato chips out of his car. Lay became a salesman at Barrett Food Products Company in Atlanta, Georgia, and later bought the company for a distributing plant for his chips. Lays quickly became 'America's favorite chip.' In 1961, Lays merged with Frito to become Frito-Lay. Today, Frito-Lay is responsible for 59 percent of the United States chip industry.
Next time you're using one of these products, make sure you have Georgia on your mind.
This post was originally published as a guest post in March 2014, and has since been updated. The original guest writers were Stefanie Paupeck, a Communications Specialist at the Georgia Department of Economic Development, and Ashley Jeter, a GDED intern.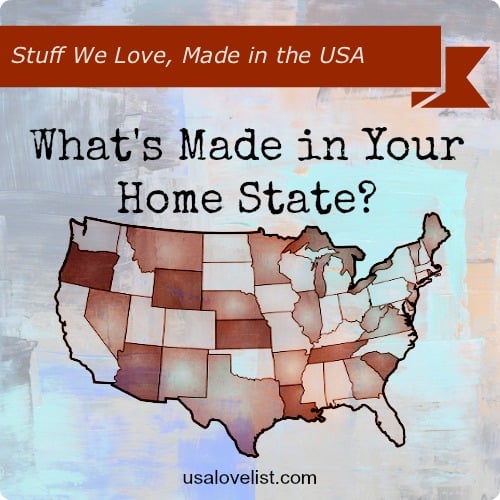 We are welcoming guest post submissions on the topic of The Top 10 Things Made in My Home State. Contact us for submission guidelines.
SUPPORT AMERICAN MADE. THESE POSTS HAVE TIPS THAT WILL HELP YOU DO JUST THAT.

What Does the Made in the USA Label Mean? Your Questions Answered.
Trying to Buy American? 3 Rules to Follow EVERY time you go Shopping
Ask your favorite stores to help you Buy American
Let's buy American made gifts. We've got all the good ideas.
How to Avoid Tariffs: Buy American! Start Here


Have you visited our Made in USA Shopping District? It is the place to start your shopping when you want to find the best of American-made.

Pin this list to save it for later!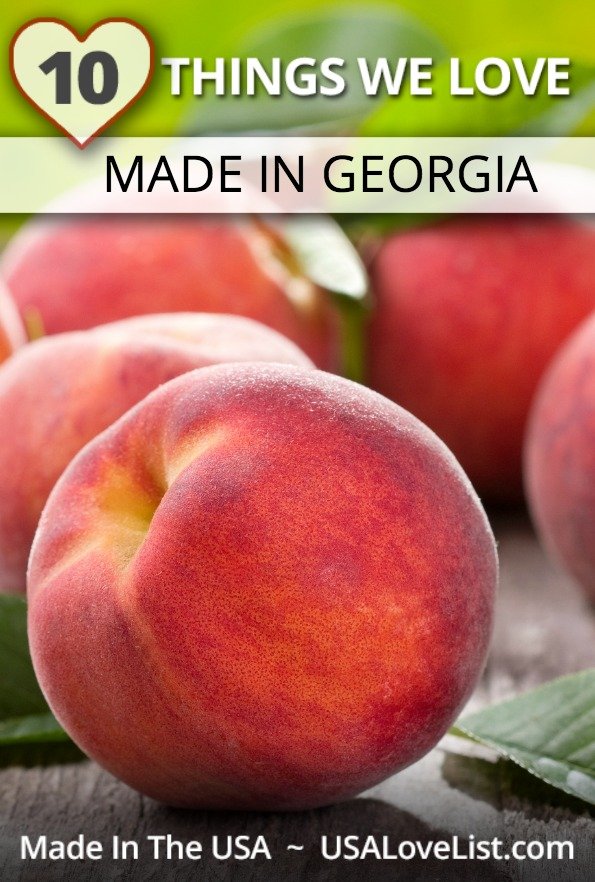 Follow USA Love List's board State-by-State: Made in USA on Pinterest.