Have the winter blues? Ready to free your feet from real shoes? Flip flop season is upon us! Treat yourself to a DIY pedicure and a new pair of sandals. Here's our source list for American made flip flops, sport sandals, dressy and stylish sandals too.
The U.S. imports 97% of its footwear, so it can be difficult to find American made shoes, but hopefully you've seen our American Made Shoes: The Ultimate Source List. 
Made In USA Sandals & Flip Flops: The Ultimate Source List
This list is always growing, so check back often. If you have a favorite American made sandal or flip flop brand that you don't see on our list, let us know in the comments and we will add it.
Bedrock Sandals minimalist sandals for men & women are designed for outdoor adventures and made in California

Chaco sandals and flip-flops are made for the trail, water, and anything in between. What I love about them is that I can walk in them all day and feel supported and comfortable. Lucky for us, the custom pair of Chaco's are assembled in the USA – the other styles are not. Order your custom pair online – you pick the color of the sole, the pattern and style of the straps, and even other same details including the color of the stitching. Chaco is making the custom pairs to celebrate its 25th anniversary and each pair is made in Rockland, Michigan.
Gurkee's rope sandals for men and women are made in West Virginia. They offer an array of colors and styles.
Eliza B & Leatherman makes preppy, sturdy flip flops and wedges for men and women by hand. Monogrammed? Custom colors? Have fun designing your own or choose from a huge selection.
Island Slippers produces more than 80 styles for women and men, all featuring comfort and durability in looks that range from flip-flops to fashion. All its sandals are made in Hawaii.
Kino Sandals are handmade using natural leather straps and natural rubber soles. Women and men styles available. They are assembled and glued at the company's factory in Key West, Florida.
LUNA Sandals minimalist sandals for women, men, and kids. NOTE: Only one style, the Made in USA Builder design your own sandals are American made. 
mohop is an eco-friendly footwear company specializing in interchangeable sandals that allow nearly infinite design options with just one pair of soles. One-of-a-kind, custom-fit sandals can easily be created by simply lacing any ribbon or fabric tie in Mohop's patented sole. Mohop also manufactures faux leather and faux suede fashion sandals, all made in Illinois. 
OKA-b sandals, flip-flops and slip-ons for women are designed and manufactured just outside metro Atlanta in Buford, Georgia.  OKA b. shoes are available at specialty retailers, spas, resorts, and boutiques nationwide. NOTE: Adornments on the flip flops are not made in USA. There are numerous options without adornments.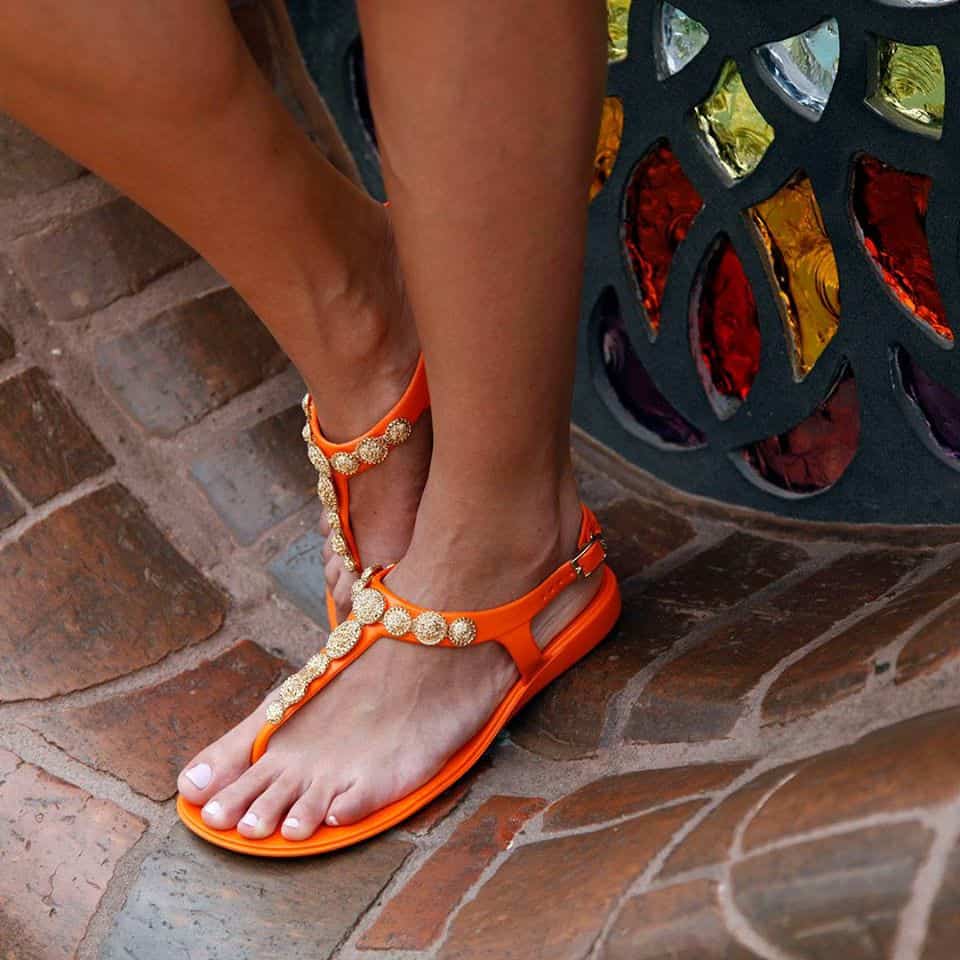 Okabashi made in USA flip flops are 100% recyclable, vegan, and designed with superior foot support and a massaging insole. They are anti-microbial and dishwasher safe. These flip flops are available in several styles & colors and are made in Georgia.
Shamma Sandals minimalist running sandals are made in California
The Sbicca Brand was originally founded by the Sbicca family in their home in Philadelphia.  The family began producing footwear in the USA in 1920 and moved their thriving business to California following World War II. Please Note: Not all Sbicca sandals are American made, read labels and descriptions carefully!
Unshoes minimal sports sandals are made in the USA
OUR FAVORITE RETAILERS THAT OFFER MADE IN USA SANDALS & FLIP FLOPS
Disclosure: This is a sponsored post which USA Love List is proud to share with you because, sponsored or not, we only share stuff we love. 
Love this list? Check these:
Made in USA Sneakers & Athletic Footwear: The Ultimate Source List
The Perfect Pajamas: A Made in USA Source List
Made in USA Sunscreen You Can Trust: The Ultimate Source List
---
Pin this list so you can check back for updates and share later.
---