Support small businesses while decorating your bedroom when you buy quilts made in the USA. Each American-made quilt is a practical work of art that lasts for years.
Shop for Made in the USA Quilts
When I went away to college, I took a quilt for my bed. This quilt wasn't fancy, but it was my favorite. My grandma handstitched this quilt made from fabric scraps. These cotton pieces were repurposed from the clothes Grandma made for my mom.
This quilt, now unusable because it's tattered and torn, stayed on my bed for a very long time after college, while I was still single, and after I married.
Today, you don't have to know a family member or have a close friend who makes quilts, though that's a great idea. You can shop online for a quilt made in the USA.
Why Buy A Made in the USA Quilt?
Many reasons exist for buying a quilt that's made in the USA. Most notably, you're buying a quality product. American quiltmakers make products with you, the consumer in mind. While they're earning a livable wage, they're creating a product that, if cared for, will last for decades. These quilts aren't being mass-produced thousands of miles away in desolate factories.
Along with the quality of the quilts, these makers are very good at what they do. They're also creative. And they're knowledgeable about the quilts they make. They know how to cut, pin, sew, seam, layer, and perform all the steps that go into making the quilt that's just right for you. They coordinate colors and patterns for a one-of-a-kind bed covering.
Another great reason for choosing to buy a quilt made in the USA is because you'll receive top-of-the-line customer service. That's because you're typically working directly with the maker. If problems arise, that maker's reputation is on the line to make it right.
Related article: Organic Bedding Made in USA: An American Made Source Guide
Why Choose A Quilt Over A Comforter or Duvet?
Maybe it's because I love the quilt my grandma made that I continue to choose a quilt over other types of bedding such as a comforter, blanket, or duvet. I suspect that's true, but I have other reasons as well.
I just like how crisp a quilt looks. A quilt isn't fluffy like a comforter or heavy like a duvet. Some duvets such as those made from linen create a more "messy" look that you might prefer.
I also enjoy the tactile experience I get from a quilt. I like the soft cotton fabric. It's breathable and feels cool to the touch. A quilt quickly warms me on cold winter nights. At the same time, it doesn't weigh me down so I can move with ease.
Essentially, a quilt differs from other bedding in that it typically consists of three layers of cotton, with batting sandwiched between the other two layers. These three layers are then stitched together, typically in some sort of pattern, to make a quilt.
While you'll find quilts made in the traditional fashion where pieces of fabric are sewn together, forming the top, you'll also find single-color quilts, too.
Most of our featured products are true quilts. I did sneak in a few alternative coverlets that are lightweight and come in single colors. I also included one blanket source that, though the product is woven, very much looks like a quilt and comes in a print style.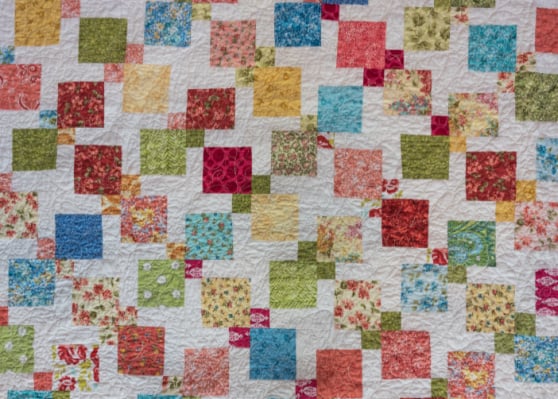 Blankets are woven and can add an extra layer of softness and warmth, especially when they're made of woven cotton. They can also enhance the look of your quilt when you layer them together.
A bedspread is the top layer for your bed and is intended to be pretty and also functional. It is meant to protect the bedding you sleep on. This is especially nice if you have pets who enjoy napping on your bed. Personally, I skip this addition and go right for the quilt.
How To Decorate With A Quilt
Each time I wish to update my bedding, my first covering choice is a quilt. It's my go-to. I like bright colors and something interesting, but nothing too flashy. A quilt can be your primary top cover.
You can also layer with quilts. Add a throw or duvet to the bottom third of your bed. You can also place a duvet or blanket over your top sheet, then place the quilt over it. Or, do just the opposite: add your top sheet, then quilt, then duvet.
Many quilts come with coordinating colors on the front and back. One side might have a pattern and the other side is made from a solid color. Fold one side back on your bed for added interest.
Layering your quilt with a matching blanket is nice because it adds not only texture and dimension but also warmth.
Related article: Sheets Made in USA: The Ultimate Source List
Buy A Quilt Made in the USA
Unfortunately, there aren't very many quilt makers in the USA who advertise their products. It's much easier to find quilts made in other countries. To be honest, before I started purchasing only made in the USA, I bought a quilt from elsewhere. After three years of owning it, I have had to hire someone to re-stitch it in places on three different occasions. It's also starting to fade. I've learned my lesson. For my next quilt purchase, I'm buying ONLY made in the USA!
Still, we've managed to find some online makers, and we're thrilled to pass them on to you.
Check out our other USA Love List articles related to bedding listed throughout this post or below:
Have you visited our Made in USA Shopping District? It is the place to start your shopping when you want to find the best of American-made.

Pin this list to save it for later!