Yeti is a company that designs and manufactures outdoor lifestyle products. The company was founded in 2006 by two brothers, Roy and Ryan Seiders, and is based in Austin, Texas. Yeti is known for its high quality products that are built to withstand harsh outdoor conditions. The company's most popular items include coolers and their Rambler tumblers.
USA Love List readers have asked: Are Yeti tumblers made in the USA? Here is our answer.
Yeti Tumblers
Yeti tumblers are designed to keep beverages hot or cold for extended periods of time. The brand's tumblers, coffee mugs, water bottles, and other drinkware items are made with double-wall vacuum insulation and are constructed with durable stainless steel.
Yeti Rambler Tumblers come in a variety of sizes and colors and are popular among outdoor enthusiasts and those who want to keep their drinks at the perfect temperature for a long time while on the go.
Are Yeti Tumblers Made in USA?
Yeti is an American company headquartered in Austin, Texas. The Yeti line of Tundra coolers are made in the USA by Dutchland Plastics. However, all of Yeti's drinkware, including the Yeti tumblers, are made in China.
Are there any stainless steel drinkware brands made in the USA?
Stainless steel drinkware is popular because it is durable, rust-resistant, and easy to clean. Stainless steel drinkware also has excellent insulation properties, keeping hot drinks hot and cold drinks cold for longer periods of time. Stainless steel tumblers are great for keeping smoothies cold and coffee and tea hot.
Our USA Love List editors have searched the web and big box stores for stainless steel drinkware made in the USA. We have discovered that travel mugs and water bottle brands like Hydro Flask, Ozark Trail, Thermos, Pelican, and Polar Camel are all manufactured in China. We have been unable to find any stainless steel tumblers made in America.
Beware when you are searching for American made stainless steel drinkware! I found several brands that state 'Made in USA' in the search results, but when I dig deeper into their website I see that that they are 'designed in the USA'. It was also revealed that many brands state in the search title that the are 'Made in USA', when the tumbler is made in China, but decorated in the USA, or assembled in the USA.

Made in USA Options
Though there are no stainless steel tumblers made in the USA, we have found several options made of other materials that are American made.
Do you have a favorite made in USA tumbler brand that we missed? Let us know in the comments below.
Tervis Classic Tumblers
Tervis Classic Tumblers, the original double-walled BPA free plastic tumblers, are manufactured in Florida. They keep cold drinks cold and hot drinks hot. Tervis Classic Tumblers are available in four sizes 24 oz, 16 oz and 10 oz. They are shatter proof, dishwasher safe, and come in thousands of design options. Note: Tervis has a line of stainless steel tumblers that are made in China.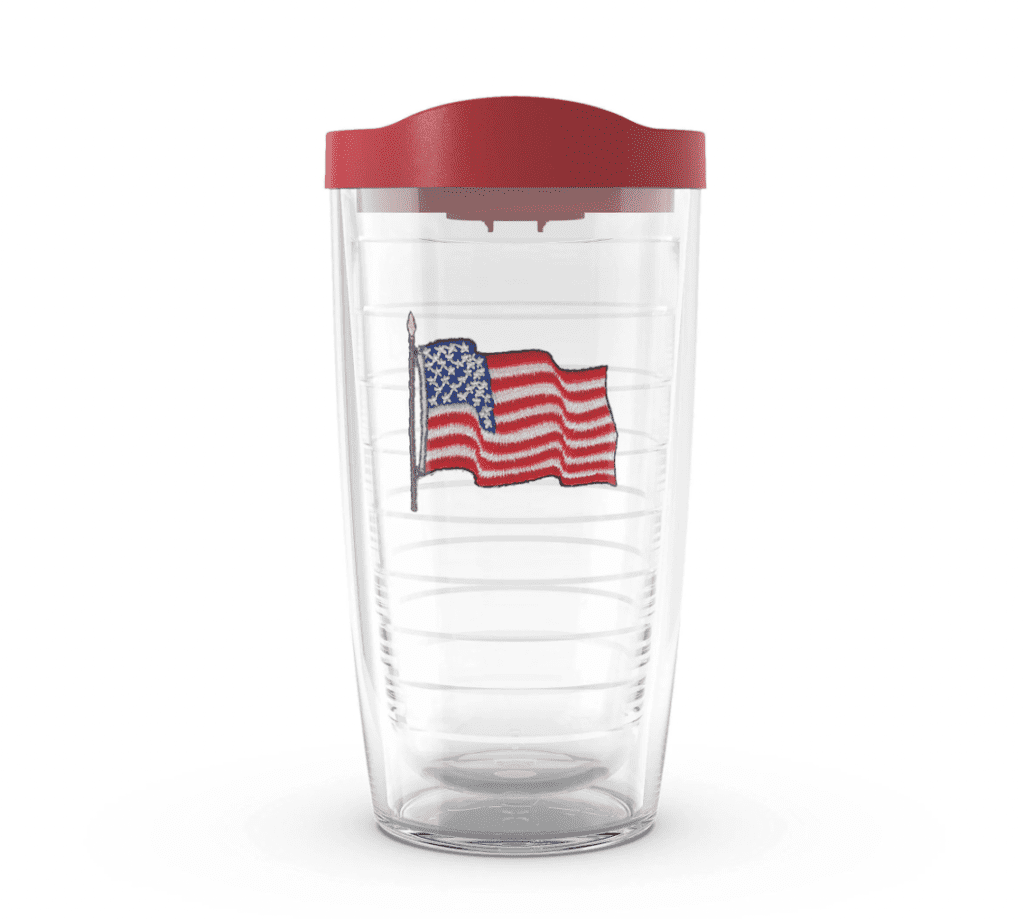 Liberty Originals
Liberty Originals are 100% made in America from start to finish. Liberty Originals are 24 oz bottles are made from American sourced aluminum. They are single-walled and are intended for cold drinks only. There are many powdered coated designs to choose from. The caps, powder coating, and ink are all American made. Note: Liberty Insulated bottles for hot or cold drinks are stainless steel and are imported. The powder coated designs are added in the USA.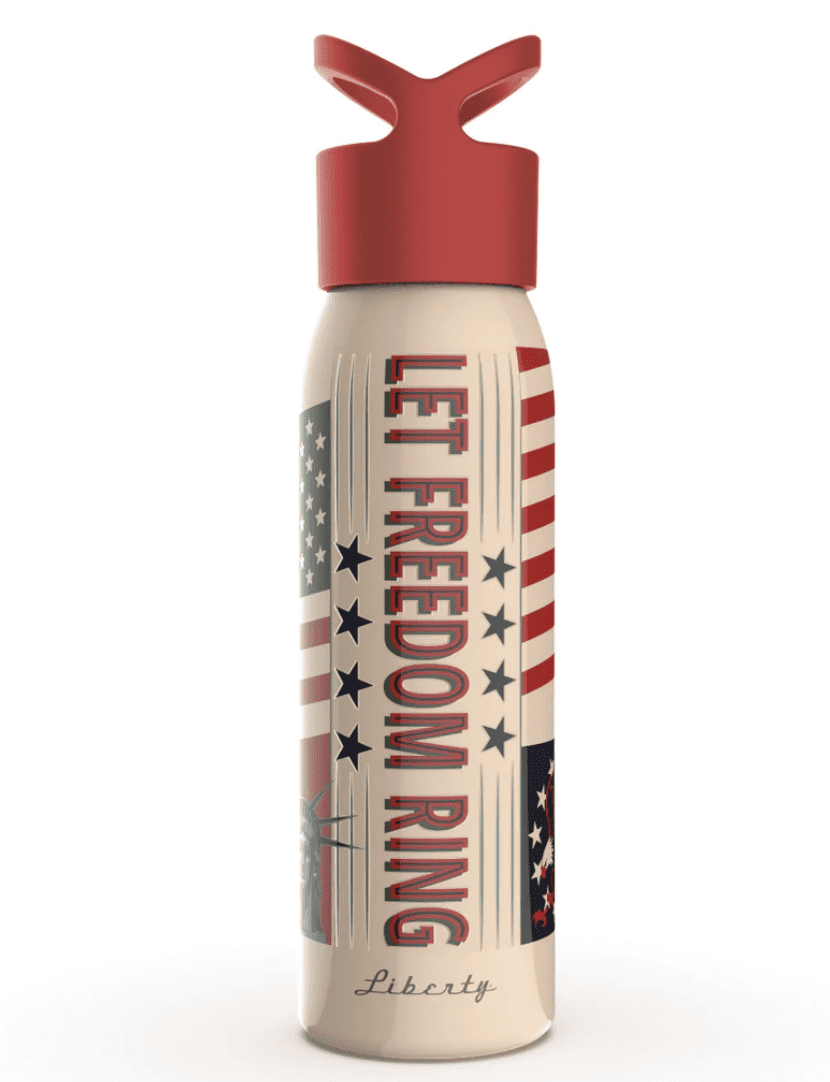 Tritan USA
Tritan USA is a wholesaler and manufacturer of American made tumblers. The BPA-free plastic tumblers are manufactured in Shelbyville, Indiana by Williams Plastics LLC. They are microwave and dishwasher safe. They have customizable options in every size. They also offer tumblers for fundraisers.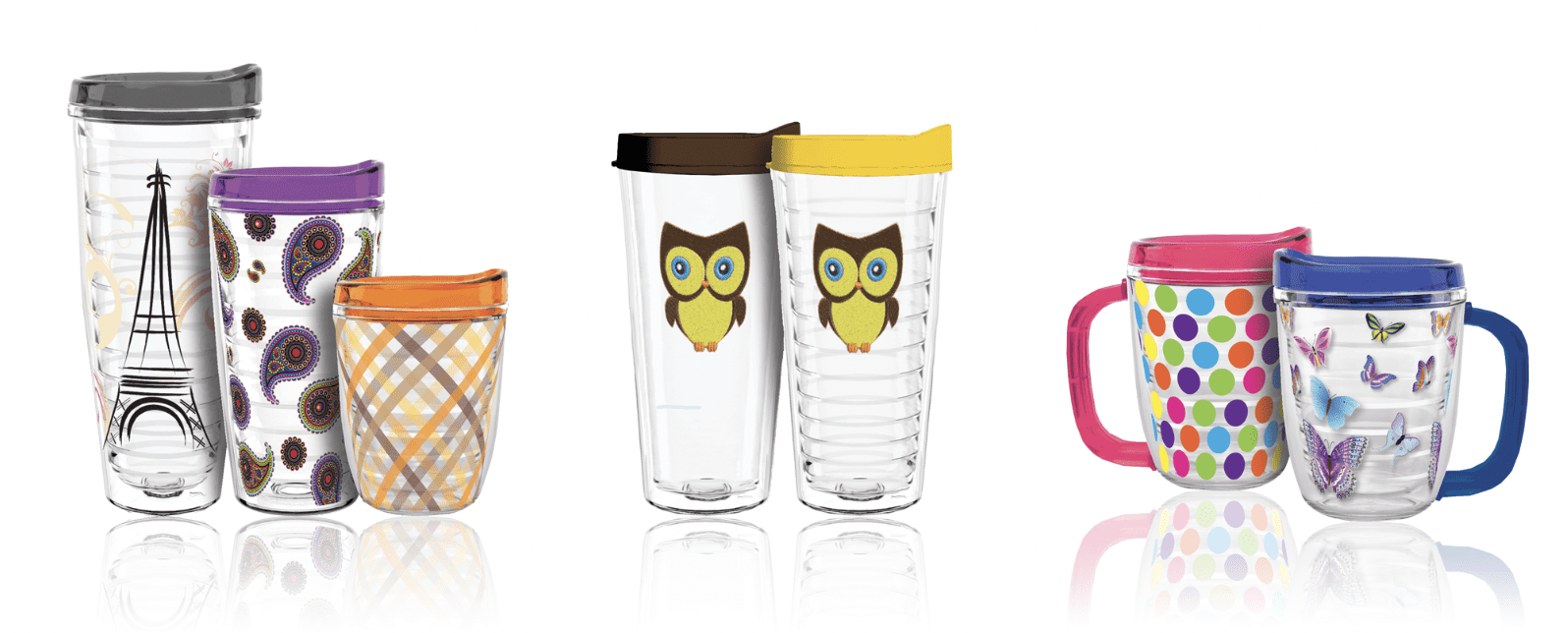 SUPPORT AMERICAN MADE. THESE POSTS HAVE TIPS THAT WILL HELP YOU DO JUST THAT.

What Does the Made in the USA Label Mean? Your Questions Answered.
Trying to Buy American? 3 Rules to Follow EVERY time you go Shopping
Ask your favorite stores to help you Buy American
Let's buy American made gifts. We've got all the good ideas.
How to Avoid Tariffs: Buy American! Start Here



Pin this list to save it for later!