If you're wondering where Retaica clothes are made, keep reading to learn more about this brand of women's wear with low prices.
Who is Retaica?
Everybody's interested in a great deal, especially given the current price increases on everything from celery to sweaters. It's particularly tempting to shop for trendy clothes at lower prices when buying holiday gifts, wedding gifts, and graduation gifts.
Retaica is an online brand that offers affordable clothing at low prices. Retica.com says the company was created in 2015 and has made clothing for "many famous brands." The website continues, "According to the service agreements, we cannot disclose their names." The company claims to make high quality clothing at a lower price point.
Retaica's product line includes everything from tees and tops in bright colors to sweaters, dresses, and loungewear. This wide variety of women's fashion items is offered at huge discounts. Retaica also has a link to sale items. You'll also find Retaica on social media sites, and it posts regularly on its Facebook page.
But while Retaica's clothing carries reasonable prices, it appears neither the clothing nor the brand receives high marks from its customers. That new top might prove to have quality problems and fail to be your sister's or niece's favorite item.
Retaica Clothes Reviews
I read consumer reviews on at least a half-dozen websites about Retaica. Most people share negative comments about the quality of the clothing and poor customer service.
For starters, those who purchased Retaica apparel were very disappointed in the quality of the product, claiming the so-called stylish clothing looked little like those pictured on the website. They say the craftsmanship is poor and the clothes don't last. They also mention the fabric is thin and clothes come in the wrong sizes.
Then there are the shipping and returns comments. Many people complained Retaica takes 35 days to ship its clothing, which isn't a very timely manner. Also, upon obtaining their purchases and noting the clothes' poor quality, buyers attempted to order refunds and returns. They recorded Retaica was unhelpful and even frustrating in these areas of customer support.
Finally, the website itself receives a low trust score due to many poor customer service complaints. Multiple eCommerce scam experiences are also detected that raise red flags about it being a suspicious site.
Are Retaica Clothes Made in the USA?
Retaica does not make its clothes in the USA. Currently, the "About" page on its website says the company is headquartered in the United Kingdom. It also says its factories are located in Singapore and Vietnam.
You just might be better off spending your hard-earned money in better ways.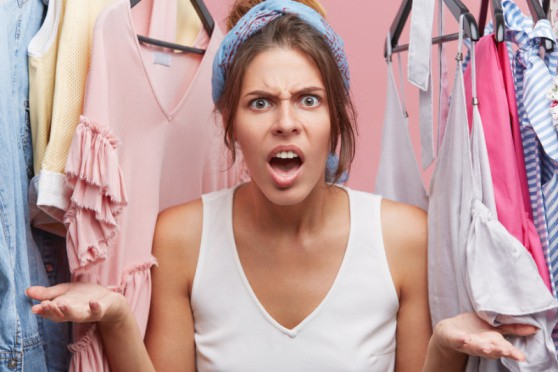 Fast Fashion Concerns
Generally speaking, more and more companies like Retaica which offer "quality clothing" at a low price point and easy online shopping prove to be suspicious for several reasons. These reasons reflect the overall problems within the "fast fashion" industry.
Fast fashion references the clothing and shopping experiences we've known and practiced for decades: manufacturers produce high volumes of clothing for stores and online retailers at typically lower price points. Some selections push the price point envelope and cost more to create the illusion they're better made.
The inherent flaws with fast fashion are many:
The clothes don't last, as the goal is volume, not quality.
The garments are made with inferior fabric, usually synthetic.
Oftentimes the fabric contains high levels of toxins the human body absorbs. Ample studies show these fabrics' chemicals are endocrine disruptors and carcinogens.
These same chemicals leak into water systems and soil.
Because the clothes don't last, these garments get thrown away and taken to landfills. The workers in the factories experience human rights violations.
A Happy Alternative: Made in the USA Clothing Brands
Fortunately, clothing made in the USA reflects a different, better model of manufacturing called "slow fashion" that's just the opposite of the qualities mentioned above. Essentially, slow fashion embodies better clothing, better fabric, fewer chemicals, and better working conditions. Emphasis is placed on caring for humanity and the environment, while also making clothing that lasts.
Reasons for Buying American Made Clothing
When you explore clothing websites with apparel made in the USA, you might see the prices tend to be more expensive than fast fashion clothing you'll find online or at the mall. The reasons for the cost are many, but consider just a few reasons:
The companies pay fair wages and provide safe working conditions.
Owners are driven by a passion for sustainability and a love for American manufacturing. They work hands-on rather than outsourcing to the cheapest maker.
Many companies source their fabrics and finishes from other American companies.
The makers desire to make some of the best clothing you can buy and wear. They're comfortable, and they feel and look great.
Delivery time is shorter.
Your overall shopping experience will be greater, as a customer service team member is just a phone call away, waiting to provide a great experience.
How to Buy Made in the USA Clothing Affordably
Options abound in finding and buying USA clothing, even when you're on a budget. Here are a few ways you can save some cash and buy American-made in the process:
Receive a percentage off your first order when you sign up for the company's email newsletters.
Check each website frequently for specials such as a certain percentage off. These specials often occur around holidays, and not just the major holidays.
Monitor for markdowns and sales, especially during seasonal clearances.
USA companies tend to offer generous exchange and return policies. Some even waive return shipping fees.
Most of the time, the companies provide free shipping on a certain amount purchased.
Here are a few more fashion-related articles for your reading pleasure!

Pin this list to save it for later!