Pick your beverage of choice: USA Love List has the best ideas for American made gifts for coffee and tea lovers. 
American Made Gifts for Coffee and Tea Lovers, All $30 or Less
Get organic, non-GMO, and Fair Trade tea from Plum Deluxe Tea of the Month Club. Each month Plum Deluxe sends a hand-blended, fresh, special limited-edition tea for tea club members only. One of the brand's signature blends, Oregon Black Breakfast Tea, featured below, is made with black and honeybush tea, orange peels, and hazelnut essence, which offers anti-inflammatory and anti-oxidant benefits. This unique tea blend offers balanced tastes with deep, mellow, citrus, and nutty flavors from the black tea, honeybush, orange peels, and hazelnut essence, respectively.  Plum Deluxe tea blends are blended by hand in Portland, Oregon. A three month membership to the Plum Deluxe Tea of the Month Club is only $30 and is a fun and unique gift.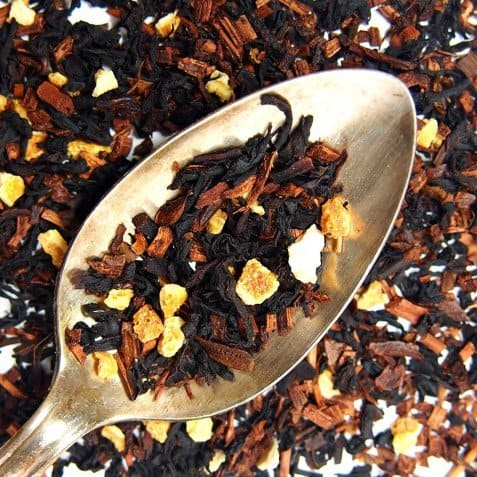 Celestial Seasoning Dirty Chai pays tribute to coffee and tea lovers at the same time. The caffeine filled drink is made with Assam black tea, spices, including, cinnamon, ginger, black pepper, cardamom, Chinese star anise, cloves and nutmeg, along side roasted chicory and espresso. Tuck these tea bags into stockings or wrap them with a few other items on this list for a complete, and thoughtful gift.
You've probably seen Mighty Leaf tea on store shelves before. I was happy to find out that the company is an American owned small business with all nearly of their 60 employees working in San Rafael, California. Each tea bag is packed and stitched by hand, after being filled with whole tea leaves. Tuck their tea bags into stockings or wrap up a box for a thoughtful friend. One of my favorites is the Bombay Chai because it has the perfect balance of spices and is nice to drink with only a tad of sweetener. Try my recipe for a low-calorie cold weather treat.
Vegan Chai Tea Latte

1 cup non-dairy milk

2 tsp. raw honey

1 Bombay Chai tea bag

Heat any type of non-dairy milk on the stovetop. Add Mighty Leaf Bombay Chai tea bag so that it brews while the milk is being heated. Once the milk is warm, add honey, pour into mug, and enjoy!
If you can image "eating" a cup of tea, then pair the Castleton Crackers' Middlebury Maple with Beehive Cheese Co.'s Tea Hive cheese. Close your eyes and it's like you're drinking a slightly sweetened earl grey. It's truly a little slice of heaven.  The products are made in Castleton, Vermont and Salt Lake City, Utah, respectively.
When I cut white sugar out of my diet as a sweetener for tea and coffee, I found that honey is not only a healthier alternative, but it's also palate pleasing. Local honey and honey from other regions of the United States all make fabulous gifts for the tea lover. Honey from each region of the US has a different and unique flavor based on the plants native to that region. Indian River Bee Company, located in Florida, offers raw honey and raw honey with added flavorings. The cinnamon flavor is my favorite and brings plain black tea to a new level.
The Fiesta Jumbo Cup is THE best mug for enjoying a large cup of tea or coffee while relaxing at home This cup is part of the made in West Virginia Homer Laughlin Fiesta Ware collection and is available in 12 colors.
For coffee and tea drinking on the move, Tervis tumblers are our go-to travel cups. Tervis tumblers are made in Florida and come in a variety of designs which include sports teams, collegiate, hobbies, and more! They can even be personalized.
End the day by letting the Paddywax French Press Candle or Chai Latte Candle allure you with its sweet, strong, and comforting scents. I love that these candles are made of clean burning soy wax. The Provisions container make repurposing the ceramic vessel easy when the candle's life is over, and make it a unique and gift all on its own.
For anyone who loves their caffeine jolt, Aerobie Aeropress, made in California, is a must have. I'm really picky about my coffee and the Aeropress makes a great cup of coffee or espresso, depending on how strong you like your coffee. You won't be disappointed with your cup o' joe if you use Aeropress. It's also perfect for traveling too, because it's so compact.
You may have read about cold brew coffee being all the rage these days. If you don't like bitter your coffee, you'll love cold brew. I particularly enjoy High Brew Cold Brew Coffee. Not too sweet, flavorful, and bold, the Black & Bold is my favorite. It's only 20 calories, and I love the slim can package which makes it easy to transport.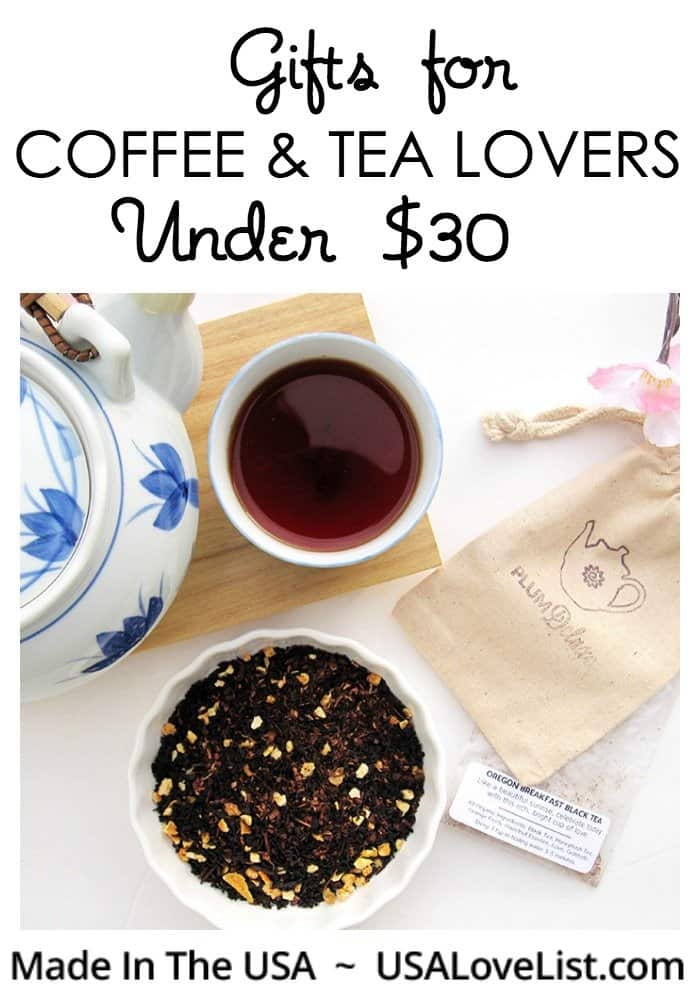 Disclosure: This post is a sponsored post which USA Love List is proud to share with you because, sponsored or not, we only share stuff we love.