Have you been hunting for American Made Christmas decorations?  They can be hard to find, but we found them for you.  Holiday decorations are something that you get out and use year after year. Choose made in USA products that will last, that you can trust, and most importantly, that you feel good about.  
Hard to Find – American Made Christmas Decorations
Whether you have already begun transforming your home into a winter wonderland, or you have yet to bring the Christmas boxes out of storage, here is a list to inspire you to purchase made in the USA holiday decorations this year.
CHRISTMAS LIGHTS
It appears that there is no manufacturer of Christmas lights anywhere in the USA! However, there are companies that manufacture Christmas decorations in the USA that include LED lights (Remember: the lights themselves are NOT made in the USA).
Crab Pot Trees are indoor and outdoor Christmas decoration made in North Carolina from mesh wiring left over from crab trap manufacturing. Strands of LED lighting are attached to these fabulous tree shaped wire creations for easy holiday lighting displays!
ARTIFICIAL CHRISTMAS TREES 
Crystal Valley Decorating, Inc  manufactures commercial Christmas decorations, including large artificial trees and LED lighted displays, in Oregon.
ORNAMENTS, AND OTHER CHRISTMAS DECORATIONS
Gloria Duchin pewter ornaments are made in Rhode Island.
Angelica Designs angel themed stocking hooks are handcrafted in the USA from resin.  The metal hook is removable, so these angels could visit your home all year long!
Wee Forest Folk handmade mouse miniature holiday collectibles. Each Wee Forest Folk mouse miniature is hand sculpted, and painted by a talented artist.
Lynn Haney Collection heirloom quality, collectable Santas are handcrafted in Texas.
Jay Strongwater Nativity Set is handcrafted in the USA. Pieces are bejeweled with Swarovski crystals.
Vance Family Soy Candles in holiday scents are made in Washington state.
Wendell August Forge, headquartered in Pennsylvania, manufactures classic metal ornaments.
Teak Isle Manufacturing is the producer of marine grade plastic outdoor holiday decorations, window displays and holiday ornaments. Teak Isle is a leading marine product manufacturer and supplies parts to boat builders.
LL Bean has a nice selection of holiday wreaths and tabletop centerpieces which are made in Maine from fresh evergreens.
Plow & Hearth, a catalog and online retailer of home and lifestyle products has a clearly marked sections for made in USA indoor and outdoor holiday decorations. 
Bronner's CHRISTmas Wonderland, a.k.a The World's Largest Christmas Store, is located in Frankenmuth, Michigan.  Not all of the Christmas items they sell are made in America, but with 'Made in the USA' at the top of their web page as one of the search topics, it's easy to find ornaments, nativities, and decorations that are .
Norton's USA is an online retailer of only American made goods, including holiday decorations.
BUY LOCALLY MADE CHRISTMAS DECORATIONS WHENEVER POSSIBLE!
If a fresh cut tree is what your family prefers, visit a tree farm this year and pick out your own. My kiddos love to run through the trees to find the perfect one for our house. To find a tree farm near you check out PickYourOwn.org. Most of these farms even sell wreaths and garlands or other holiday decorations.
Holiday wreaths and other handmade holiday decorations can be purchased at local bazaars, holiday craft shows and farmers' markets. Check your local newspaper to find one near you.  You're sure to find great holiday decorations like ornaments, or even handmade greeting cards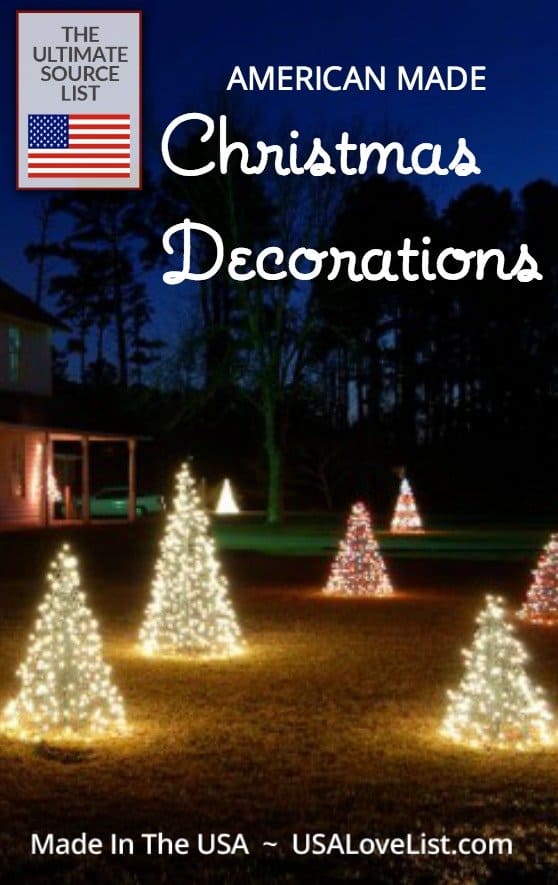 Disclosure: This is a sponsored post which USA Love List is proud to share with you because, sponsored or not, we only share stuff we love.