We all want to make sure our feline friends have the safest and best cat supplies. Make sure those supplies are American made! This is a category where you don't have to compromise because we found everything you need: cat food, cat treats, cat toys, cat collars and cat harnesses, scratchers, food bowls, litter box supplies and grooming products. Seriously, could there be anything we missed? Do you have a favorite American made cat product that didn't make our list? Please share in the comments!
Made in the USA Cat Supplies
Cat bedding
The Snugatti nestable pet bed by Dog Crazy Designs is available in a Mini size that is perfect for cats! The washable Snugatti is made in Alaska. The Snugatti is made with clean, shredded furniture foam, making it an Eco-friendly item.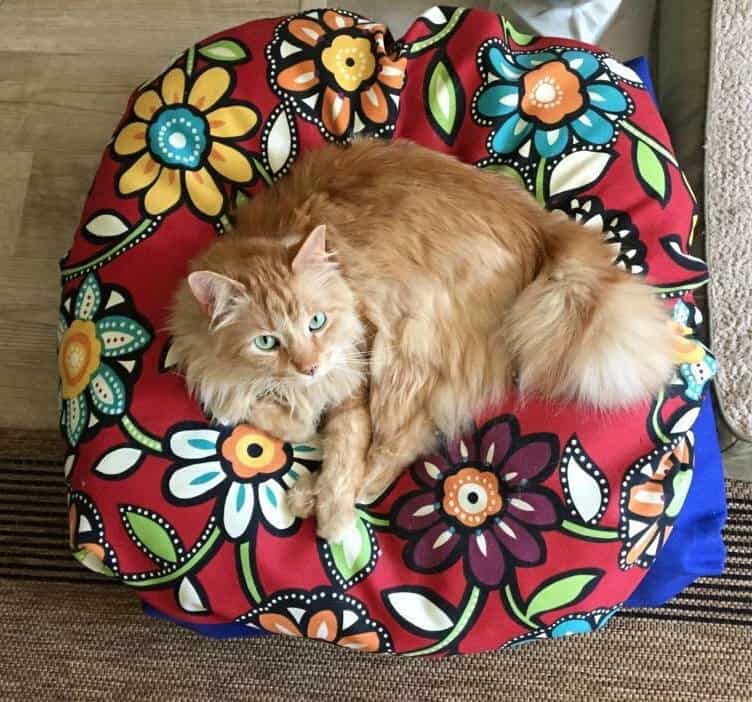 cat collars and cat harnesses
Cat toys
Da Bird Feather Teaser is handcrafted in the USA.
scratchers and climbers
The Scratch Lounge , made in Illinois, is a three sided cat scratcher that is large enough for cats of all sizes to enjoy.
Sticky Paws cat clawing deterrent stops cats from destroying furniture and drapes.
Feeding & watering
The Petmate replendish watering system is made in Arlington, Texas.
Cat food + supplements
Please note: As I mentioned in a USA Love List post about natural pet food,  vitamins + many supplements that are added to some pet foods are not sourced in the USA. Though a food may be made in the USA, ingredients could be sourced elsewhere. 
EVO dry cat food is manufactured in the USA with MOST of the ingredients sourced in the USA. On the EVO website you can see exactly where each ingredient comes from.
Lotus holistic grain free canned pate is manufactured in California from natural ingredients.
Merrick makes cat food (in both wet and dry varieties), as well as pet treats in Hereford, Texas.
Whole Earth Farms canned and dry cat food is grain free and American made with natural ingredients- none of which are sourced from China.
Wysong holistic cat food is manufactured in the USA with most of the ingredients sourced in the USA.
American made Alaska Naturals Alaskan Wild Salmon Oil is a natural supplement for cats that promotes healthy skin and anti-oxidant support.
Litter box necessities
The ultimate litter box solution, Litter-Robot, is actually made in the USA. We're so lucky! Whether you have one or multiple cats, the Litter-Robot is life changing litter box that you'll be glad you have.
If you're not familiar with this high tech litter box, the Litter-Robot is an automatic self-cleaning litter box. Its patented sifting system automatically separates waste from clean litter, so you never have to scoop litter again! Crazy great, right?! A clean cycle will start automatically once your cat exits the unit. The efficient cleaning process only removes the clumps, preserving the clean litter and also reducing odor. We're huge fans. 
Made from walnut shells, which provide great odor control and absorption, Blue Buffalo cat litter is available in many different varieties.
Clevercat Top Entry Litter Box and box liners keep litter contained.
Dr. Elsey's Cat Attract litter is made in the USA and specially formulated for cats that don't like to use the litter box.
Drymate Cat Box Mat is absorbent, reduces litter tracking, and is machine washable.
Litter Lifter Scoop is an award winning American made clog free litter scoop.
grooming products for cats
Burt's Bees Waterless Cat Shampoo, and Dander Reducing Wipes are 98% natural.
Made in California, earthbath offers a fabulous selection of safe, natural cat grooming products that include shampoos, foams, and wipes.
FURminator Shed Control cloths are reusable for up to 3 uses.
Sentry Petrodex dental spray is controls cat plaque and bad breath.
Synergy Labs Dental Fresh water additive whitens a cats teeth while providing fresh breath.
Tropiclean oral care products and shampoos for cats are made in the USA from natural ingredients sourced within the USA.
Disclosure: This is a sponsored post which USA Love List is proud to share with you because, sponsored or not, we only share stuff we love.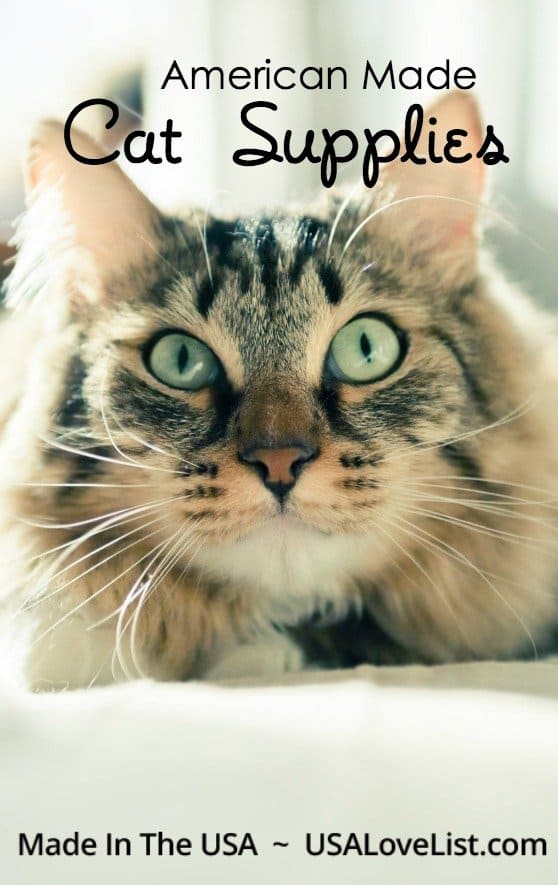 Follow USA Love List's board Pets: Made in USA on Pinterest.