If you're looking to use more non-toxic products in your life, here are Eco friendly home products that you'll be sure to love. You can be confident that these American made products will help you in lessening your impact on the environment. These items make great wedding, anniversary, and housewarming gifts too!
American Made Eco Friendly Home Products
360 Cookware Non Toxic Cookware and Bakeware
360 Cookware knows that you want to be an exceptional home chef. They also know that in order for you to do that, you need the best cookware to create meals you and your family will love. The problem is, most people's cookware is inefficient and worn out which causes frustration. Your kitchen is the best restaurant in town so it should be equipped with the best tools! The team at 360 Cookware understands how much joy cooking can bring and how good it feels when someone asks for seconds. This is why over 60,000 kitchens just like yours have been equipped with heirloom quality 360 Cookware products.
360 Cookware is designed with technology that allows for healthy vapor cooking, heating food faster and at lower temps. It locks in flavor and nutrients eliminating the need for added oils or fats. 360 Cookware provides customers with a unique cooking experience by manufacturing heirloom quality cookware and bakeware made in one of the country's leading sustainable cookware factories. 360 Cookware offers products that are free of any harmful coatings such as PTFE and are handcrafted in America with T-304 Surgical Grade Stainless Steel.
Take 20% of your 360 Cookware purchase with discount code USALOVE. No expiration. One use per customer.
Earth Flatware from Liberty Tabletop
Join Liberty Tabletop in celebrating our beautiful blue planet with the Earth flatware pattern! Liberty Tabletop supports the preservation of a clean and safe environment as they strive to meet and exceed environmental regulations. The Upstate N.Y. factory is powered by hydroelectricity from nearby Niagara Falls and they avoid using toxic chemicals and filter all buffering units in order to avoid polluting our precious community. The raw materials are responsibly sourced from American suppliers that adhere to strict environmental standards.
As part of the commitment to preserving our delicate environment, Liberty Tabletop has partnered with One Tree Planted, a non-profit organization focused on global reforestation and pledges to plant one tree with every Earth pattern set purchased.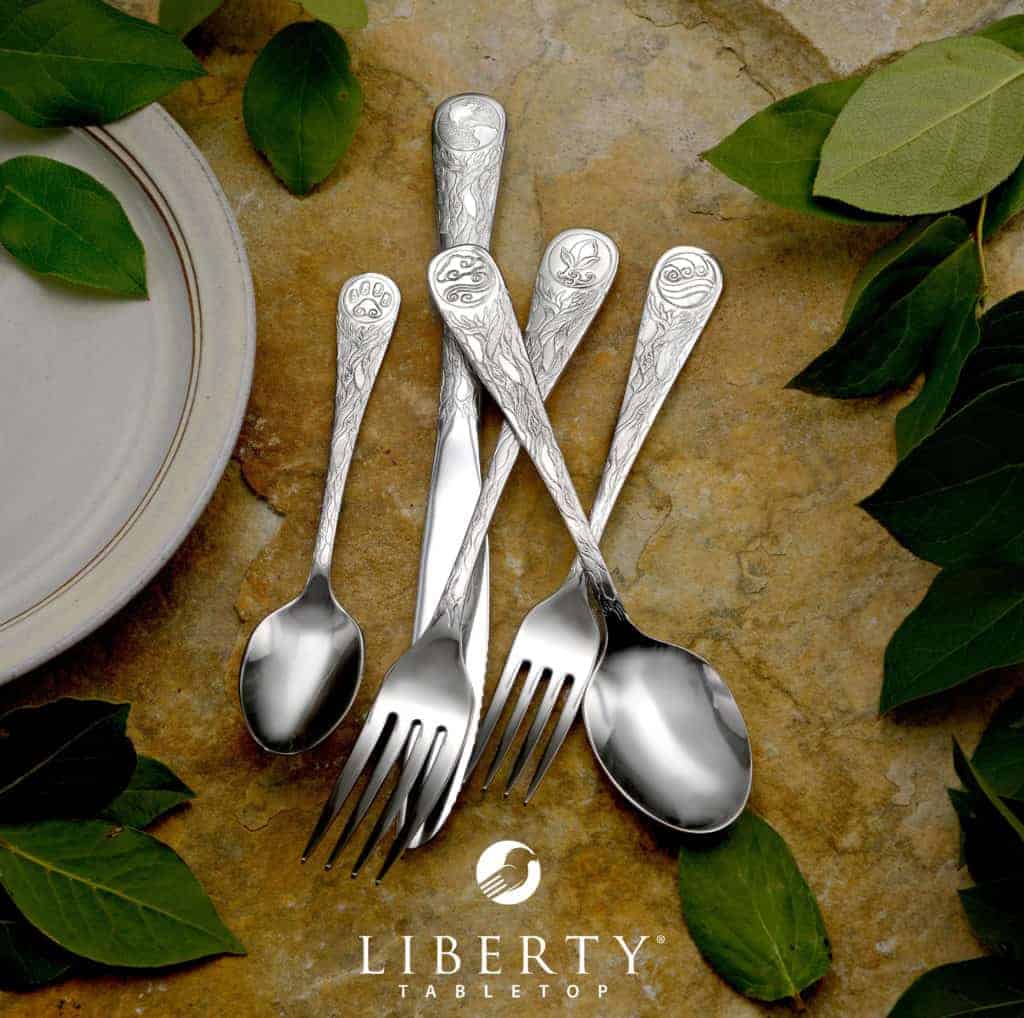 Cover Photo: 360 Cookware
Have you visited our Made in USA Shopping District? It is the place to start your shopping when you want to find the best of American-made.
Love this list? We know you will love these lists too!

Pin this list to save it for later!