How many of us have gone to purchase an American flag, or any patriotic item for that matter, and noticed that the label stated, "Made In China?! I mean REALLY, the irony!
In honor of Flag Day, and in preparation for Fourth of July celebrations, today we share a list of made in USA American flags and flag accessories. This is the time of year to brush up on your American flag etiquette, so I will also include some information from Title 4 of the United States Code of Law- The Flag Code. Today is the day you become an expert in respectfully displaying and handling your U.S. flag.
Made in USA American Flags for Flag Day and Everyday
Annin Flagmakers have been making flags since 1847 and are now the oldest flag manufacturer in the U.S. Annin has plants in New Jersey, Pennsylvania, Ohio and Virginia. Not only a great choice for U.S flags, Annin also manufactures Patriotic fabric decorations. I LOVE fabric bunting as a decorating choice as it is reusable, long lasting and a great Eco friendly choice over plastic banners!
Valley Forge Flag Co. has been manufacturing American flags in the USA since 1882. Valley Forge Flag Co is headquartered in Wyomissing, Pennsylvania, and manufactures products in South Carolina. Valley Forge carries a great selection of U.S flags as well as patriotic decorations (yay for fabric!), all made in the USA.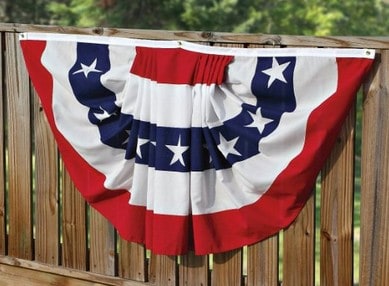 Flagsource has been manufacturing U.S flags since the 1920s. Their manufacturing facilities are located in Batavia, Illinois. They carry an impressive selection of U.S Flags.
Flag Zone is a flag manufacturer located in Pennsylvania. Flag Zone American flags are made in the USA from materials produced in the USA.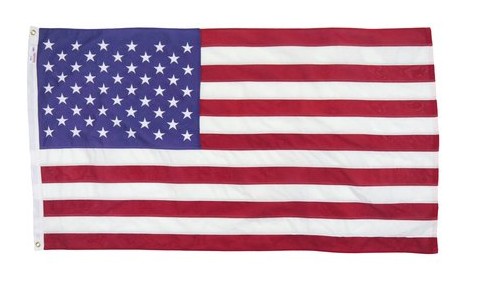 All of the companies listed above are members of the Flag Manufacturers Association of America which established the "Certified Made in the U.S.A" certification program of American Flags. According to the FMAA website, " 'Certified Made in the U.S.A. ' certifies that your American flag has been made in the U.S. of materials that are domestic in origin and that all processes in every step of its manufacture were completed in U.S. facilities with U.S. labor".
American Made Flag Accessories
You can purchase the Liberty Telescoping Flagpole Kit, a 100% manufactured in America flagpole kit- even the flag is made in the USA! The telescoping flagpole style, is in my opinion, is the most Eco-Friendly as it contains no additional hardware like ropes and anchors. If you have noticed any "Made in the USA" flagpoles in stores, please share in the comments!
How to Properly Display an American Flag
If you are displaying your U.S flag on the same pole as a state, city, municipality or organization flag, the U.S flag is always on the top. If using separate poles and you have a group these flags, the U.S flag is displayed at the highest point and at the center. If 2 flags are being displayed on separate poles, they are at the same level and the U.S flag is always at the place of honor to the observers extreme left. The U.S flag is always hoisted first and lowered last.
If you are displaying your U.S flag with a flag of another country, they must be on separate poles at the same level. Flags should be approximately the same size. International usage forbids the display of one nations flag over another during time of peace. I happened to notice this morning that my neighbor is in violation of this one. Sorry Canada, I am sure he is not declaring war!
You can hang your U.S. flag against a wall either horizontally or vertically. If you choose to do this, make sure that the Union (the blue part with the stars) is to the observer's left. When displayed in a window, the Union is to the left of the observer when viewed at from the street. I noticed a violation of this code on a house when I was out running errands today.
The U.S. flag is to be displayed from sunrise to sunset. The American flag CAN be displayed outside overnight IF properly lighted.
Flag Etiquette: How to Honor and Care for a United States Flag
You CAN leave your flag outside in bad weather IF it is an ALL WEATHER flag, which means it was manufactured to withstand all weather types.
Always make sure your American flag does not touch the ground or anything underneath it and always handle your flag with respect.
There are special days when the flag is flown at half staff. For more information on half staff flying check out these easy to follow instructions on the Home of Heroes website.
What to do with a damaged flag
An American flag that is ruined beyond repair is to be destroyed in an honorable way, preferably by burning. It is NOT recommended to burn the flag in your own fire pit as dangerous chemicals can be emitted from burning flags. Not to mention your neighbors could call the police on you claiming you're a terrorist! A better option is to contact your local American Legion, Boy Scout Troop or Girl Scout Troop who will gladly take your flag for proper disposal.
More flag rules to honor the American Flag
If you want to learn more about the U.S. Flag Code, and notice violations everywhere (like me), you can check out this Flag Code description where I acquired the flag rules in this post. Visit our article, Do's and Don'ts of American Flag Etiquette- Are you doing it right?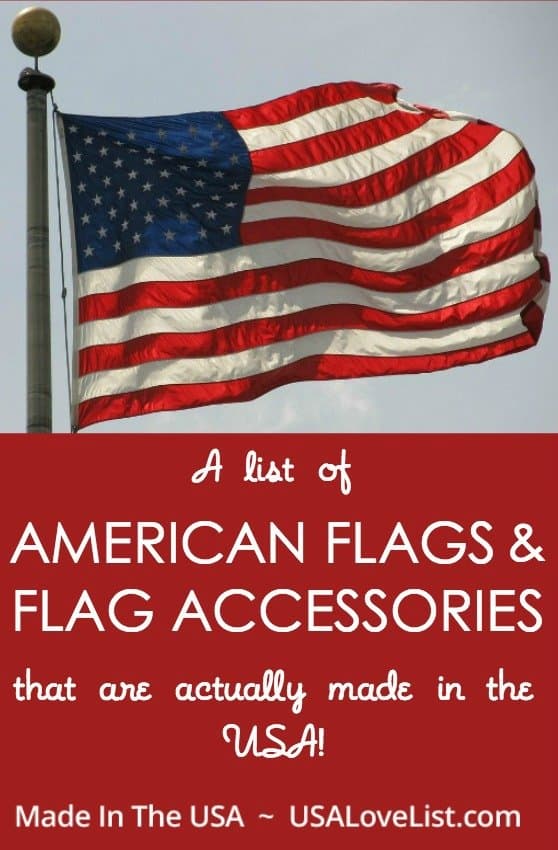 Follow USA Love List's board Stuff We Love Lists: Made in USA on Pinterest.