Walk into almost any store in the weeks before the Fourth of July and you are sure to run smack into a display of patriotic products.  How many of those patriotic items are actually made in the USA? Not many, if any at all.  Well, we have found patriotic items that are actually made in the USA. These are must have's for your patriotic plans and Fourth of July festivities – or for every day!
Patriotic Items Made in USA
Made in USA Patriotic Lawn Decor: Crab Pot Trees Patriotic LED Lighting
Crab Pot Trees aren't just for Christmas decorating. We have been a huge fan of Crab Pot Trees here at USA love list for years and we love that they offer a 4′ Patriotic LED Crab Pot Tree for summer holiday decorating too. Save 30% off of any Crab Pot Trees you order by going to https://crabpottrees.com/promo and entering promo code USALOVE. No expiration date.
Crab Pot Trees are Christmas trees made from….crab pots! A string of lights woven through American made crab pot mesh creates the beauty and the simplicity of the Crab Pot Tree.
Handcrafted on the shores of North Carolina, Crab Pot Trees were originally created as a frugal way to use up leftover crab pot mesh, and as a unique way to keep the makers of crab pots employed during the winter offseason. These easy to display lighted trees quickly caught on with the locals, who fell in love with the nautical themed holiday decorations. Please note: The LED lights are NOT made in the USA. Currently, there are no LED lighting strands made in America.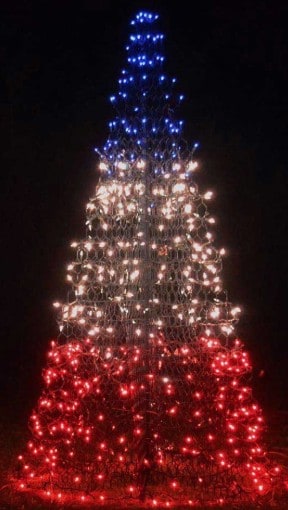 Made in USA Patriotic Children's Pajama: Brian the Pekingese
Every kiddo needs a pair of patriotic PJs for the Fourth of July! Brian the Pekingese made in the USA organic patriotic children's pajamas (available in red or in blue) will be a favorite. These American made children's PJs are made from 100% organic cotton and are comfy, soft, and cool. All Brian the Pekingese PJs contain NO flame retardants. Save 20% AND free shipping of Brian the Pekingese with discount code USALOVE. No expiration. 
Made in USA Patriotic Nails: Makeup America!
We love the patriotic American Manicure nail polish set from Makeup America! No need to hunt for the perfect Made in USA nail polish shades of red, white, and blue. Makeup America! has these colors, plus a sparkly gold, already put together in one set. Makeup America! products are American made, cruelty-free fragrance-free, paraben-free, and non-GMO.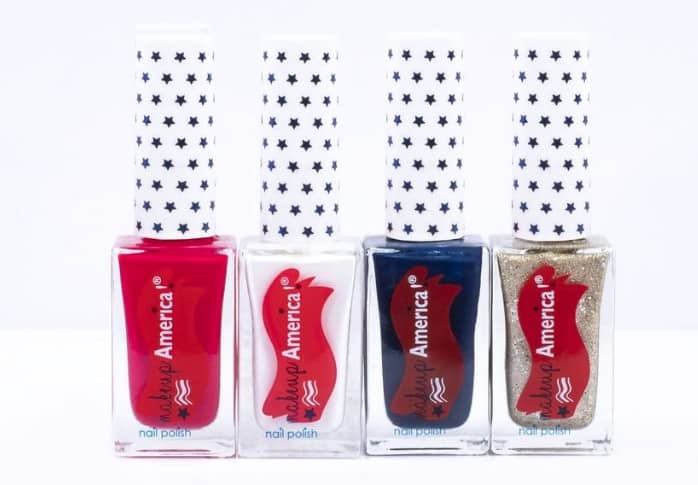 Made in USA Patriotic Socks: Boldfoot and Freaker USA
Look no further for patriotic socks that are made in the USA!
Boldfoot Socks men's fashion socks are sewn in the USA using American grown cotton. The Boldfoot  Patriotic Sock Bundle comes with 3 pairs of red, white, and blue patterned socks. Boldfoot donates 5% of their profits to U.S. military & veterans in need. Take 15% off Boldfoot socks with discount code USALOVE on your first order. No minimums necessary. No expiration date.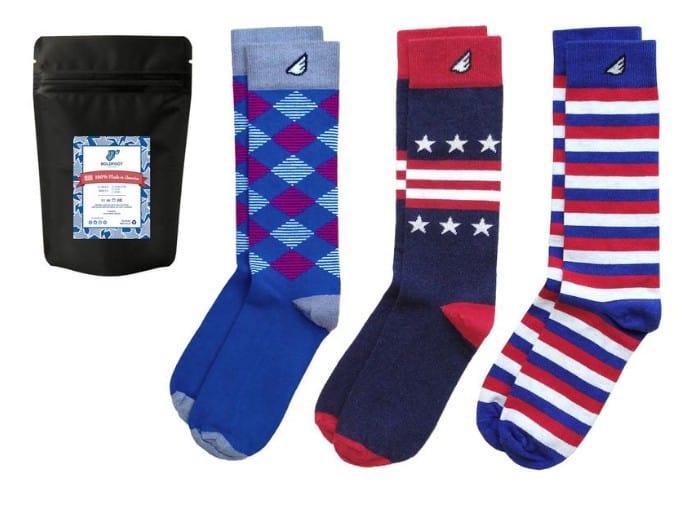 Freaker USA socks are…unique…socks.  They make buying socks easy and fun with these one-size fits most, unisex American made socks. They offer several patriotic sock options. All Freaker USA socks are made in Troy, North Carolina, and the company headquarters are in Wilmington, North Carolina.
Patriotic Party Supplies: Big Dot of Happiness
No party or BBQ is complete without made in the USA patriotic party supplies! Big Dot of Happiness manufactures most of their paper products in a Wisconsin facility. They offer patriotic photo booth props, patriotic treat boxes, patriotic stickers, patriotic banners, and more- all made in the USA. 

Made in USA Patriotic Bunting
Decorate the outside (or inside!) of your home this year with patriotic bunting made in the USA.  There is a long tradition in America of residential porches and fences being decorated with patriotic bunting for the Fourth of July holiday. Originally, this bunting was made of wool. Today's bunting is mostly made of cotton and/or polyester. 
Patriotic Fiesta Dinnerware
In 2019 Fiesta released the Americana Stars red, white, and blue star design dinnerware pieces. This patriotic series includes the following pieces; Luncheon Plate, Bread Tray, and Tapered Mug. They also have a solid red white and blue set at Bed, Bath, & Beyond.

Okabashi makes flip-flops and sandals in Georgia. Choose from a variety of colors, including good ole' red, white, and blue! Purchase on the Okabashi website or on Amazon.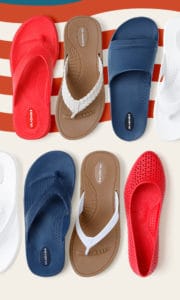 Looking for more patriotic entertaining or decor inspiration?
Don't miss the following USA Love list articles;
Have you found a patriotic item that is made in the USA? Share in the comments below and we can add it to our list.
Cover image: Fiesta Dinnerware