I'm happy to present these 10 great items from my home state. They range from food to drink to ice buckets and toilet paper. As an eco-friendly blogger, I was so pleased to find a number of green minded products made in New Jersey. As a state that has been much maligned in the past, I am very excited to see the Jersey Fresh mindset emerging in an organic and sustainable way.
One of the easiest ways to see if some of your favorite pantry items have products made in New Jersey is to check out the Jersey Fresh website and see their listing. In addition, there are a number of new and innovative products that I have been excited to discover this year.
These ten are just the tip of the iceberg for Made in New Jersey products and I am proud to have them hail from my home state.
10 Things We Love: Made in New Jersey
Mr. Ice Bucket Ice Buckets
Mr. Ice Bucket has been producing quality ice buckets and other related items since 1965. This New Brunswick business makes wastebaskets, wine coolers, wine racks, and other items in addition to its classic ice buckets. The company was awarded the "William Nolan Designer Packaging Award" for creative use of recycled paper in its packaging. So, when it arrives at your door, you can enjoy its eco-awareness in packaging. Mr. Ice Bucket is featured in the article Seven Outdoor Entertaining Tips for an American Made Summer to Remember.
Deep Indian Kitchen Frozen Foods
I can count the number of times I've purchased frozen meals on one hand, so Deep Indian Kitchen (formerly Tandoor Chef) frozen meals aren't sometimes I'd typically think to buy, but I cannot begin to tell you how delighted I was to try Deep Indian Kitchen. I particularly loved the vegetarian Palak Paneer; it tastes just like the ones you get at an Indian restaurant. What a treat. The company offers vegan, vegetarian, and gluten-free options. Deep Indian Kitchen produces its products in its factory in Union, New Jersey. Tandoor Chef is listed in our popular article, Made in USA Gluten Free Foods We Love.
Derma-Safe Utility Knives & Saws
For the gardeners and weekend warriors out there, there are Derma-Safe, LLC products such as the utility saw pictured above. I can't wait to get my hands on one of these for all of my small trimming projects around the garden.
Absolute Green Products
Absolute Green products include cleaners, air fresheners, DEET free bug repellent and more. All Absolute Green products all 100% all natural and safe for pets and people. They contain no synthetic chemicals, no dyes, and are GMO-free and sulfate free. Oh, and they are vegan and cruelty-free too!
Marcal Paper Products
North Jersey is also home to Marcal Paper, owned by Soundview Paper Company. Marcal has taken some great steps to create more sustainable paper towels, toilet paper, and other home items with its Small Steps line. It currently uses a large percentage of the recycled junk mail in New Jersey to manufacture the Small Steps line.
Hillside Candy
Hillside Candy offers a few different lines of candy that are Made in New Jersey. The GoOrganic candy line is organic, dairy and gluten free and made by hand. Hillside Candy is featured in our Candy Made in the USA: Ultimate Source Guide.
First Field Jersey Ketchup
First Field Ketchup takes tomatoes, one of the greatest exports of New Jersey, and makes them into a delicious and healthy ketchup. With organic sugar taking the place of high fructose corn syrup, you can rest assured that this is a great bottle to set on your table this year.
Flying Fish Brewery
Flying Fish Brewery has taken its Jersey Pride to a new level in the last few years by launching the Exit Series and its F(orever) U(nited) Sandy gear. The South Jersey-based company also started a new brewery that has sustainable features like solar panels, a rain garden, and rescued carpeting and refurbished furniture.
Severino Pasta
A great set of specialty foods and pasta to go alongside the handcrafted beers mentioned above are those from Severino Pasta. I've been going to Severino's with my family since the late 1970s and have watched it transform from a small shop to a national presence in Whole Foods Markets. The pasta, sauces, meatballs and wide range of Italian cheeses and other products that are in the shop leave this foodie very happy. You can find a lot of their products in the frozen section of Whole Foods, but if you happen to be in Haddon Township, be sure to stop in for freshly made pappardelle and ravioli.
Booskerdoo Coffee
Our tenth item Made in New Jersey can both start and end your day. Have a fresh cup of Booskerdoo coffee with your breakfast or unwind with a warm cup of their decaf at the end of the day. Their coffee is roasted at the Jersey Shore and is both organic and fair trade. What a great way to be Jersey Strong!
I hope you have gotten a great sense of what Made in New Jersey means and have fun shopping for these sustainable Garden State offerings.
Becky Elmuccio writes about organic gardening, green parenting and living an eco-friendly lifestyle at BeckyElmuccio.com She is a former elementary school teacher, a wife, mother, and a proud New Jersey native.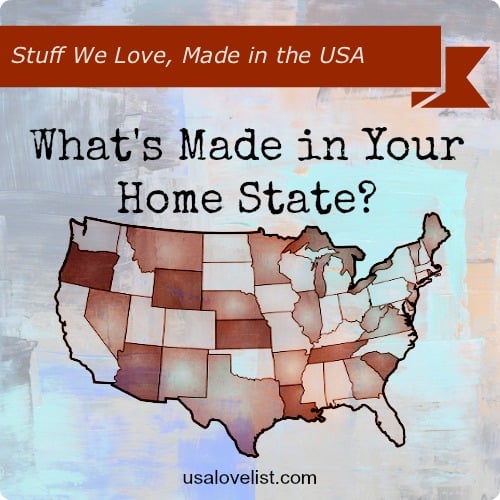 SUPPORT AMERICAN MADE. THESE POSTS HAVE TIPS THAT WILL HELP YOU DO JUST THAT.

What Does the Made in the USA Label Mean? Your Questions Answered.
Trying to Buy American? 3 Rules to Follow EVERY time you go Shopping
Ask your favorite stores to help you Buy American
Let's buy American made gifts. We've got all the good ideas.
How to Avoid Tariffs: Buy American! Start Here


Have you visited our Made in USA Shopping District? It is the place to start your shopping when you want to find the best of American-made.

Pin this list to save it for later!
Pin this list to save it for later!