I'm happy to present this list of great products from New Jersey, my home state. These made in New Jersey item range from food to clothing to home goods. As an eco-friendly blogger, I am very excited to see Jersey manufacturing emerging in an organic and sustainable way.
What Products are Made in New Jersey?
According to Choose New Jersey, a privately funded economic development organization with the mission to stimulate job creation in New Jersey, there are over 2,500 advanced manufacturers that call New Jersey home.
One of the easiest ways to see if some of your favorite pantry items have products made in New Jersey is to check out the Jersey Fresh website and see their listing.
These ten are just the tip of the iceberg for Made in New Jersey products and I am proud to have them hail from my home state.
This USA Love List Guest Post was originally written in 2013 by New Jersey native Becky Elmuccio. It has been updated multiple times over the years by USA Love List editors.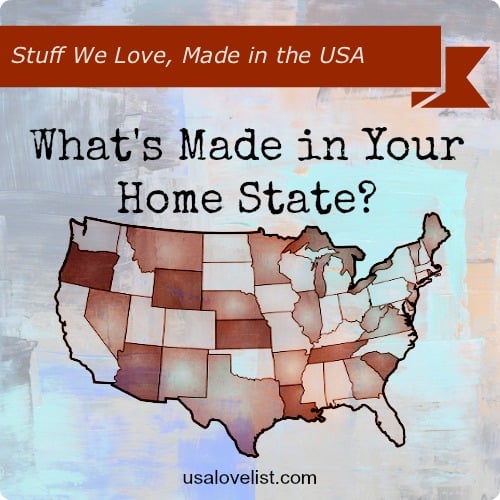 SUPPORT AMERICAN MADE. THESE POSTS HAVE TIPS THAT WILL HELP YOU DO JUST THAT.

What Does the Made in the USA Label Mean? Your Questions Answered.
Trying to Buy American? 3 Rules to Follow EVERY time you go Shopping
Ask your favorite stores to help you Buy American
Let's buy American made gifts. We've got all the good ideas.
How to Avoid Tariffs: Buy American! Start Here


Have you visited our Made in USA Shopping District? It is the place to start your shopping when you want to find the best of American-made.

Pin this list to save it for later!