Whether you're looking to get healthy, lose weight, or stay hydrated, we tried these detox cleanse options to get a healthy lifestyle back on track. Let's get healthy together, choosing American made products that support homegrown businesses. I feel better already! These natural detox cleanse options are listed in alphabetical order.
Natural Detox Cleanse Options: Made in USA
Do you know the feeling of being tired and lethargic after a long weekend of eating poorly? It's all too familiar, and it's not a fun feeling.
I cannot even begin to tell you how vibrant Bamboo Juices are! I'm fallin' in love with Bamboo Juices. These raw, organic, and cold-pressed, Bamboo Juices – The Beginner 1 Day Cleanse deliver the vital nutrients, allowing your body to absorb all the essential vitamins, minerals, and enzymes. Bamboo Juices offers seven unique juice and 'mylk' flavors in its one day cleanse, including coconut almond milk, spinach apple, lemon ginger, beet cucumber, cinnamon yam, carrot coconut, and sweet celery. I love that this cleanse aims to clean your system, deliver nutrient dense plant-based ingredients, and curb your appetite with protein-rich nut based juices. The juice is cold-pressed in the company's Georgia facility, after you place your order, to deliver the freshest juice possible the next day. The ginger, lemon, green apple is my personal favorite; it offers the perfect amount of spiciness from the ginger, a nice tang from the lemon, and a juicy sweetness from the apple.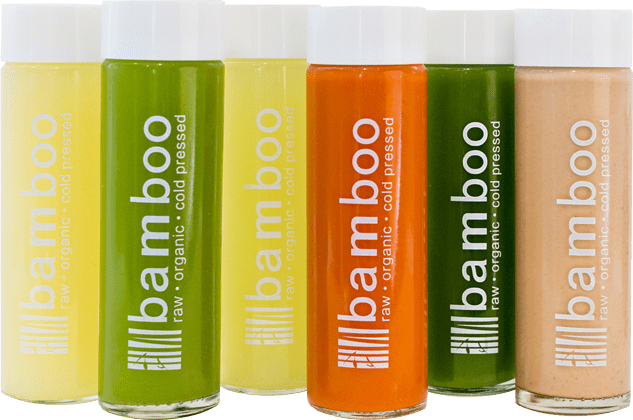 Daily Greens Green Lemonade is perfect for those who don't love green juices. With only 20 calories, and made from raw, organic and fair trade ingredients including, water, lemon, spinach, E3Live blue-green algae, stevia, and cayenne pepper powder, this juice is the perfect balance between tart, sweet, and spicy. Unlike most processed lemonades, it's not cloyingly sweet or overly tart. Daily Greens products are all USDA Organic Certified, Non-GMO Project Verified and Kosher certified and processed in Austin, Texas.
Garden of Flavor was founded by Lisa, a Certified Holistic Educator, and Raw Food Chef. All of Garden of Flavor juices are cold-pressed, organic, never heated and made from fresh vegetables, fruits and nuts. Garden of Flavor One Day Cleanse consists of Goji Pineapple, Green Harmony, Mean Green, Twisted Roots, White Knight, and Turmeric Tonic juices. Each of these is so refreshing and meant to build on one another to help you feel better, and more energized by alkalizing your body and flushing impurities. The Cleanse is made from nearly 20 pounds of raw, organic vegetables, fruits, and nuts.
I particularly appreciated how balanced each flavor option is. For example, my favorite juice, Green Harmony, is made with all organic ingredients, including cucumber, apples, romaine lettuce, kale, celery, lemon, spinach, parsley and over one billion deliverable probiotic cultures. All of these ingredients come together in a way that you can taste them all, without having one overpower the other. I highly recommend Garden of Flavor. Look for the brand at your local Whole Foods market. You will not be disappointed.
GoodFoods offers four nutrient-rich juice options Hard Greens, Beet Red, Mostly Roots, and Juicy Watermelon. With citrus and ginger or mint to compliment and enhance the vegetable and fruit blends. They're true to flavor and refreshing.
If you want an easy to choose, easy to order, easy to pack, easy to love cleanse, try the one or three-day kits from LemonKind. Available on AmazonPrime, the SUPER DETOX ME cleanses contain eight premium juice pouches per day, each one designed for (2) Strength (2) Awareness (2) Vibrance (1) Transformation and (1) Renewal. This lineup will keep you fired up all day long. LemonKind uses 100% Fresh Pressed Pure Fruit and Vegetable Juices, Purees and Organic Botanicals, Non-GMO, Gluten-Free, Allergen-Free, Vegan and Kosher certified. NEVER from Concentrate. These juices are unsweetened with no additives or preservatives of any kind. It is a certified Women-Owned business, all made in the USA.


If you're looking for more substantial juices, LuliTonix has great options, from the it's Blended Green options, like Fresh! with raw, organic ingredients including avocado, spinach, basil, kale, lettuce, ginger, lemon, fig, and purified water to its Magic Mylk options, like The Nooner, with cashews, cacao, Medjool dates, coconut manna, maca, pine pollen, reishi, vanilla, cinnamon, ancho chili, cayenne pepper, and wild orange oil.
LuliTonix collection of cleanses not only delivers nourishment, and cleansing, but also satiates your hungry more than some other options. These blends are absolutely bursting with flavor and each ingredient comes through as you savor the goodness. The brand offers its raw, organic, vegan juices from its Manhattan studio. If you're in the city, they delivery!
Packed with 4g of protein, only 4g of sugar, calcium, vitamin A and C, Lumi Jump Shot is the perfect pick-me-up. It's made with organic cucumber, organic kale, organic spinach, organic collard greens, and organic lemon. I love this juice for its earthiness; it starts off with the brightness of cucumber and finishes with a slight tang from the collards and lemon. All Lumi juices are cold-pressed, high pressure processed, and organic.
Pressed Juicery uses a wide variety of greens to make its Green juices. I love that apple is only added to a few of the green juice options. They use other fruits to mix with the green leafy vegetable-based juices, like pineapple and orange, or just stick to leafy greens. Refreshing, earthy, and true to flavor, Greens 5, featuring cilantro, fennel, orange, pineapple, romaine and spinach is my personal favorite. The juices ship from the company's California facility and they use produce from independent farmers in the area, whenever possible.
Raw Generation Skinny Cleanse helps you lose weight quickly and kickstart a healthier way of eating with six fresh juices for a three, five or seven day detox to give you real energy, and help you slim down effortlessly. All products Raw Generation juices are cold-pressed in small batches and then flash frozen to preserve vitamins, minerals, enzymes, and micro-flora without effecting taste or nutritional value. I love that the drinks arrive frozen so you can keep use them when you want.


I love these nut milks with up to 15 grams of protein for their tasty nutrient dense ingredients. Flavorful, rich and sweetened with dates, Remedy Organics offers a line of 100% plant-based protein beverages using the finest Superfoods, Ayurvedics, Botanical Herbs and Probiotics with functional benefits that go well beyond hydration and general nutrition. Their Organic Protein Blends are certified USDA organic, vegan, gluten-free, dairy-free, and soy-free. All of our products are handcrafted locally in small batches.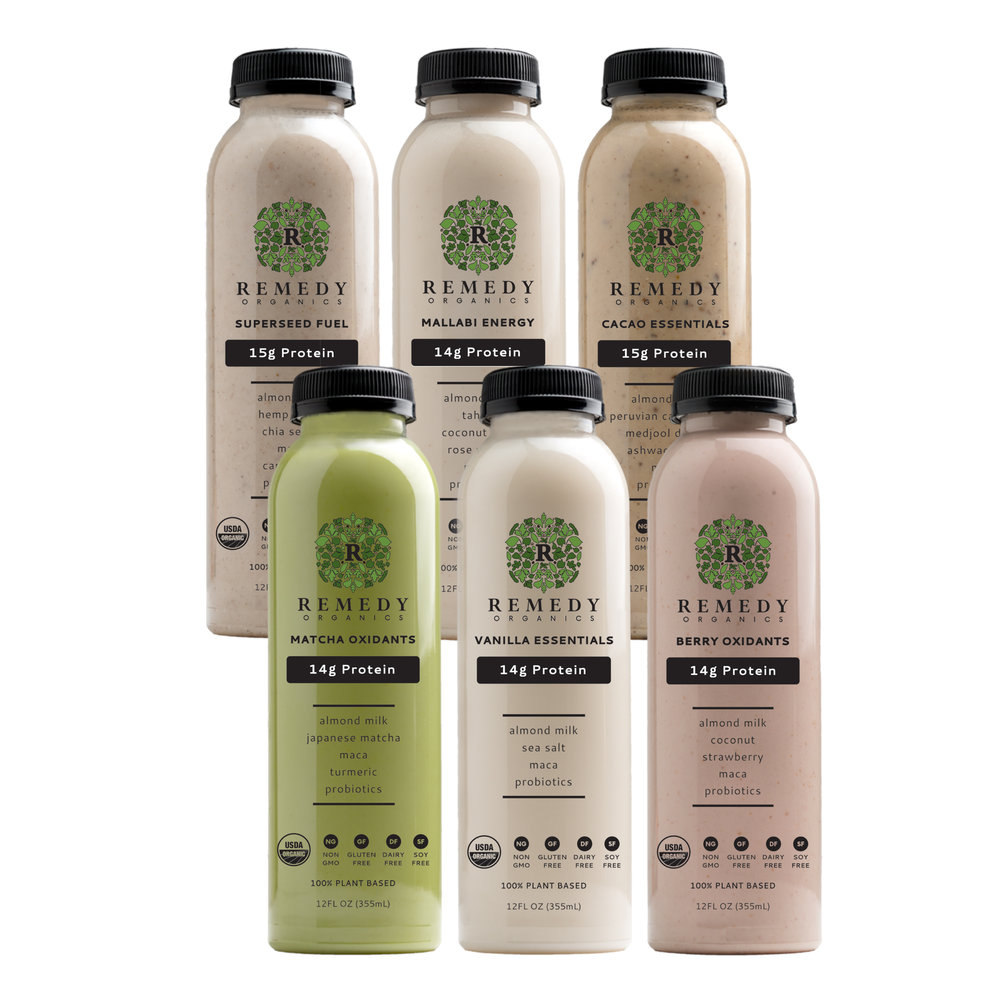 If you're looking for a complete menu to reset, with nutrient dense plant-based options, Splendid Spoon offers the most flavorful and satisfying meals. Splendid Spoon offers complete meal replacements for breakfast, lunch and dinner that include five smoothies for breakfast, five plant-based lunch bowls for lunch and four drinkable soups & one plant-based bowl for dinner.
Splendid Spoon is dedicated to helping consumers change their relationship with food. The brand is built on the idea that integrating small changes into your daily food routine will make a big impact on your health and establish long term, better-for-you habits. Splendid Spoon offers a variety of healthy, nourishing and plant-based smoothies and soups that change weekly – all gluten-free, GMO-free, ready to eat and delivered nationally.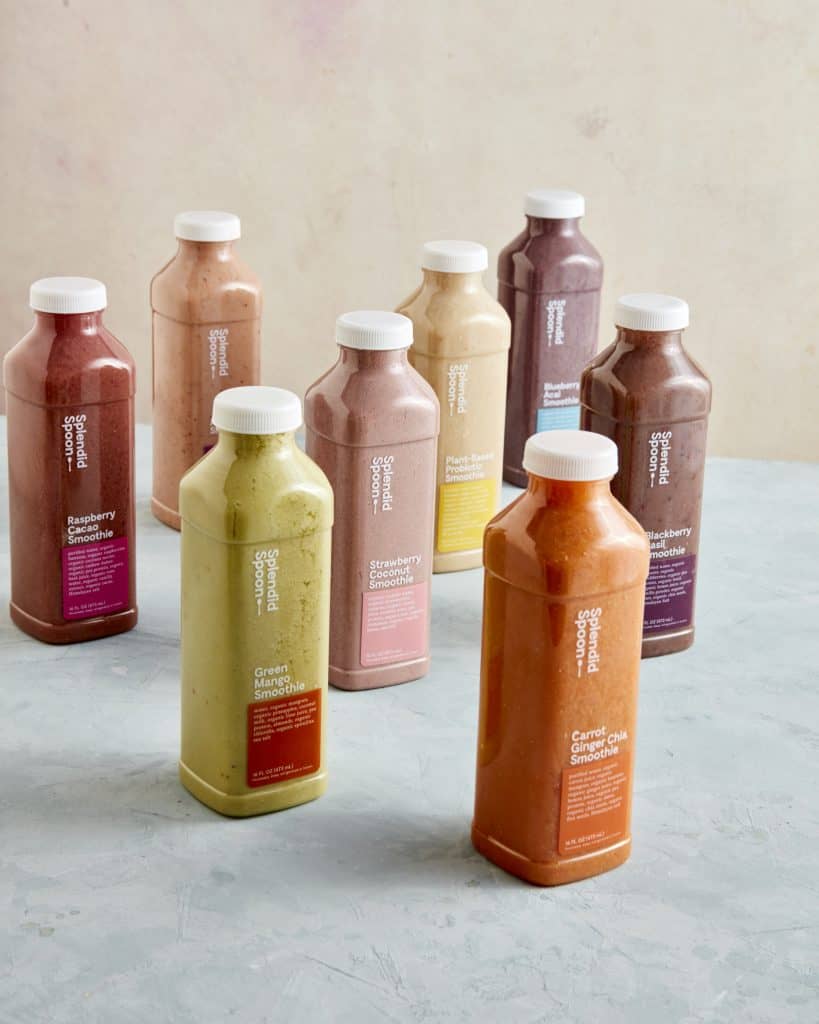 I cannot even begin to describe how much I love and enjoy Temple Turmeric Original Elixir. The pairing of hand-harvested organic Hawaiian Oana Turmeric with poly flower honey, organic ginger, organic lemon juice, Celtic sea salt®, organic spearmint, organic cinnamon, organic cardamom, organic cayenne is the best party that's ever taken place in your mouth. The flavors work incredibly well together. The turmeric, ginger, and spearmint are highlighted as you first take a sip, while the cinnamon, cardamom, and cayenne come thru at the end of the palate.
Temple Tumeric elixir, Pure Mega, made with ultra-purified water, organic mango puree, organic turmeric, organic pineapple, organic lime juice, organic honey, organic lemon juice, organic ginger, organic coconut milk, organic black pepper, sea salt, organic orange extract, organic cinnamon. I love the tropical mango, pineapple, coconut and lime blended with the turmeric. You'll enjoy knowing this elixir has only 100 calories, no carbohydrates, and only 7 grams of sugar. Find it at your local Whole Foods and natural foods store.
O.M. to the G-azpacho! Tío Gazpacho Organic Gazpacho del Sol is out of this world amazing. It's made with yellow tomato, carrot, yellow pepper, cucumber, shallot, garlic, olive oil, and white wine vinegar. I love the taste of yellow tomatoes because they are sweeter and less acidic. I also love that they use shallots instead of onions, for a more subtle taste. This gazpacho is so bright in flavor and the shallots and white wine vinegar shine thru at the end. This brings new meaning to fast food.
Up Mountain Switchel is a delicious apple cider vinegar based beverage. It's perfect to drink alone at the start or end of the day. It's made with fresh ginger, raw organic apple cider vinegar, and pure grade a maple syrup. Fresh ginger root is one of the strongest natural inflammatory and analgesics in the world.
LOVE THIS LIST?
Honestly, we know you will love these lists too!
Made in USA Options for a Detox Cleanse You can Trust
Hydration, Vitamins, Wellness- Made in USA Sources To Look & Feel the Best
Made in USA CBD Products We Love
Whole30 Challenge Tips & 95 Made in USA Foods For Your Whole30 Grocery List
Keto Shopping List: A Source List of American Made Products
Drinking Black, Green, & White Tea Benefits Your Health. Here's How.
Made in USA Activewear: An Ultimate Source Guide
Six Ways to Cleanse and Detox for a New You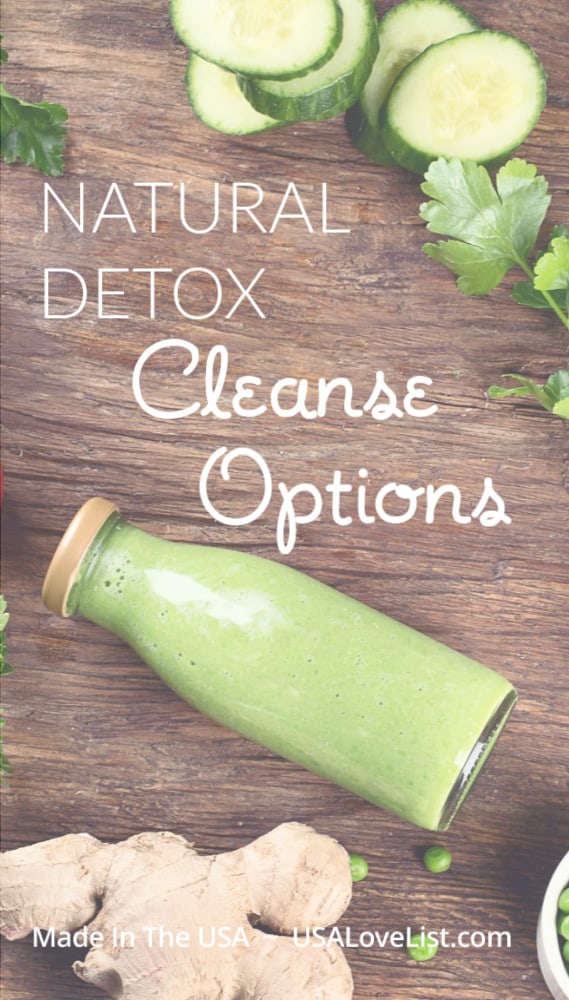 Disclosure: This post is a sponsored post which USA Love List is proud to share with you because, sponsored or not, we only share stuff we love. *These statements have not been evaluated by the Food and Drug Administration. This product is not intended to diagnose, treat, cure or prevent any disease.