Is there anyone who doesn't love a porch swing? The only thing better is an American-made porch swing so we are proud to partner with Cypress Moon of Louisiana to start talking about relaxing summer days ahead.
I'm ready for nice weather so I can spend as much time outdoors as possible this summer.  During this time of year, I always have a long list of things I'd like to improve about my yard – the shrubs need trimming, the beds need mulching, and flowers need planting. After it's all done, I'd love to spend more time sitting and relaxing after all the hard work is done. If I had a porch, I'd love to get a porch swing. Since I don't have a porch, a garden bench or outdoor glider would be perfect to put in my yard. I found ones I love from Cypress Moon. The company offers a wide range of garden seating with its porch swings, gliders and adirondack chairs, all handmade out of cypress wood in Louisiana.
You can find porch swings and gliders with decorative frames or consoles to hold beverages. They also carry a swing bed that looks extremely comfortable and relaxing!
I was wondering why Cypress Moon uses cypress wood to make their porch swings, gliders and adirondack seating. Come to find out, the Baldcypress was designated the official state tree of Louisiana in 1963, and is considered by some to be a symbol of the southern swamps. Baldcypress wood has long been valued for its water resistance thus called 'wood eternal', making it the perfect wood to use for outdoor furniture. In fact, cypress lumber contains cypressine, a chemical found naturally in cypress, that naturally protects it from decay and insects, making Cypress Moon's outdoor porch swings and gliders eco-friendly furniture because it does not contain harsh chemicals to preserve the wood.  You can read even more about Baldcypress wood on Cypress Moon's website.
Shop all of Cypress Moon's outdoor seating options and let us know which style and color you like best. I think the swing bed or garden bench in china red would be a nice contrasting color against a white house and lush greenery.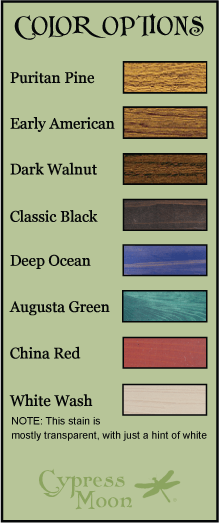 While you are shopping for outdoor products, we challenge you to turn things over, squint at the fine print, and find those three magic words : Made in USA.  When you find them, share your pick by posting it to Instagram, Twitter or the USA Love List facebook page with the hashtag #USAlove.
We'll be sharing each and every one so do your part to make it easier for us all to find and buy American.  Follow the #USAlove hashtag. Share while you shop and watch the USA Love grow.
Disclosure: This is a sponsored post which USA Love List is proud to share with you because, sponsored or not, we only share stuff we love.