If you're looking for DEET free bug spray to protect your skin, USA Love List has researched and discovered several sources made in the USA. Keep reading to find out more!
DEET Free Bug Spray Made in the USA
While vacationing in Florida last February, I brought home an unwanted souvenir: tiny bug bites all over my body. I learned they're called "no-see-ums" because, well, you can't see them! These little flying bugs are smaller than gnats. Had I realized how badly I was getting bitten by them, I obviously would have pulled out my repellent arsenal. While talking with others, I discovered this problem is pretty normal during Florida's late winter-early spring months.
Whether you're vacationing in the South, hiking in the West, or enjoying the outdoors anywhere coast-to-coast, it's always good to have a supply of bug spray. We have found brands of American-made DEET free bug spray to recommend.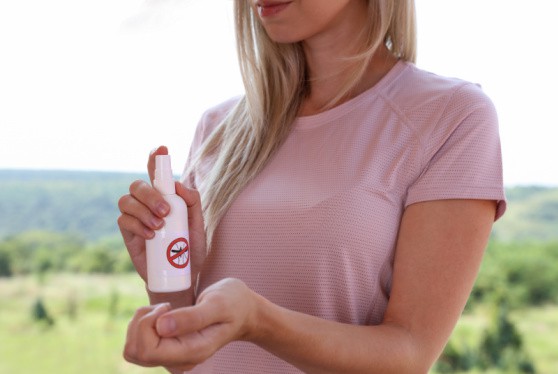 What Is DEET and What is the Controversy?
Many bug repellents contain N, N-diethyl-meta-toluamide (DEET), a chemical used to repel mosquitos. DEET is a common ingredient found in bug spray, and the CDC has deemed it safe to use on your skin.
However, many people prefer not to spray anything synthetic on the skin, including DEET. Some people accidentally breathe in the fumes and later feel dizzy or nauseous. And any DEET-infused bug spray should never be used on babies under two months of age.
Others report that DEET dissolves certain plastics or synthetics. While I'm far from experts on the topic, I did read several anecdotes where someone complained of this happening.
Some people prefer not to use synthetic compounds including DEET because they believe these chemicals are harmful to the environment.
For these reasons, manufacturers today offer many DEET-free bug sprays that work remarkably well. The primary ingredients in these sprays typically include:
picaridin, also a synthetic compound that is odorless and non-greasy. Not all DEET-free bug sprays contain picaridin.
eucalyptus oil
lemon eucalyptus oil: PLEASE NOTE: The CDC reports that products containing more than 30% oil of lemon eucalyptus are not safe for children under the age of 3.
citronella oil
cedarwood oil
peppermint oil
You'll find other ingredients in the more naturally-derived bug sprays. Some may contain sesame or coconut oil to help with the application.
How to Apply Bug Spray
Talk to your physician before applying any bug spray to an infant.
Even for older children, never spray directly onto their skin, and don't allow children to apply bug spray themselves. Instead, you should apply the product onto their skin with your hands. Avoid applying to your child's hands because children tend to stick their fingers into their eyes and mouth. And as always, avoid applying near the eyes, nostrils, and mouth.
Do not spray around the face and eyes. To apply on the face, spray first onto your hands and then apply.
Remember that more isn't better. A thin film is sufficient for keeping bugs away.
Shake the container and spray evenly onto your uncovered skin and clothes from about 4 to 8 inches away, or as directed on the label. For lotions and wipes, also follow the label's instructions.
Some sprays protect longer than others, so follow the manufacturer's directions for re-application.
If you can, wear long pants and long-sleeve shirts to protect your skin from bugs.
Always perform a skin check after coming inside from outdoors, and wash off your skin.
Check out this related article! Nine Natural Remedies for Summer Ailments
Why Choose American Made Bug Spray?
Many of the American-made bug sprays are derived from a personal need. A mom or dad desires safe ingredients for their kids and the environment. With research and experimentation, they discover what works while being safe. Most, if not all, of the ingredients, are natural, with some being certified organic.
Several of the websites specifically state their companies aren't large, multi-level conglomerates, but they're family-based businesses. They're simply trying to make a difference in the world.
Keep your loved ones and yourself bug-free with our recommendations while also supporting your American businesses!
Love this list? We know you will love these lists too!
Have you visited our Made in USA Shopping District? It is the place to start your shopping when you want to find the best of American-made.

Pin this list to save it for later!