Hard to Find – American Made Holiday Decorations
Thanksgiving Day has been crossed off the calender and it is now officially the Christmas season. In my world anyway.  In the retail world, the Christmas season started BEFORE HALLOWEEN.  With the Christmas lights on display next to the Halloween costumes, it's unreal! Despite retailers pushing Christmas on consumers, most Americans waited until after Thanksgiving to begin their decorating.  Holiday decorations signal Christmas and I love it!
Personally, I wait until the first weekend in December to decorate. I could tell, by the number of Christmas tree pictures posted on Facebook this weekend, that a lot of people started earlier.  Whether you have already begun transforming your home into a winter wonderland, or you have yet to bring the Christmas boxes out of storage, here is a list to inspire you to purchase made in the USA holiday decorations this year.
CHRISTMAS LIGHTS?
It appears that there is no manufacturer of Christmas lights anywhere in the USA! However, there are companies that manufacture Christmas decorations in the USA that include LED lights (Remember: the lights themselves are NOT made in the USA).
Crab Pot Trees are indoor and outdoor holiday decoration made in North Carolina from mesh wiring left over from crab trap manufacturing. Strands of LED lighting are attached to these fabulous tree shaped wire creations for easy holiday lighting displays!
ARTIFICIAL CHRISTMAS TREES ?
Believe it or not, there is a company that makes artificial Christmas trees in the USA! Christmas in America LLC is a family owned and operated company, based in Newburgh, New York, that manufactures artificial trees. All of the parts used to make their trees are purchased from US manufacturers.  The only exceptions are the wire, which comes from Mexico, and the stands, which come from China. According to their website, tree stands can not be found made in the USA. With the plastic PVC coming from an American supplier, the trees are lead free. Holiday decorations and safety should go hand in hand.
ORNAMENTS, AND OTHER HOLIDAY DECORATIONS
I am absolutely in LOVE with Bronner's CHRISTmas Wonderland!!  Bronner's CHRISTmas Wonderland, a.k.a The World's Largest Christmas Store, is located in Frankenmuth, Michigan. Not all of the items they sell are made in America, but with 'Made in the USA' at the top of their web page as one of the search topics, it's easy to find the ones that are .
Why do I LOVE Bronner's CHRISTmas Wonderland?  The people I have communicated with from there are so HELPFUL and NICE. I was having some issues viewing items in their store and they took the time out of their busy schedules to help me find out why (my browser).  Also, they have a beautiful selection of ornaments that are made in the USA.  I could not find these in stores ANYWHERE that weren't made in China!
When I saw them here I heard angels sing! My kiddos and I make family ornaments every year to give to relatives as gifts. This years project requires clear round glass ornaments (see what we made  here).   Bronner's CHRISTmas Wonderland ended my search! Need something else besides ornaments?  Also available at Bronner's CHRISTmas Wonderland in the  "Made in the USA' section is a selection of table top nativity stables,  a Life-Sized Plastic Nativity Collection (for indoor or outdoor use), a Santa suit and other great items!
Norton's USA is an online retailer of only American made goods, including holiday decorations. Norton's USA offers a large variety of made in the USA Holiday greeting cards available in boxed sets or individually. They also carry  lace winter themed tablecloths and window displays.  Like any general store, if you are looking for something with a Christmas theme, you will probably find it here. Norton's has everything from reindeer sweaters, to ribbon candy, to gifts for your 4 legged family members.
LL Bean has a nice selection of holiday wreaths and tabletop centerpieces which are made in Maine from fresh evergreens.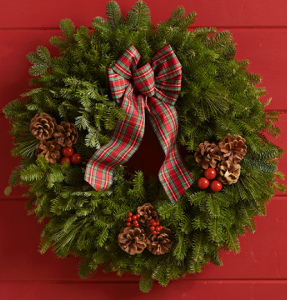 Teak Isle Manufacturing is the producer of marine grade plastic holiday decorations. Teak Isle is a leading marine product manufacturer and supplies parts to boat builders.
The company added Outdoor Nativity Sets to their product line to keep employees working and money coming in during the slow winter season. These sets are light weight and easily shipped and assembled. Teak Isle also manufactures window displays and holiday ornaments.
BUY LOCAL HOLIDAY DECORATIONS WHENEVER POSSIBLE!
If a fresh cut tree is what your family prefers, visit a tree farm this year and pick out your own. My kiddos love to run through the trees to find the perfect one for our house. To find a tree farm near you check out PickYourOwn.org. Most of these farms even sell wreaths and garlands or other holiday decorations.
Holiday wreaths and other handmade holiday decorations can be purchased at local bazaars, holiday craft shows and farmers' markets. Check your local newspaper to find one near you.  You're sure to find great holiday decorations like ornaments, or even handmade greeting cards
Disclosure: USA Love List received products in this post unconditionally for review purposes. Our opinions are always our own, and we aim to write fair and balanced reviews to promote only the very best of American-made products.