Confession: I am obsessed with boots. To my husband's dismay, boots have taken over our closets. Hiking boots, ankle boots, knee high boots, cowboy boots….you name a type of boot and I own it. Out of all of the boots I own, only two brands are made or assembled in the USA. I have vowed to add more American made women's boot brands to my collection and went on the hunt to find them.
American Made Women's Boots
It is really, really hard to find boots that are made in the USA in brick and mortar retail stores. Unless you know what brands you are looking for, it takes a lot of time to search every shoe and every box for the country of origin. I have found that finding selections online is a lot easier. All of the American made women's boots include in this list can be purchased online. Make sure to read the product description before you add a boot to your online shopping cart. Many brands on this list only make select styles in the USA. Those that are, are clearly labeled.
To make your search even easier, I broke all of the boot brands I found up into lists by category. As always, we update our lists frequently, so let us know in the comments below if we missed a brand you love.
Don't miss our list of American Made Socks!
Made in USA Boots for Women: The Source List
Women's Hiking Boots
Danner boots are styled for hiking, and also happen to keep your feet dry, depending on the style you select. A waterproof-yet-breathable Gore-Tex® liner helps to keep your foot dry and comfortable in a rugged, lumberjack-style made in USA boot handcrafted in Portland, Oregon. Note: Only select styles of Danner boots are American made.
Soft Star Adult Switch Boot is a minimalist hiking boot made in the USA from a lightweight fabric that is water resistant.
Women's Winter Boots
Steger Mukluks makes stylish cold weather boots in Ely, Minnesota. The are made to keep your feet warm and dry. If you like the style of Ugg boots, check these out.
Women's Leather Boots
Calleen Cordero handmade leather boots are made in California. Styles include tall boots, ankle boots and more.
CYDWOQ leather fashion boots are handcrafted in California. Every boot is made to order with calf and ankle measurements.
FRYE offers a Made in USA Collection of women's boots that includes knee high boots, ankle boots, lace up boots and more. Note: Not all FRYE footwear is made in USA, so check descriptions to verify.
Munro has some styles of boots that are assembled in the USA. Note: Some Munro boots are made in USA, but not all. Double-check country of origin before buying.
Women's Cowboy Boots
Our list of American Made Cowboy Boots contains over 20 brands. You might even recognize some of the names. If you are looking for cowboy boots for any occasion, you won't be disappointed with the selection.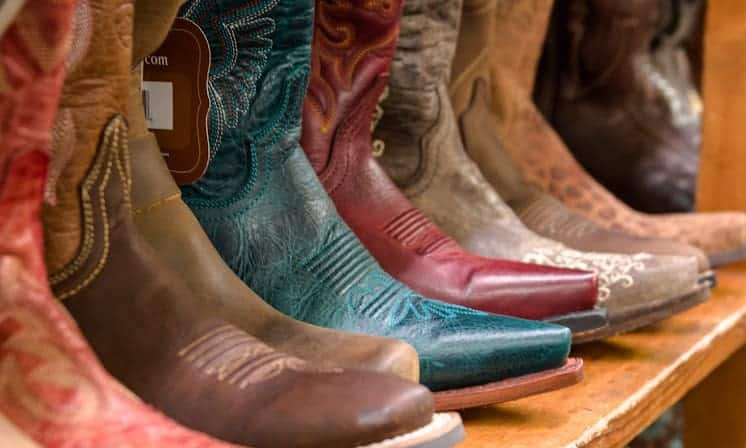 Women's Work Boots
Work boots made in the USA is another category we found a lot of brands for. Our list of American Made Work Boots list also contains over 20 brands. It includes traditional work boots, as well as pull on work boots, specialty trade work boots, uniform boots and military boots.
American Made Accessories for Boots
If you're looking for boot liners to make your shoes extra warm for the coldest months, Golden Touch Naturals offers Alpaca Felted shoe inserts. While other brands offer liners, I particularly like Golden Touch Natural shoe liners because alpaca is moisture-wicking, odor resistant, and durable. To make your American made shoes even comfier, try American-made soft gel foot cushions from Body and Sole Comfort!
---
DON'T MISS OUR OTHER AMERICAN MADE WOMEN'S FOOTWEAR LISTS
---
Disclosure: This is a sponsored post which USA Love List is proud to share with you because, sponsored or not, we only share stuff we love.

Pin this list to save it for later!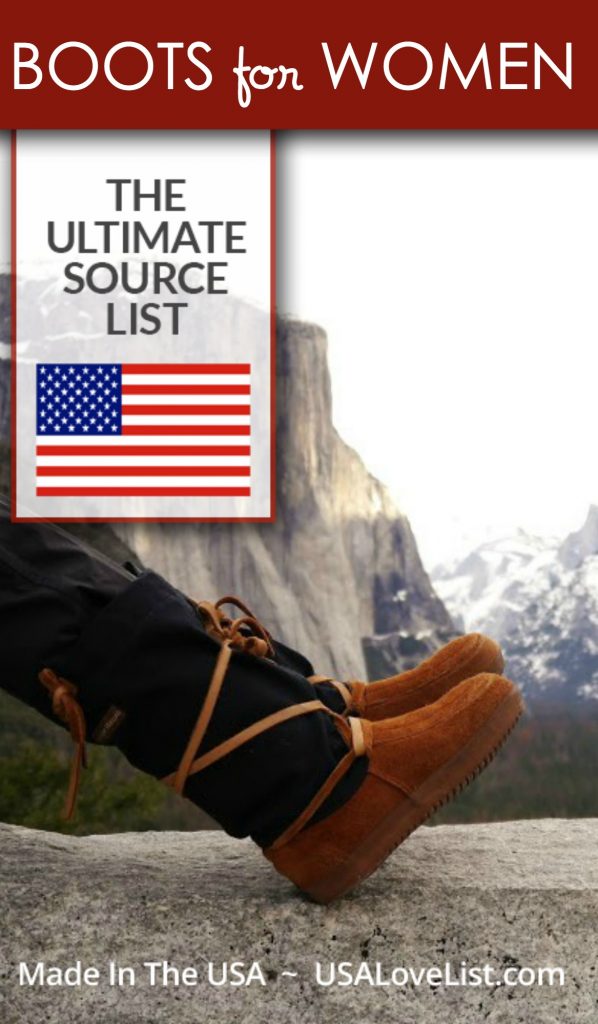 Love this list? We know you will love these lists too!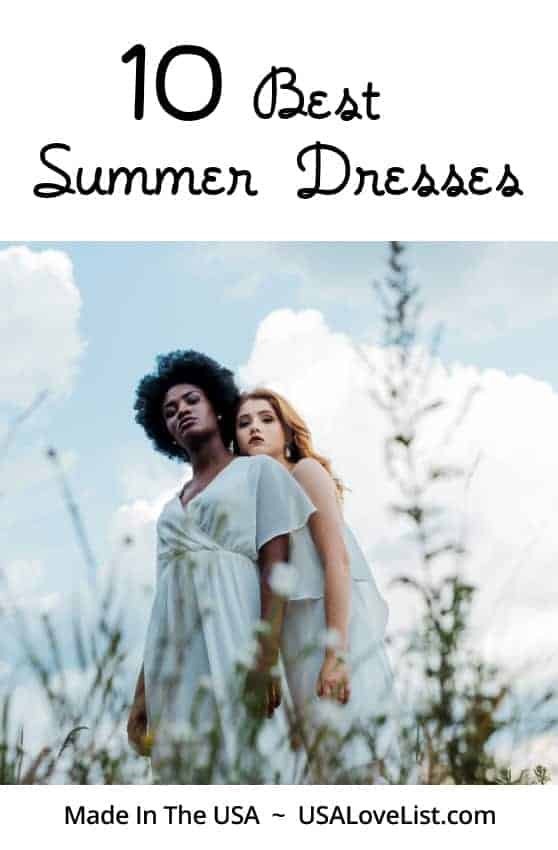 SUPPORT AMERICAN MADE. THESE POSTS HAVE TIPS THAT WILL HELP YOU DO JUST THAT.

What Does the Made in the USA Label Mean? Your Questions Answered.
Trying to Buy American? 3 Rules to Follow EVERY time you go Shopping
Ask your favorite stores to help you Buy American
Let's buy American made gifts. We've got all the good ideas.
How to Avoid Tariffs: Buy American! Start Here