Is it getting colder where you live? Can you feel it? Are you getting the urge to change up your style at home to a little less breezy and a little more cozy? If you are going to splurge on a few new home style pieces, feel good about it by choosing American Made. I've got some ideas and some tips for you.
Get Cozy, just in time for Autumn
It's that time of the year when you grab your favorite blanket and pillow and cuddle up by the fire, watch your favorite TV shows, hover over a hot cup of cocoa or just listen to the wind whistle. Every year as the leaves change color and fall to the ground, it is such a beautiful site, but for some of us it's a pretty drastic climate change. I hear it is going to be a long winter this year so make sure you are prepared for comfort and warmth.
I've picked some items made in America to help me showcase my tips to transition to fall decor. Rest assured, you will feel comforted knowing you have supported American artists, designers and manufacturers.
How To Transition to Fall Decor
There is nothing more inviting than a space that looks clean, comfortable and inviting. Whether you love bright, neutral or muted colors, you can make it your own by picking out pillows and throws that fit your personality but will speak volumes about your home's character.
Tip: Decorate in Odd Numbers
A designer friend once told me when you decorate, decorate in odd numbers. So pick one, three or five pillows for your sofa. If it's a neutral palette that you prefer you may want to try mixing it up with different textures and patterns to make it more interesting.
How to Fluff a Pillow Perfectly
Have you ever wondered how to get that perfect looking pillow to sit just right on your couch? Fluff your pillows and then give the top of the pillow a light karate chop. Instantly you have a perfect pillow.
How to Choose a Color Palette
When picking one color palette, you don't have to stick to a solid print. Mix and Match. Choose a print that represents the season, a pillow that speaks volumes, a stripe or a polka dot but make it interesting.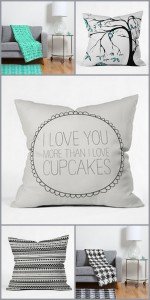 Maybe all you need to do is refresh your sofa with a new color or pattern from the season.
American Made Home Decor Ideas
Made in USA Throws & Blankets
If you are not a DIY kind of person and still wish to treasure an American tradition, check out the amazing throws from Faribault Woolen Mill. Minnesota's Faribault Woolen Mill is America's last true vertical woolen mill.
The Faribault Woolen Mill was founded in 1865, the year Lincoln died and the Civil War ended, Faribault Woolens are renowned for their comfort and quality. From providing woolen blankets for pioneers heading west to comforting our troops through two world wars. This is your chance to purchase a piece of American history.
Made in USA Throw Pillows (and More)
DENY Designs is based in Denver, Colorado. DENY Designs is a modern, think-outside-the-box home furnishings company. All textile products are handmade for you with an artistic twist on every piece.
Remember these Home Decor Tips
Decorate in odd numbers.
A good karate chop goes a long way.
Mix and match textures.
When using color, pick the same tone but mix in patterns.
Whatever your climate, design style or character you will feel a sense of pride as you cozy up to a new season. I hope you will visit, share and become inspired.