Have you been hearing about cold brewed coffee concentrate? It's kind of a thing. Starbucks uses it. Pricey indie brands are popping up left and right. It's good stuff. And I've got an easy cold brew coffee recipe so you can make it yourself.
Cold brewed coffee has been in my bag of tricks for a long time. I can't remember when or how I learned to make it, but my life has never been the same since. You need to know how to make this good stuff now. I'm glad to share my cold brew coffee recipe with you. You'll laugh when you see how simple it is.
Healthier and Tastes Better Too
Why are people crazy about cold brewed coffee all of a sudden? For one, it is SO easy. It also allows you to make iced coffee drinks without watering them down (now you know your local coffee shop's secret). But here's what really has people hooked: the cold brew process results in 60% less acidity than regular coffee and it brings out the coffee's natural sweetness. This cold brew coffee recipe keeps your favorite coffee's strength while making it more smooth, eliminating the burn-y taste.
A Gift They'll Love
You'll probably get hooked on this stuff yourself, but if you can spare any of your concentrate, it makes an outstanding DIY gift for any occasion. Think of your cold brew coffee recipe and all that you can do with it when you need something for that hard-to-buy-for person on your list.
---
Cold Brew Coffee Recipe
Ingredients
1 lb ground coffee (choose a coarse grind if you have the option)
Bonus points for using a nice locally roasted and packaged coffee. If you are serious about buying American, check out USA Coffee Co., one of the only sources for 100% American grown coffee from Hawaii.
2 gallons cold water
Coffee filters
Instructions
Put 1 lb ground coffee in a 2.5-3 gallon pitcher or pot. If you don't have a container big enough, try a large stainless steel pot or divide it between more than one pitcher.
Add 2 gallons of cold water and stir. Let it sit on the counter for 8-24 hours depending on your taste. I would start with about 2 hours for your first batch and adjust from there. I like to leave mine overnight.
Stir once more and then slowly Pour through a colander lined with a coffee filter into a bottle or jar you can keep tightly capped in your fridge for up to three weeks.
Tip: if you somehow end up with concentrate in your fridge that you won't end up using before making a fresh batch, pour it into ice cube trays and make coffee cubes.
---
How to Use Your Cold Brew Coffee Concentrate
To use your cold brew concentrate, simply mix it half and half with milk or water.
For iced coffee, fill glass with ice first.
For hot coffee, mix then heat via stove or microwave.
For hot or iced latte, use your choice of milk.
For Pumpkin Spice Latte, make up a batch of pumpkin spice simple syrup – equal parts (start with 1 cup each) water to sugar over low heat to dissolve, adding cinnamon, nutmeg, and allspice to taste. Pour your spiced simple syrup into a bottle or jar to keep in fridge for a few weeks. (That's not all we've got that's Pumpkin Spiced, if you're a fan.)
For a Mocha Latte, top latte with a spoonful of brown sugar and two big squeezes of Hershey's chocolate syrup.
For Vietnamese iced coffee, fill glass with ice, then fill half with coffee concentrate, then 3 T condensed milk, then top with milk or half and half.
---
A Cold Brew Coffee Maker and other handy tools
Here are some made in USA tools you'll feel good about buying to make this project even easier. All of these can be used with this cold brew coffee recipe.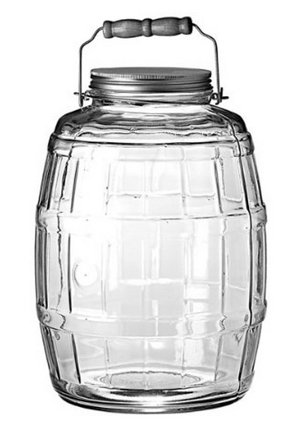 Big Brewing Container – I use a big pitcher I have in my house, but this large glass jar would do the trick and look good sitting on the counter. The jar, by Anchor Hocking, is made in the USA, but I understand the lid is not.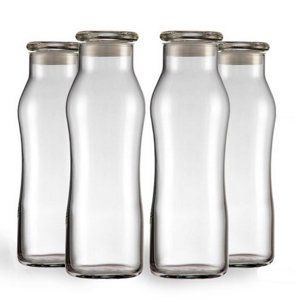 Glass Bottles – These glass bottles will keep your cold brew coffee concentrate looking sleek in your fridge. These will also come in handy for the spiced simple syrup for the Pumpkin Spice Latte. When you are not using them for coffee, you'll be using them for salad dressing, water, all kinds of things.
Tervis Insulated Tumblers – The very best insulated tumblers for hot or cold coffee are American made by Tervis. I have a set of these coffee toned tumblers from their clear and colorful collection. Don't forget to add the matching lids and a set of straws.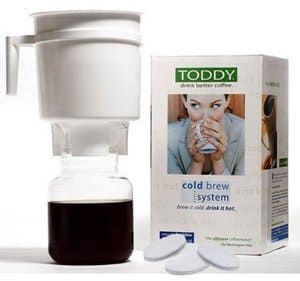 Toddy Cold Brew Coffee System – If you are sold on the idea of having cold brew coffee concentrate on hand at all times, you may just want to go ahead and get this complete brewing system. It's reasonably priced and made in the USA.
Takeya Cold Brew Coffee Maker – I like this one because it is sleek, affordable, made in the USA of BPA free plastic, and it will hold your cold brew neatly in your fridge for up to two weeks!
Grady's Cold Brew Bean Bags – If you want to make life even easier, we recently discovered these ready-to-brew cold brew coffee pods that are made in Brooklyn. Just toss one in water, let it sit overnight, pull out the pod, and you'll have several cups worth of mellow New Orleans style chicory coffee concentrate.
Are you already a fan of cold brewed coffee concentrate or is this idea new to you?
What do you think? Will you give this cold brew coffee recipe a try?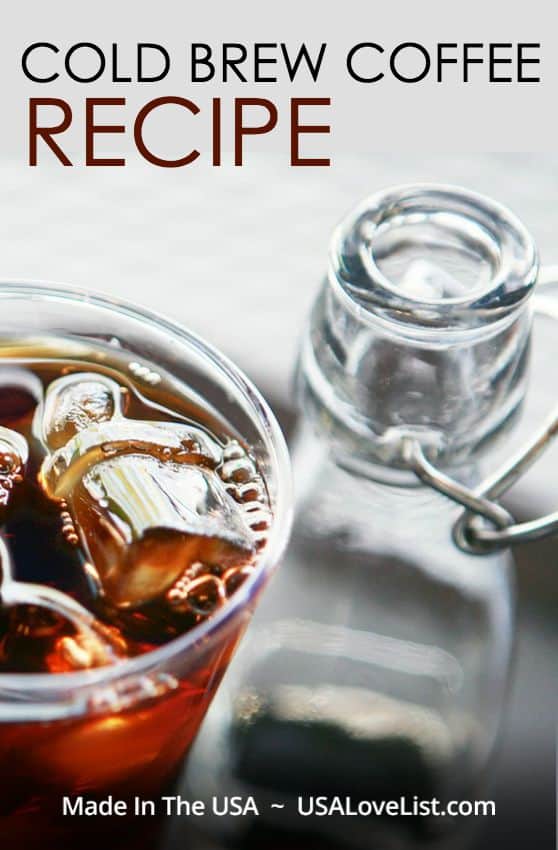 Let us know what you think in the comments, pin it to Pinterest, or pass it on to a friend.
---
Love this list? Then you'll want to check out these:
Nine Brands Making the Best Non Dairy Milk Products in the USA
American Made Ice Cream We Love, By Region
American Made Coffee Makers, Tea Kettles, and a Wine Corker Too
---