I love the idea of buying Made in the USA products whenever possible. Coming from a small state, I was delighted to learn how many important things are made in Delaware. It may take a few more minutes to check a label, but it is totally worth it to keep our money in our country and in our economy.
On a local level, it makes even more sense to me to purchase as much locally as possible. Spending our money at local small businesses keeps our own local economy moving forward. Since I've lived in Delaware all but one year of my life, I love this state and want to support it as much as I can!
Made in Delaware: Small state, big business
Although Delaware is a small state, there are still quite a few products that are known nationally, or at least regionally, that are manufactured in Delaware. One of my favorite Made in Delaware products just happens to be in my own backyard:
Dogfish Head Beer: Craft Beer is taking over – and close to the top of the list is Dogfish Head! Known for their creative concoctions, DFH draws fans from all over the country to taste and fall in love with their beer. The brewpub is where it all started in downtown Rehoboth Beach and now a state of the art Brewery resides in Milton. A town I didn't know existed before moving here, I now have a fond affection for our biggest industry – and definitely recommend trying Dogfish Head beers whenever the chance arises! My favorite? The Punkin Ale – available every fall.
Playtex: If you are a woman and/or a parent, you're most likely familiar with Playtex! Yes, many of the Playtex apparel and products are made in Delaware out of a plant in Dover, including bras, feminine products, and baby products. Also produced under the larger umbrella of Energizer Holdings, LLC in Dover are Schick and Edge shaving products, and Hawaiian Tropic sun care products.
Perdue: You can't drive around Sussex County very long without passing a Perdue plant, hatchery, or farm. Perdue Chicken has deep roots in Delaware and has established itself as a brand that takes quality, taste, and standards to a higher level. Perdue was the first chicken producer that took innovative steps to create a USDA Process Verified product – meaning we can trust the process and the product.
NASA Spacesuits from ILC Dover: You might not be in the market for a state of the art spacesuit anytime soon, but it's amazing that military and aerospace fabrics are made right here in Delaware. ILC Dover made the spacesuits for the Apollo missions – including the suits worn when man walked on the moon!
Rapa Scrapple: Not everyone is a fan of scrapple. I understand that. But, I grew up on this stuff. And I love it! Rapa Scrapple was started in 1926 by two brothers in Bridgeville, Delaware. The same recipe is used today that was created in the 1920's and Rapa has grown to be the largest producer of scrapple in the world! There's even an annual Apple Scrapple Festival devoted to the beloved breakfast meat and its fall companion, apples!
The Dover Wipes Company: As a subsidiary of Procter & Gamble (P&G), it makes Pampers and LUVS-branded baby wipes, including their tubs and refill packaging in Dover. As a mom who goes through TONS of these, it's nice to know I am buying a product manufactured in my own home state.
Backyard Jams and Jellies: This small business literally began in a backyard. The Scudlark family started making jellies 25 years ago with a single green hot pepper jelly. They now produce over 75 flavors, including 14 award winners. The ingredients are either grown in their backyard or purchased from local growers. Their jellies were even served at the Governor's annual breakfast! Jellies are sold in about 25 places-ranging from produce stands and bakeries to gourmet shops in Delaware, Maryland, Pennsylvania, and Michigan.
Hanover Foods: Hanover Foods in Clayton and Smyrna grows, processes, and packages frozen vegetables, canned beans, and a variety of snack foods. Hanover has been in business since the 1920's and has been operating in Delaware for over 20 years. You can find Hanover products all over the east coast and a few products nationwide!
Hy-point Farms Dairy: Hy-point Farms have been in the dairy business since 1919. The main plant is in Wilmington and they recently acquired the Lewes Dairy Plant in Lewes, Delaware. Not only do they produce milk, but also juices, ice cream, eggs, butter, and cheeses. There's something awesome about being able to go see the cows that make your milk and ice cream!
Jell-o and other Kraft Foods: Located in Dover, this Kraft plant makes a variety of food and drink products such as Stove Top stuffing mix, Jell-O, Kool-Aid, Country Time, and Crystal Light. Having such a well-known brand in the heart of Delaware is great for Kent County, especially since it employs over 500 locals.
Carrie Curry is a blogger at Chockababy.com, when not actively being "mommy" to 3 crazy kids. Living in a small town in Delaware, she tries to shop, eat, and drink local whenever possible. She loves creating healthy family food options, and while juggling food allergies has made it more of a challenge, she really loves a challenge!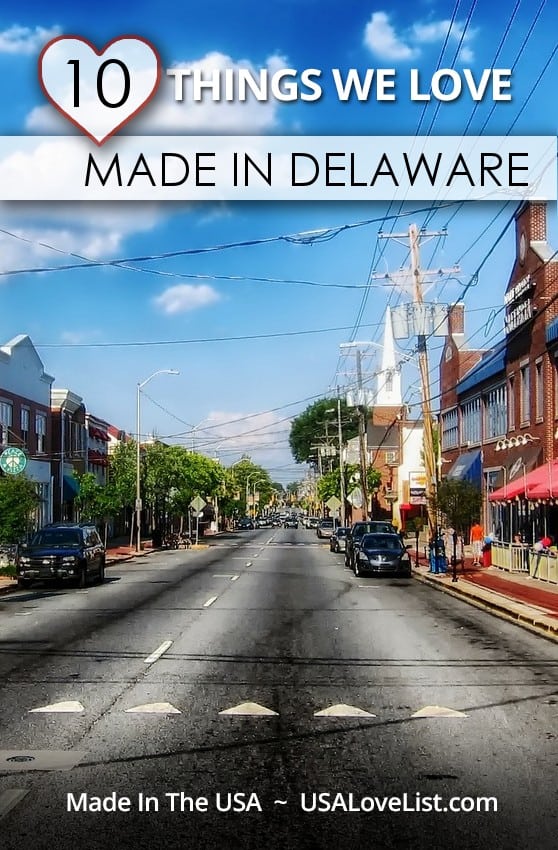 Don't miss our post on things to do in Delaware.