Ohio is a beautiful state with a diverse geological landscape & fantastic attractions that keep visitors coming back for more.  From the world class amusement parks of Cedar Point and Kings Island to the Rock and Roll Hall of Fame and Lake Erie Islands & shore communities there is something for everyone in your family to enjoy.  This top 10 list of things made in Ohio was extremely difficult to limit because Ohio is such a large and diverse state; limiting it to just 10 products was hard!
10 Products We Love: Made in Ohio
Step2 Toys, America's largest manufacturer of toddler & preschool toys, has not one, but TWO factories in Ohio. One is located in Streetsboro, and one is in Perrysville.
Dum Dums, classic American lollipops, have been made in Ohio since 1924. Today, Dum Dums are made by the Spangler company in their Bryan, Ohio facility. If you are ever in the area, make sure to plan a ride on the Dum Dum Trolley and tour the Spangler Museum and Dum Dum factory.
Airstream Trailers began in the 1930's by Wally Byam, who was tired of pulling a platform for his tent, behind his Model T Ford chassis.  He built the first tear shaped shelter on the platform with a kerosene stove & small ice chest. Today, you can tour the factory & see Airstream Trailers being built!
Brillo steel wool soap pads have been made in the USA for over 100 years. Today, they are manufactured in London, Ohio.
Harry London learned to make chocolate from his father & started the company in 1922 in his home kitchen.  Today, Harry London Chocolates are manufactured in Canton, Ohio and factory tours are available for a small fee and chocolates can be purchased on line.
Wilson Footballs, the official football of the NFL, has been manufactured in Ada, Ohio since 1955.  The factory produces around 4,000 footballs per day or over 700,000 per year.
Rossi Pasta  Hand-made, fresh pasta is cranked by hand, cut by hand & hung to dry-even the eggs used for the pasta are cracked by hand.  The pasta is fantastic with big flavor & texture you can't find in a store!  Rossi Pasta is available online and located in Marietta, Ohio.
Anchor Hocking Glass has been manufactured in Lancaster, Ohio since 1905 and today there is an additional plant in Monaca, Pennsylvania.  The company manufactures a wide variety of glass, including drink & cookware but so much more & is available in retailers across the world!
Annin Flagmakers, the oldest flag manufacturer in the USA, has been making quality flags for over 100 years. One of Annin's four facilities is located in Coshocton, Ohio where over 15o people are employed to make American flags.
Longaberger Baskets headquartered in Newark, Ohio in a building replicate of the Medium Market Basket but 160 times larger, Longaberger Baskets are manufactured in Frazeysburg, Ohio and sold through a variety of stores & home party sales consultants.  Founded in 1973, Longaberger is still family owned!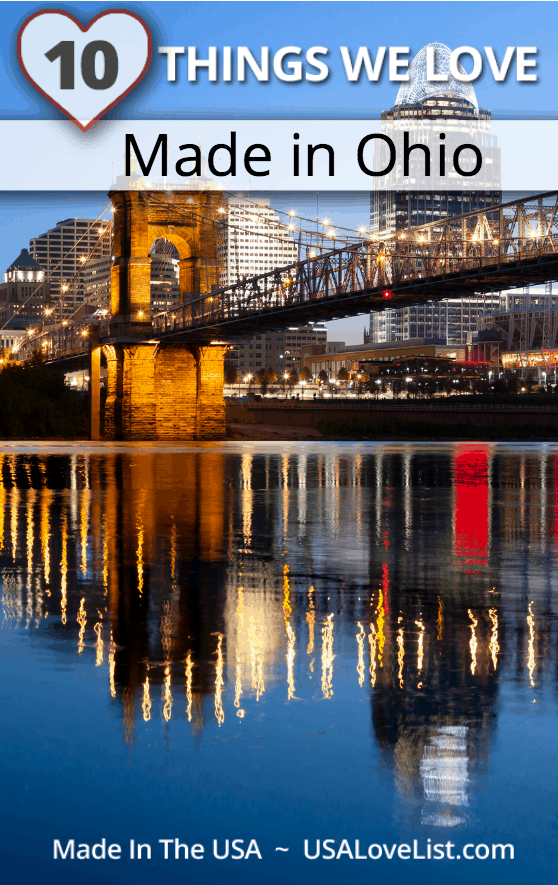 Guest post writer Jessica Mudrick was born in Cincinnati, Ohio and moved with her family to Cutler, Ohio. She currently lives outside Philadelphia and runs the website Delaware County Moms.

We are welcoming guest post submissions on the topic of The Top 10 Things Made in My Home State. Contact us for submission guidelines
Follow USA Love List's board State-by-State: Made in USA on Pinterest.