I went hunting for Made in USA sweaters and found a treasure trove at Nordstrom. Baking, snuggling with a book, wearing boots, and watching sports on TV. These are just a few of the things I love about the cold weather. Cozy sweaters are also a must-have. I have updated this list with the latest styles and here are my American made favorites.
I'm also updating my wardrobe with investments in American made coats and made in USA boots.  Over the years, I have added a couple of good quality American made items each season. They have all lasted and I feel great wearing them. It hasn't happened all at once, but my Made in USA wardrobe is growing, one piece at a time. It makes me feel, good, like a warm cozy sweater… 
Don't miss our source lists for made in USA leggings, American made jeans, and made in the USA women's clothing for more items to create an American made wardrobe!
Made in USA Sweaters We Love
Note: If any of these styles fall out of stock, check these online shops: Nordstrom, Nordstrom Rack, We've pre-searched Made in USA Sweaters for you. You'll be amazed at the choices. This method is not perfect. Always double check the product details before ordering.
UPDATE: While researching this article, I found a sweater I liked by Bobeau and ordered it. Even though it said Made in the USA on the Nordstrom site, when it arrived, the tag said Made in Mexico. Bummer! Fortunately, Nordstrom offers free shipping and free returns. It was easy enough to send it back with a note pointing out the error. So, buyer beware on this brand. The price is right so it is worth a try, but if anyone orders it, do let us know how it turns out. -SW
Have you visited our Made in USA Shopping District? It is the place to start your shopping when you want to find the best of American-made.

Pin this list to save it for later!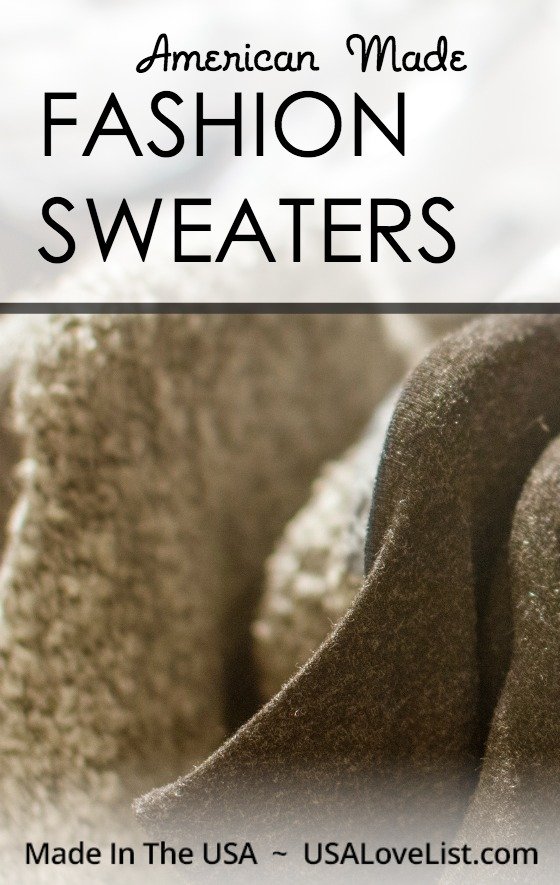 Do you have a favorite sweater among these? Have you spotted any great American made sweaters elsewhere? Let us know in the comments below.
(note: if any of these styles fall out of stock, click here. We've pre-searched Made in USA Sweaters for you. You'll be amazed at the choices. This method is not perfect. Always double check the product details before ordering.)