One thing I've learned over the years with bedding is that investing in a good comforter or duvet is very important. A well made and well cared for comforter will last for years. This I learned after buying several cheap and cheaply made comforters for myself and my kids. If you are on the hunt for a new comforter or looking for a duvet to give as a wedding, birthday, or holiday gift, then this is the place to start. We have found made in the USA comforters, duvets, and even covers, that are of high quality and constructed to last.
Disclosure: This is a sponsored post which USA Love List is proud to share with you because sponsored or not, we only share stuff we love.
Made in USA Comforters and Duvets
Authenticity50: Comfort Temp Duvets
Did you know that a wool duvet will not only keep you warm, but that it will help keep you cool too? Authenticity50's Comfort Temp Duvet is made with wool as an insert for better temperature regulation. It will help you stay cool on hotter nights and warm on colder ones. The wool even acts as a natural wick so you won't wake up damp from sweat. Wool also is a natural antimicrobial, resists mites, and is environmentally friendly.
Authenticty50's Comfort Temp Duvet is heirloom quality and made to last the old fashioned way- by hand- from seed-to-stitch® in the USA. The wool in the insert comes from California sheep, and the cotton ticking fabric is woven in South Carolina.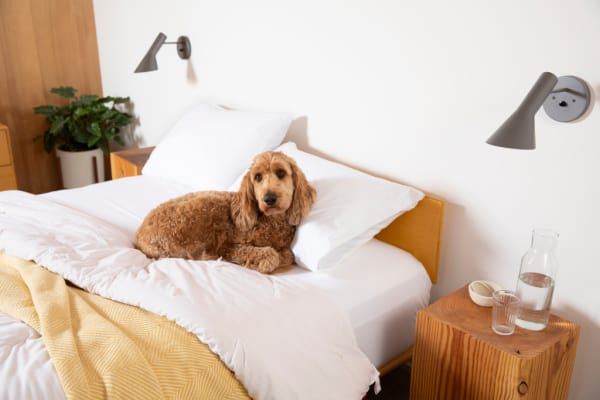 Made in USA Comforters and Duvets: The Source List
Don't see your favorite American made comforter or duvet company on the list? Leave us a note in the comments and we will be sure to add it to our list!
American Blossom Linens duvet covers are made from organic cotton. Save 15% off your American Blossom Linens luxury organic bedding purchase now with code USALOVE.
Authenticity50 Comfort Temp Duvet is made in the USA from seed-to-stitch®. The wool in the insert is from California sheep, and the cotton ticking in woven in South Carolina. This duvet is heirloom quality and made by hand. Don't think that a comforter with a wool insert will make you hot, because it does not! My daughter is always hot in her sleep and she loves this duvet! She has had it on her bed since the end of the summer and, even in the warm weather, she has not woken up sweaty. Learn more about Authentcity50's Comfort Temp Duvet at the top of this post!
Nest Bedding sells American made organic and natural comforters.
NoFeathersPlease.com is a retailer that offers made in USA organic cotton and wool comforters.
purelivingspace.com is an online retailer that sells organic cotton sateen duvets/comforters, Eco wool duvets/comforters, and organic duvet/comforter covers.
Red Land Cotton cotton duvet covers are American made.
Thomasville at Home comforter sets are made in Georgia. The comforter sets are available in style collections for every decor- Traditional, Contemporary, Toiles, and Tropical.
Victor Mills comforter sets are American made.
White Lotus Home natural cotton and organic cotton duvets are made in USA.
Don't miss our other American made bedding source lists:
Have you visited our Made in USA Shopping District? It is the place to start your shopping when you want to find the best of American-made.
Love this list? We know you will love these lists too!

Remember to Pin this Post to Pinterest and Share!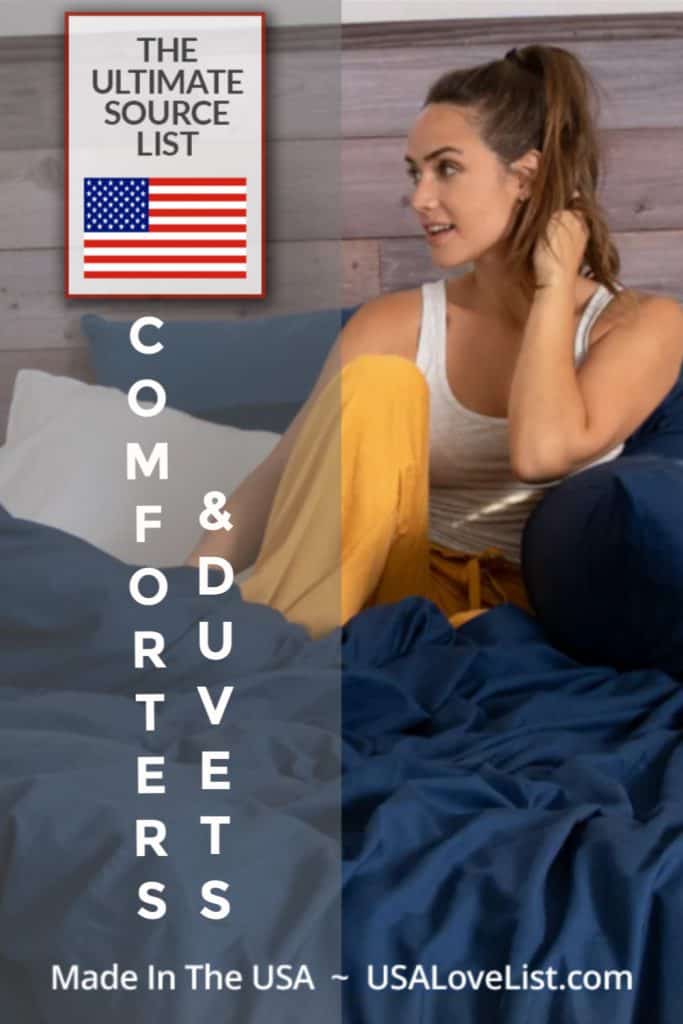 SUPPORT AMERICAN MADE. THESE POSTS HAVE TIPS THAT WILL HELP YOU DO JUST THAT.

What Does the Made in the USA Label Mean? Your Questions Answered.
Trying to Buy American? 3 Rules to Follow EVERY time you go Shopping
Ask your favorite stores to help you Buy American
Let's buy American made gifts. We've got all the good ideas.
How to Avoid Tariffs: Buy American! Start Here