American made denim can be difficult to find, so we've put together a source list for you to find jeans made in the USA. Depending on what type of jeans you'd like, we've listed a variety of options.
My New Favorite American Made Denim Brand
I cannot tell you enough how much I am loving Level 99 jeans. It has always been difficult for me to find well fitting jeans, let alone ones that do not need to be altered. I was lucky enough to get to try six pair of these jeans, and five of them fit perfectly! The Jane style is my favorite because they are high waisted and slimming throughout. Shop directly from their website, as many styles are on sale, and priced well.
American Made Denim From Start to Finish 
Made in USA Bullet Blues Jeans: These jeans are manufactured entirely in the USA. From cotton yarns to dying and finishing to production, all of their manufacturing is done domestically. The company was named to honor the bravery of the American Soldiers fighting at Normandy in World War II. We think you'll enjoy reading about Bullet Blues, how it started, and their commitment to American made.
Dearborn Denim is dedicated to making denim that's affordable, that fits you well and that is made from start to finish from USA made components. There is no middle man, so prices for American made denim start at $49! The company offers men's styles in three fits and women's styles in two fits. You can select from light, medium, and dark wash colors. The stretch denim is loomed at the most technologically advanced denim mill in America and is made with the best long staple West Texas cotton, making these jeans wildly comfortable, without stretching out.
Each order is hemmed to length before shipping. Everything made in house at the company's Chicago, Illinois workshop.

Under $100 Denim Made in the USA
Karen Kane offers great fitting denim that hits all the right places. There are so many styles from which to choose too. From twill jeans to capri, boot cut, skinny and denim leggings, you're sure to find a pair you'll love.
Lucy Marie Denim brand is founded on the principles of classic styles, quality denim and a flawless fit. They've really nailed the fit too. I love that the Skinny jeans are mid-rise, so you get great rear coverage, in addition to the "Lucy Lift". The fabric is a cotton polyester blend with spandex so it hugs and lays well, while offering a snug, yet flattering fit. Lucy Marie denim is made in Los Angeles, California.
Made in USA Jeans for Teens
Siwy Jeans caters to those wearing super skinny jeans with whimsical style elements. You can find jean shorts, cropped denim and skinny jeans from this line.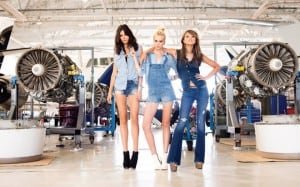 Men's Jeans In Any Fit
Todd Shelton
offers three styles in six washes. These jeans are durable and made to last. The denim is great quality. In the case of Todd Shelton, you get what you pay for. My favorite are the Basic Pro Selvage in the Unsanded Dark wash.
Selvage American Made Denim Under $80
Kent Denim
offers mens jeans made from American sewn fabric for under $80. The brand is pre selling its production in order to offer huge savings. Since they aren't holding huge inventory they can offer raw denim style at prices starting at $50. The jeans are made in Los Angeles and the fabric is sewn at
North Carolina
's Cone Mills factory.
Charity Denim
CJ by Cookie Johnson is an American made denim brand that donates $10 from each Charity Jean sale to the Magic Johnson Foundation in support of the foundation's HIV/AIDS initiative. The brand offers on-trend colors, washes, textures, and prints. You can also find the collection at Nordstrom.
Made in USA Denim Shopping Source
Check out Nordstrom if you're looking for one place to source premium American made jeans for men and women.  Just use our pre-set links or try putting "made in USA" in the search field.
Do you have a favorite pair of jeans made in America? Let us know the brand in the comments so we can add them with the next update.
Disclosure: This is a sponsored post which USA Love List is proud to share with you because, sponsored or not, we only share stuff we love.