This year the Easter Bunny will be filling the Easter baskets in my house with only American made treats, and not because I have declared so. My kiddos have. "Mommy, I hope the Easter Bunny knows to get us 'Made in the USA' things for our Easter basket," said my daughter when we were running errands yesterday. "Yeah, he needs to get all the kids 'Made in the USA' stuff!!!"  added her brother.
An American Made Easter
So, Easter Bunnies everywhere, here are ten American made Easter ideas to help you fulfill their dream and make sure ALL the children in your delivery area wake up to American made goodies on Easter morning.
American Made Easter Basket Essentials
Peterboro Essence of Easter Basket
Made in New Hampshire since 1854, Peterboro Basket Co. is the oldest basket company that manufactures in the US. Their baskets are 100% USA made and they have many styles of Easter baskets to choose from.
Eco Eggs 
I am beyond excited to find plastic eggs that are made in the USA and biodegradable!  Eco Eggs are kid safe as they are made from BPA free, non-toxic food grade plastic that is corn starch, not petroleum based.
It's possible to fill those plastic eggs with American made treats! Read our list of suggestions here.
Goetze's Cow Tales Caramel Sticks
Goetze's Candy Company has been making candy in the USA since 1895. Cow Tales, chewy caramel sticks with a cream center, are a fun, tasty, and nut free addition to any Easter basket! Cow Tales are available in a variety of flavors; Vanilla/Original, Strawberry, Chocolate, and Caramel Apple.
For more American made candy options visit our list of Made in USA Easter candy brands we love.
Surf Sweets Organic Spring Mix Jelly Beans
What is Easter without jelly beans? Surf Sweets jelly beans are made with organic fruit juice, are GMO free, and taste great!  Surf Sweets gummy bears, gummy worms and gummy fruit rings also make great Easter basket treats. All Surf Sweets candy is made in a facility free of the 10 most common allergens including dairy, tree nuts, peanuts, and eggs.
Trujoy Sweets Organic Fruit Chews
The Easter bunny is always on the hunt for American made individually wrapped candies to stuff into plastic eggs for egg hunts. TruJoy Sweets organic fruit chews are GMO free and contain no artificial colors or flavorings.
bINK'd Temporary Tattoo Earrings 
All the fun of real earrings without the responsibility, bINK'd temporary tattoo earrings are sure to be a hit when found in any girl's Easter basket.  bINK'd temporary tattoo earrings are made in the USA with FDA approved vegetable based inks.
Wiffle Balls
Wiffle ball is a classic outdoor game that never goes out of style. The Wiffle perforated plastic ball has been made in Connecticut since 1953 and makes a great addition to any child's Easter basket.
Sparklehearts Naturally Fab Gift Set
Sparklehearts natural beauty products for girls are 100% natural, vegan and cruelty free. The Naturally Fab Gift Set includes 2 oz bottles of Shine Shampoo, Soft Conditioner, Bubbling Blooms Body Wash, and Sweet Heart Sparkly Lotion. Great for girls of all ages!
Don't miss our list of American made Easter gift items for tween and teen girls.
The Original Slinky
For over 65 years, the original metal Slinky has been discovered by children in their Easter baskets.
Herbal Animals Rudi Rabbit
Herbal Animals are fun buddies made with 100% certified organically grown herbs, seeds, and cotton. Your kiddo won't need to know that Rudi Rabbit is stuffed with chamomile, orange, and hops that will have a calming effect and aid in insomnia.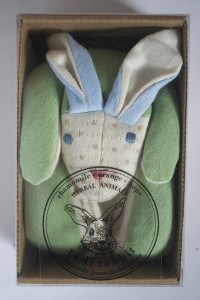 Channel Craft Toys
Channel Craft toys are classic remakes of toys from the past. Simple, well made, affordable, and fun. Channel Craft manufactures a selection of boxed tin game sets, wooden tops, boomerangs, and other great items.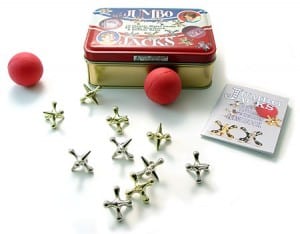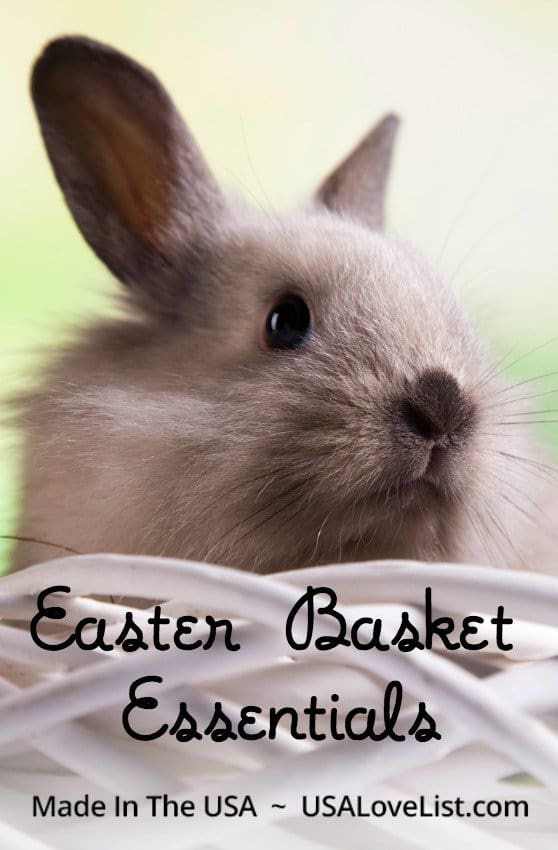 Disclosure: This is a sponsored post which USA Love List is proud to share with you because, sponsored or not, we only share stuff we love.