Men! They are undoubtedly the most challenging to buy for at gift-giving time. Here is our curated list of some of the year's best American made gifts for him and it includes many memorable choices.
Don't miss our list of American Made Gifts for Men, Under $50
American Made Gifts for Him, All Under $100
Gifts for Him: Gifts of Style
All American Clothing Co is an online retailer and manufacturer of union made, affordable clothing for men (and women too!). Every single item that All American Clothing Co sells is manufactured in the United States. All American Clothing Co's own line of jeans for men offers a range of fits and styles. These jeans are handcrafted in the USA all the way, from materials to labor. All American Co brand jeans range in price from $54.95-$59.95. Not sure of your man's clothing size? Gift cards are available too.
Gifts for Him Deal: Prom Code USALOVE saves you 20% off of your All American Clothing Co. purchase. Expires February 28, 2019.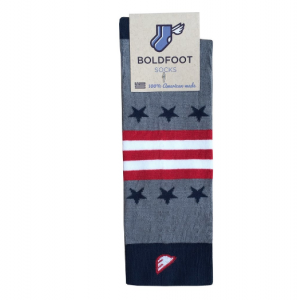 The
Boldfoot Sock of the Month Club
is a made in the USA gift that shows up in the mail for months to come. 
Boldfoot
 men's fashion
socks
that are grown and sewn here using American grown cotton. They also donate 5% of profits to U.S. Military & Veterans in need
.
  Gift the gift of
American made socks
with a six month subscription to Boldfoot's sock of the month club.
American Made Gifts for Him Discount: Code USALOVE to saves you 15% off your first Boldfoot order. (No minimums necessary.)
J Wingfield
is the only American made men's woven shirting company making garments in the US, using USA made fabrics. They proudly manufacture their shirts with one of the oldest and most trusted families in
Texas
. Their fabric cutters and sewers have over 75 years of shirt sewing expertise. Their fabrics are woven in both North and
South Carolina
. Remarkably, these shirts are less than $100.
J Wingfield is featured in our Men's Fashion Dress Shirts & Polo Shirts Ultimate Source List.
When it comes to leather goods,
Allen Edmonds
knows quality. Investing in a well-made leather belt is worth it, especially if your guy is wearing one everyday. I love the
Allen Edmonds Basic Belt
because it offers a classic, sophisticated look. It's available in seven colors.
Don't miss our source list of American made belts.
Kangol LiteFelt 504 Cap
is on point. I love this style hat because you can dress it up or down, but you'll always look dapper with it on.
Gifts for Him: For the Foodie
For more gift for him ideas, don't miss our lists of Four Affordable Valentine's Day Foodie Gifts and American Made Gifts for the Foodie.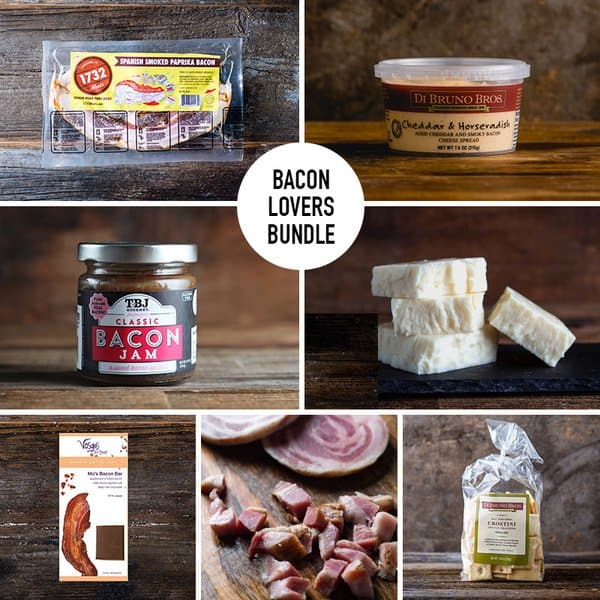 Is there a man that doesn't love bacon? The
Di Bruno Bros. Bacon Lovers Bundle
($84.99) is a unique gift that contains handcrafted selection of bacony goodness. Philadelphia foodie heaven carries many imported gourmet products but is also an excellent source for 
outstanding American crafted food items
. Everything is well labeled by country of origin.
Gifts for Him: Cocktail Gifts
Bittermens' Boston Bittahs
 is
made in a small factory in Brooklyn's Dumbo neighborhood.  I'd suggest pairing it with
Bully Boy's White Whiskey
 from Boston's first craft distillery.
Don't miss our unique gift suggestions for beer lovers and craft cocktail enthusiasts!
Balanced with a light oaky flavor, and vanilla undertones, Jim Beam Signature Craft Triticale, is perfect for sipping and to pour of those whiskey stones. Produced in small quantities in September 2015, this is the third and final product of the Jim Beam Signature Craft Bourbon Line.
We have found so many great American made 'gifts for him' ideas, that we have curated many lists!
Need more inspiration? Check out these lists too!
Disclosure: This is a sponsored post which USA Love List is proud to share with you because, sponsored or not, we only share stuff we love.