If you are ready to cross all the names off of your holiday gift list in one swoop, then AnytownUSA is the online marketplace to visit! We love this source for high-quality American made gifts for men, women, and kids of all ages.
AnytownUSA: The New, Cool Place to Shop for American Made Gifts
Launched in July of 2018, AnytownUSA is the online marketplace for unique, American made gifts. From apparel and accessories to home goods and pets products, every item available for purchase at AnytownUSA is from independent businesses, artisans, crafters, and American manufacturers. All products are made in the USA.
There are over 1000 unique, made in USA items available at AnytownUSA. With this many items to choose from, there is bound to be something for everyone on your list.
AnytownUSA Made in USA Gifts
      ***AnytownUSA offers 10% Military Discount***
Kids and Baby Gifts: You will find a vast selection of American made gifts for kids and baby at AnytownUSA, including toys, organic cotton clothing, and non-toxic craft supplies.  This Owl Luminary is my favorite gift idea and would be the perfect addition to a baby or toddler's room…or the bedroom of anyone who likes a little light to sleep by.  A Luminary would even light the path in a hall or bathroom. Doles Orchard Box Shop Luminaries are handcrafted in Maine and are available in a selection of patterns. Each luminary comes with a battery powered tea light.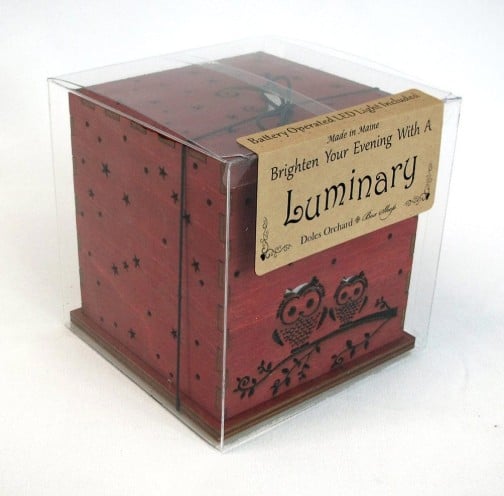 Jewelry Gifts: Jewelry makes a special gift for a man or woman of any age. Make that jewelry gift extra special and purchase American made jewelry from AnytownUSA's selection of handcrafted necklaces, rings, bracelets, cuff links, and even Hawaiian made watches.  That special someone has enough jewelry? Then how about a Jewelry Chest handmade in the USA by Amish craftsmen? There are chests available in multiple sizes and made from multiple types of wood. There are even chests for storing and displaying watches.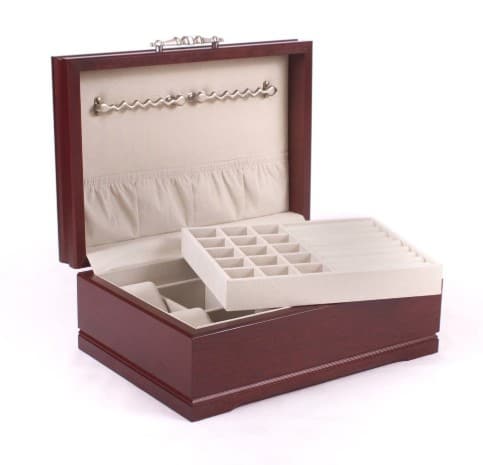 Accessory Gifts:  Make a statement with one of a kind accessory gifts from AnytownUSA.  Cool weather accessories like scarfs, hats and fingerless gloves make perfect gifts for tweens, teens, and young adults. You will find high-quality handbags, purses, and business bags of all sizes made from leather or felted wool. I love the gorgeous and colorful fashion scarves made in Vermont by Darriel Davis Designs from 100% silk and merino wool roving.  These scarves would make great gifts for mom, sister, your BFF, and any other special woman on your list.

Home Product Gifts: Home product gifts from AnytownUSA are trendy and useful. Hand poured soy candles, canvas wall art, blankets and throws, and more, all are popular gifts. If there are people on your list who like to entertain, there are made in USA cheese boards, decanters & carafes, and bar accessories. For the person who likes to spend time outside, there are made in USA garden accessories to be found too. I like the Reef Time Turtle Collection dishware made in Florida by Kim Rody Creations. Buy the whole set or individual pieces. We all have that special someone who LOVES turtles, and this would be the gift for them.


Beauty & Personal Care Gifts: Makeup, fragrance, soaps, shaving gear, and more- AnytownUSA has personal care products for the gals and guys on your list. Find vegan, non-toxic makeup for the teen, and beard care products for the hipster. The made in Washington Honey House Naturals 3 Piece Gift Set is the perfect gift for teachers and co-workers. 

Pet Gifts: We can't forget our four-legged friends and family members! AnytownUSA has everything your dog needs, all made in the USA. Polar fleece dog coats, collars, and leashes for all dog sizes, all natural treats, pet toys, and pet bedding all make great gifts for your own pet or for the pet owner on your list.  The Canvas and Cork Bottom Dog Toy Bin by Hoadin is the gift that every dog and cat owner needs to keep those toys under control.

      ***25% off select merchandise at AnytownUSA through Cyber Monday, November 26, 2018***
Disclosure: This post is sponsored, which USA Love List is proud to share with you because sponsored or not, we only share stuff we love.